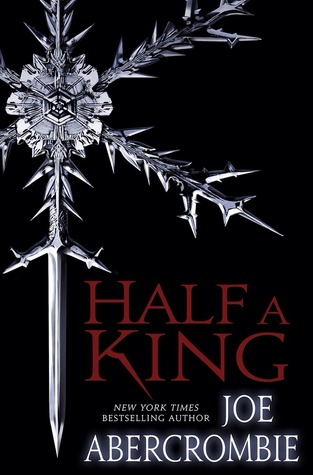 Title:
Half a King (Shattered Sea, #1)
Author:
Joe Abercrombie
Rating:
4 Stars
I find it distinctly odd that
Half a King
is Joe Abercrombie's young adult debut. Yarvi's tale, full of political strife and immense character growth, is far removed from the quintessential young adult fantasy novel. I love fantasy--high fantasy, romantic fantasy, young adult fantasy, adult fantasy--but I find that young adult fantasy marks a delicate balance between magic and romance. When you pick up a novel by Tolkien or George R. R. Martin, you know it's fantasy--obviously--because of the fictional setting. Both Tolkien and Martin imbibe magical elements into their work, whether it be in the form of other races of humans or fantastical creatures, but those characteristics are not at the cornerstone of their work. Instead, their novels focus on human nature, challenged to its utmost in foreign lands and situations, but somehow prevailing.
Now
that
is the type of novel
Half a King
is. Not only does it lack a romantic story arc, but it further lacks a protagonist who discovers their own magical ability--qualities evident in nearly every young adult fantasy novel. Yarvi, Abercrombie's surprising hero, is a cripple, constantly living in the shadow of his warrior father--the king--and his equally competent sword-wielding elder brother. Thus, Prince Yarvi, the youngest prince of the realm, trains to become a minister, forsaking marriage and status in a quest for knowledge. On the eve of his exam qualifying him to leave behind the manacle of Prince Yarvi and become Brother Yarvi, news arrives that both his father and his elder brother have been killed. Thus, Prince Yarvi becomes King Yarvi--half a king with only half of his hands. But Yarvi's reign as king is short-lived. Swearing an oath of vengeance to kill those who have murdered his father and eldest brother, Yarvi sails away to war. Naive, trusting Yarvi finds himself caught in the crossfire of political machinations, though, and is sold into slavery before fulfilling his oath. Now a slave instead of a king, Yarvi vows to complete his oath and seeks revenge...no matter the cost.
Half a King
is littered with unforeseen plot twists, some I predicted but most I did not. As such, it is nearly impossible to set down once picked up and Yarvi's tale is both moving and captivating. Abercrombie's secondary characters, alongside Yarvi, are infused with depth and as they travel with Yarvi through cold snows and roaring rivers, they begin to shed their layers, revealing their true personality beneath. While Yarvi is an endearing hero, both physically and emotionally weak at first despite his cunning, his story is impossible to prey away from his friends. We see him Before, as a lonely and cowering prince fervently praying to be made minister, and then we see him After, thrown into a game of survival and forced to rely on his wits to form alliances and escape the bonds of slavery which keep him from his rightful throne. Consequently, Yarvi's growth is steady and noticeable, a marked difference throughout multiple stages of the narrative. Ultimately, as he grows from boyhood to manhood by the end of the novel, we will have met a dozen different Yarvi's, all facets of his journey to acquire the strength he lacks as Prince Yarvi.
What I find fascinating about
Half a King
is that, despite the "typical" politics of usurping a king to overtake his throne, the politics of this world are heavily wrapped up in the mythology/religion of this universe as well. Moreover, the traditional genders we associate with ideas such as war or peace are reversed in
Half a King.
In Greek myth there is a God of War and a God of the Sea just as there is Mother Earth who symbolizes nurture, growth, and peace. Conversely, within these pages you will hear of Goddesses of War and the Sea just as you'll hear of Father Peace. While this isn't indicative of peaceful men and warring women in the societies of Yarvi's land, it does hint at stronger female roles and, what's more, I suspect that with such role models the women of this universe haven't grown up nearly as suppressed as the women in our universe. Abercrombie writes of fearless women, ones who aren't afraid to take on leadership roles and own their place in them effortlessly. Not all of his characters are good, but the feminist in me loved the dual-nature of both his men and women regardless.
Yet, perhaps what I appreciate most about this novel is its ending. I love an epic fantasy series but what I love even more is a novel that is both part of a series and able to stand on its own.
Half a King
ends remarkably, wrapping up the loose threads of this particular plot line but leaving readers anxious for more of this world and, of course, of Yarvi. From an underdog to a hero, Yarvi is a protagonist who is shockingly easy to relate to, despite his high-born status, and the conclusion of his tale is utterly perfect. I was kept guessing until the very end but the pay-off was more than worthwhile. Even if
Half a King
fails to shock readers with its plot twists, the level of character growth is certain to entice even the most heartless of readers. Yarvi's tale is an impossible one, full of courage and hope, and I loved every minute of it. Its sequel can simply not release fast enough.