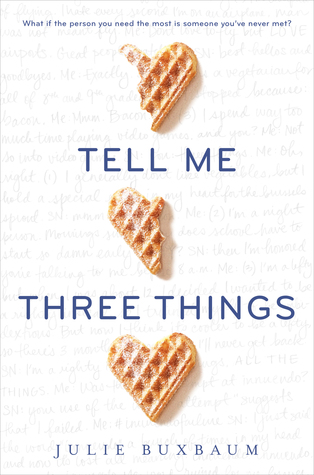 Title:
Tell Me Three Things
Author:
Julie Buxbaum
Rating:
4.5 Stars
Tell Me Three Things
is Buxbaum's debut into Young Adult fiction but it reads like the work of a seasoned author. I would have completely overlooked this novel if it hadn't been for
Maja's stellar review
of it, just a few weeks ago, and I'm so glad I gave this volume a chance. Jessie, a junior in high school whose biggest problems in life should be preparing for her SATs, has just moved to LA. Within weeks of her mother passing away, he joined a bereavement group, fell in love, got married, and is now moving Jessie away from public school in Chicago to Wood Valley where she sticks out like a sore thumb. On the first day she arrives, though, Jessie receives a mysterious e-mail from Somebody Nobody, an anonymous boy who helps Jessie navigate the complex hierarchies at Wood Valley. But who is SN? And why does he refuse to meet Jessie in person?
Frankly, the mystery behind Somebody Nobody--though cute and extremely a la "You've Got Mail"--is just a tad bit predictable. But, that doesn't take away from the crux of the story whatsoever. The identity of Somebody Nobody isn't as important as his friendship with Jessie or her endless theories on who he might be. Is it Liam, the lead singer of OVille whom Dri, Jessie's new friend, is majorly crushing on? Is it Caleb, Liam's friend and an occasional song-writer on the band? Or it is Ethan, Jessie's partner in English class and the guy she can't get out of her head? I thoroughly enjoyed watching Jessie navigate through the mystery of SN alongside her newly founded relationships with friends and acquaintances in Wood Valley.
But, the best part about
Tell Me Three Things
is not this mystery; it's merely Jessie. Jessie's grief over losing her mother is present and palpable. It isn't an overbearing type of sadness that permeates the book--after all, Jessie is doing her best to move on and acclimate to her new life--but she cannot forget her mother, which is natural. Her stepmother, Rachel, is busy and often aloof and her stepbrother, Theo, is equally confused by the turn of events which find him with a new father and Jessie with a new mother. Thus, Jessie's journey to continue forward each day, all while missing her best friend, Scarlet, from back home and yearning for her old life--one in which her mother existed--is admirable. I loved Jessie's voice from the beginning and her honesty and genuine kindness are nothing short of lovely. She isn't a perfect heroine, which I love, but she's a protagonist who never gives up and learns from her mistakes to be better.
Jessie's relationship with her father, too, is a definite highlight. At first, she is simply shocked by his actions but, slowly, that numbness turns into anger as she demands answers. Why has her father forgotten her? Why didn't he consult her before moving her across the country? Why is he so focused on his grief that he has forgotten about hers? It's difficult to watch Jessie realize that her father is human as well--that despite the fact that he is an adult, he absolutely does not have it all together. I think that's one of the hardest lessons every teenager learns as they grow up and Jessie comes to that realization as well, during some of the hardest moments of her life. But the progression of her relationship with her father is well-timed and realistic. I enjoyed how
Tell Me Three Things
didn't end with a neatly wrapped-up bow when it came to Jessie's new family. She is still figuring things out with her stepmother, her stepbrother, and her father but everything is going to be OK, slowly but surely.
There's a similar sense of resolution with Jessie's social and academic life at school. Her new friends are supportive and immediately include her, trusting her with their secrets and sharing their opinions on sex, boys, and life in general. I give Buxbaum kudos for writing multiple sex-positive discussions that occur between Jessie and her friends, whether her new ones like Dri and Agnes in Wood Valley or her old ones like Scarlet in Chicago. I think it's just as important to show young girls that it's normal and healthy to talk about sex, not just be having it, and to have your own opinions about it that may differ from that of your friends. Jessie's boy troubles come to a rather hilarious conclusion and though I can't say too much more without fear of spoilers, I will say that the slow-burn romance and friendship at the core of this story is swoon-worthy. Moreover, Jessie's friendship with SN isn't merely about the romance--it's about sharing their life stories and accepting that difficult things happen in life, even to young people.
Tell Me Three Things
is a powerful, truly memorable novel. Buxbaum writes a beautiful note at the end of the story, detailing her inspiration to write this piece and I have to say that I am immensely thankful that she wrote this. We are inundated with grief novels in YA and though they are necessary, I appreciate that Buxbaum wrote this not necessarily as a story about cycling through the seven stages of grief but rather as a novel about dealing with the aftermath of death and accepting that life doesn't stop for anyone. Jessie's mourning is an important aspect of this novel, but so is her growth as a teenager, her relationships with new friends and family members, and her self-realization about romance, her father, and so much more. It's a truly gorgeous blend of life and though this won't be a read I return to, this is going to be an author I eagerly watch out for. I hope Buxbaum is here to stay in the YA genre--she effortlessly writes non-awkward chapters consisting merely of texts, which, let me assure, is no easy task--and is a fresh voice that this genre definitely needs.
Tell Me Three Things
is poignant and refreshing; you'll fall in love with it, I guarantee.