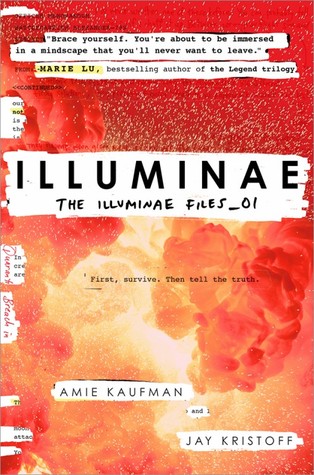 Title:
Illuminae (The Illuminae Files, #1)
Author(s):
Amie Kaufman and Jay Kristoff
Rating:
3 Stars
Release Date:
October 20th, 2015
Shockingly, I really did
not
love this book and doubt I'll be continuing with the sequel either. I adore epistolary novels, particularly when they're written by Jaclyn Moriarty, but a science fiction novel written in this format just didn't do it for me. For one, when compared to the contemporary epistolary written by Moriarty,
Illuminae
was not as humorous or as poignant. While the story told within these pages is stellar--and very cleverly conveyed through data files, journal entries, and chats--a multitude of other facets did not sit well with me.
1.
Illuminae
revolves around Ezra and Kady, a young teenage couple who has recently broken up and find themselves on two separate spaceships due to the fact that their planet was attacked. Though Ezra and Kady are broken up, much of their relationship stems from the fact that they used to be dating--and are still in love with one another despite the circumstances that wrought their breakup. As a reader, we don't know Ezra and Kady's backstory. We don't know who they are as individuals, forget as a couple, and their interactions throughout the entire first half of the novel failed to resonate with me. I just couldn't bring myself to really feel for these characters, both through their personalities--so tied up in one another, understandably so--and their situation, so far removed from anything I could even imagine.
2. A few of the methods used by these authors to convey snippets of the story felt distinctly like cheating. While I understand that there are a limited number of ways to tell this story in an epistolary manner, at times it was necessary for this to read like a normal tale. I enjoyed this--quite a lot, in fact--and wonder if
Illuminae
would have been a stronger novel had it
not
been epistolary. Kady and Ezra speak to each other through technological means and their diary/journal entries are not truly as soul-searching as one would wish, which convinced me that either than an epistolary format being unique and interesting for
Illuminae,
it was not necessary. Nor did it improve the story-telling in any manner. Again, however, keep in mind that this epistolary format made me feel more isolated from the story, as a reader, than a part of it so take my cautions with a grain of salt.
3. The pacing of
Illuminae
was FAR too slow. The events outlined in the synopsis take hundreds of pages to occur and I considered DNFing this novel numerous times. It picked up drastically by the end and I enjoyed the last 30-40% of the novel a LOT, but not enough to want to continue with this series, sadly.
I seem to be the black sheep on
Illuminae
so I recommend giving it a try. If it isn't meshing for you early on, though, it probably won't click for you miraculously until the end and, even then, it's only a shell of the true emotion you wanted to be feeling throughout the novel.
Illuminae
is certainly a unique and compelling novel; just not one for me.