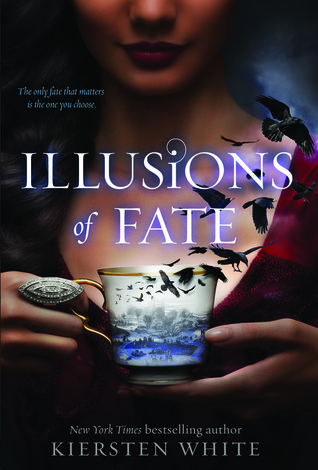 Title:
Illusions of Fate
Author:
Kiersten White
Rating:
4 Stars
If you, like me, dismissed
Illusions of Fate
because...well,
Kiersten White,
then please, please give this one a chance. White's debut,
Paranormalcy,
released when I was just thirteen and my young, teenage self fell head-over-heels for it. Admittedly, it didn't contain a love triangle and, at the time, that was enough to get me to enjoy it. Its sequels, though, quickly highlighted the fact that White's premises was not nearly as original as I thought and neither was it nearly so well-executed.
Which is why it is a pleasant surprise for me to admit that
Illusions of Fate
is well-written, romantic, and surprisingly unique. White's stand-alone follows Jessamin, a young woman who arrives in a foreign country, Albion, looking out-of-place with her dark skin and black hair and resolves to pursue her education. Jessamin's relatively poor, island home is home to many women who gave birth to half-Melei, half-Albion children and Jessamin, one of them, has grown up learning the customs, language, and traditions of her father's country. A father who has never acknowledged her and a country she feels no kinship with. Thus, when we meet her, Jessamin is working with a cousin of hers, using the wages she earns to pay for a small room and her admittance into school. She is contemplating the dreariness of Albion, a country whose temperament and society are similar to our own Victorian England, when she bumps into Finn.
From the moment she meets Finn, Jessamin is the victim of a series of odd events; ravens seem to follow her everywhere, her shadow seems unusually different, and her interactions from Finn are far from typical. As it turns out, Finn is a member of the ruling elite in Albion and, like them, he possesses magical ability. Only very few are strong enough to do much with their magic, though, and as one of two extremely strong magicians, it is up to Finn to stand against the Minister of Defense who seeks even more magic. Jessamin, who is the first weak link the Minister of Defense has found against Finn, is thrown into a political war for a country she has no ties with. All Jessamin wants is out but the truth is far more complicated than she could imagine.
I
loved
Jessamin. Although she knows only a few people in Albion, she constantly overcomes her fear and puts on a brave front, courageously charging into new situations boldly and refusing to feel ashamed of the heritage she wears proudly on her skin. Moreover, Jessamin is not the savior of this tale. If anything, Jessamin is the liability; the only one in this political game who possesses not a drop of magical blood at all. Yet, she never lets this prevent her from learning as much as she can, thus equipping herself in the only way she knows how.
Yet, what I admire most about Jessamin's character is the fact that she never succumbs to insta-love. Finn, who Jessamin meets purely through fate, bonds with Jessamin on a molecular, magical level. Even when Jessamin finds out about this, though, she never ceases to argue with Finn for her freedom or push him to accept that she will not be a mere spectator in the situation she finds herself in. It would be so easy for White to throw these two together at once but instead, Finn and Jessamin's relationship develops at the perfect pace and their interactions--their banter, their support of one another, their acceptance of the other's cultures--all made this novel stellar.
Finn, too, is utterly charming. Not only is he sweet and kind, but his power and protective tendencies never push him over to becoming an alpha male. What's more, the secrets that surround him never made him take on a "bad boy" appeal. Instead, I simply enjoyed peeling back the layers to his personality, swooning at his maturity and capable gaze. In addition to Finn, though, Jessamin's friend Eleanor, another member of the ruling elite but one whose magical powers are greatly diminished in comparison to Finn's, is one of the strongest secondary characters. Eleanor and Jessamin's close friendship is a delight to behold and, what's more, I truly rooted for Eleanor, a young woman who is often underestimated by her brother and uncle but truly possesses far more skills than others would imagine.
If there are any flaws to
Illusions of Fate
it is that it is too short. I found the ending to be jarring; vividly abrupt, though I didn't mind once I realized that other readers felt the same way and no, I was not missing the epilogue in my copy after all. I also wished for more world-building, more time spent uncovering Finn's past, more of Jessamin's family in Melei, etc. I was satisfied with what White gave us, and
Illusions of Fate
is crafted in such a way that the reader is never missing the information they need to understand this realm, but I still wanted more from a world like this, brimming with possibility.
Nevertheless, I cannot recommend this novel enough--particularly if you're in the mood for a story that will keep you flipping the pages into the wee hours of dawn--and, naively, I hope that White will write a companion novel and return to this world, somewhere down the line.