Just Another...Book Crush! is a monthly feature where I invite an author whose book I've recently reviewed and loved to write a guest post and share their three latest book crushes. It's a feature I'm starting mostly because I'm often very shy to approach authors, especially ones I admire, and also because I love reading guest posts since, more often than not, they convince me to pick up a book even when the reviewer cannot.
I am so incredibly excited to be welcoming Jennifer Donnelly to the blog today. I read her sophomore novel, Revolution, when I was in high school and quickly followed it with her debut novel, A Northern Light, and loved them both. Revolution is one of the first books to have made me cry and A Northern Light is still among one of my favorite novels. Donnelly writes rich, realistic, and headstrong female protagonists who fight tooth-and-nail to fulfill their dreams. They're the type of heroines I look up to and emulate and I am so grateful that her books are out there to inspire young women. Her latest, These Shallow Graves, is just as feminist, romantic, and suspenseful as I hoped so I'm thrilled to be promoting it on the blog today. Welcome, Jennifer! :)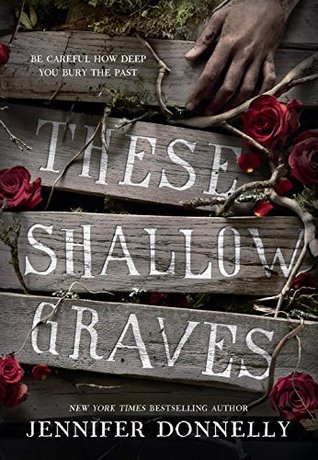 Set in gilded age New York, These Shallow Graves follows the story of Josephine Montfort, an American aristocrat. Jo lives a life of old-money ease. Not much is expected of her other than to look good and marry well. But when her father dies due to an accidental gunshot, the gilding on Jo's world starts to tarnish. With the help of a handsome and brash reporter, and a young medical student who moonlights in the city morgue, Jo uncovers the truth behind her father's death and learns that if you're going to bury the past, you'd better bury it deep.
Ghosts from the past haunt the characters from THESE SHALLOW GRAVES, and they also haunt me. But I'm not afraid of them. In fact, I love ghosts. They help me do my work. Researching for THESE SHALLOW GRAVES, or any historical novel, is all about digging up ghosts.

I tend to start my research by reading, broad, historic surveys of the time period I'm writing about. Then I go deeper, into primary sources -- autobiographies, diaries, memoirs, cookbooks, guides to etiquette or housekeeping, advertisements, newspapers and magazines that were published during the time my characters lived. In these sources, you can hear the voices of the past, and how they spoke, both formally and informally. You can get a sense for social proprieties, social roles, and how people were expected to conform to them.
I also go to museums to look to look at jewelry, paintings, clothing, toys, dishes, furniture, and carriages. The Victorians were fond of hair jewelry -- lockets, rings or necklaces in which a lock of hair from a deceased loved one was kept. Holding a pendant in my hand that contains a twist of hair from a child reminds me how closely the Victorians walked with death.

I also spend a lot of time in the place I'm writing about trying to absorb what remains. Old buildings speak volumes about the people who lived or worked in them. They can tell us what those people thought was beautiful and inspiring, how they worked, and how they lived.
My chief duty as a novelist is to get the souls of my characters down on paper. Accuracy with names, dates, and places is crucial -- and good research provides it -- but letting the ghosts in, as well as the facts, is also important. It's what brings the dead back to life.
Just Another...Book Crush!
Because it's hilarious and real and the voice is true.
Lila by Marilynne Robinson
Because Robinson speaks to the soul like no one else.
Plenty More, a cookbook by Yotam Ottolenghi
Because his food is so good, and the pictures are so gorgeous, that I drool just looking at them.
Thank you so much for stopping by the blog, Jennifer! The attention to detail that Jennifer describes during her research process truly pays off in the historical fiction she writes as they always feel incredibly authentic and well-researched. I am extremely picky about the world-building of my novels, even non-fantasy novels, which is why I enjoy Jennifer's novels so much. I haven't read any of her latest book crushes, though--have you? If you haven't read my review of These Shallow Graves you can do so right here. I want to know what you all think of this post, this novel, Jennifer's books, and just historical fiction in general. Any good recommendations to tide me over until Jennifer's next book releases? Let me know in the comments! :)