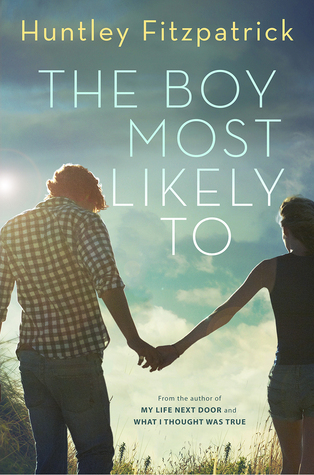 Title:
The Boy Most Likely To
Author:
Huntley Fitzpatrick
Rating:
3 Stars
The Boy Most Likely To
was not at all the book I expected it to be. Despite not loving Fitzpatrick's debut, I picked up this companion on the sole belief that I adored Tim Mason and Alice Garrett--and I do. Yet, their love story, the trials and tribulations they face throughout this volume, are not what I expected upon cracking open the spine of this novel. Tim is the Boy Most Likely to Fail and this is a burden he carries heavily upon his shoulders. Everyone in his family, from his father to his sister, expects the worst from him so when Tim is given an ultimatum to get his act together by December--staying sober, finding a place to live, supporting himself, figuring out his future--he is determined to prove them all wrong. But mistakes just follow Tim and his biggest mistake yet has just turned up on his front door.
I absolutely
love
the growth in this novel. Tim's perseverance to be a better person, despite being put down by those around him time and time again, is admirable and my heart went out to him. He hides his insecurities and pain behind his laid-back demeanor and flirtatious comments with Alice but the real Tim is a strong and capable man. Alice, too, grows immensely over the course of this story as she grows to accept and love Tim for who he really is, not to mention love herself. Alice has always hidden behind her figure and beautiful face, taking up responsibilities above her age to support her family and sacrificing her dreams to help them. But sometimes the hardest thing is learning to love yourself and actually be selfish, once in awhile, and Alice's tough journey to that acceptance was so beautifully written. Fitzpatrick does this with each and every one of her novels; she identifies journeys and stories that are powerful and painful and messy but ones that need to be told and she does it with such aplomb. I read her books for her rich characterization that is sustained throughout and never falters.
Despite the fact that I loved the ultimate take-home messages of this novel, I will admit that I found it tough to read because of the unexpected events that occur within it. I wasn't a fan of those paths and wished that these journeys could have been explored in a slightly different manner. With these two books I've always wished for this--for these same characters to achieve their growth through slightly different plot circumstances. I suspect it's an issue only I truly have for, either than that, I cannot recommend this book enough. Don't expect a light and breezy romantic comedy because this book is far heavier than it seems but, if you go in with the right mindset, you'll fall in love.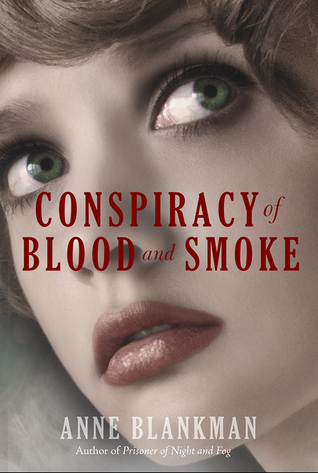 Title:
Conspiracy of Blood and Smoke (Prisoner of Night & Fog, #2)
I found this sequel to be even more rewarding than its predecessor. Gretchen's voice is far more developed and mature, though just as vulnerable, which enabled me to instantly connect with her in a way I hadn't in Blankman's debut. What's more, the romantic tribulations that she and Daniel must face alongside the thrill of the historical time period they are thrown into made for a truly enlightening and exhilarating read. Extremely well-written and sure to satisfy fans of the first novel, this is not a sequel--or author--to be overlooked.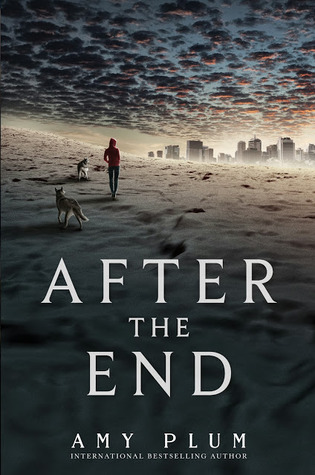 Title:
After the End (After the End, #1)
Author:
Amy Plum
Rating:
3.5 Stars
I really,
really
enjoyed
After the End.
It isn't a dystopian novel--though the protagonist believes she's living in a post-apocalyptic world--and that premises is so wholly unique that it was enough to drag me through the alternating chapters in the beginning (which didn't do much for the plot) and into the rest of the enticing novel. Plum's latest series is written impeccably, putting into the confused mindset of our protagonist and introducing us to the culture shock of the modern world. In the midst of all this, though, the real plot lies in a chase, an adventure, and an uncovering of the secrets we're all dying to figure out.
One of the strongest aspects of this novel is the relationship between Juneau and Mike, the main characters. For one, neither Juneau nor Mike see eye-to-eye on anything. Mike believes that Juneau has been brainwashed and struggles to believe the truth about her existence--that she was brought up in the wilderness of Alaska, living as a nomad for all her life. Similarly, Juneau cannot believe that her family and mentor lied to her and that, in truth, WWIII never occurred and that the modern world is safe and well. While Juneau is on a mission to find her family, who have been captured and moved across the country, Mike is there to bring Juneau to his father, the CEO of a major pharmaceutical company who believes that Juneau knows the ingredients to a secret drug being brewed in Alaska. Their rocky start and eventual friendship is an adventure to behold and I loved the slow and careful characterization of these two.
I did struggle, though, with the actual genrefication of this novel. It started out dystopian, proceeded to be contemporary fiction, but truly ended with traces of paranormal and/or fantasy elements which, for a reader who likes to know what she's getting into, inspired a great deal of confusion. And that, sadly, dampened my enjoyment of this story. I really didn't know what to make of it and, to a large extent, still don't know what to make of the multiple genres this novel can fit into at different stages in its storyline. It was jarring and unexpected, to say the least, but I suspect I'll enjoy the sequel much more having this solid foundation going in. All in all,
After the End
was an unexpected surprise and I'm eager to devour its sequel soon!