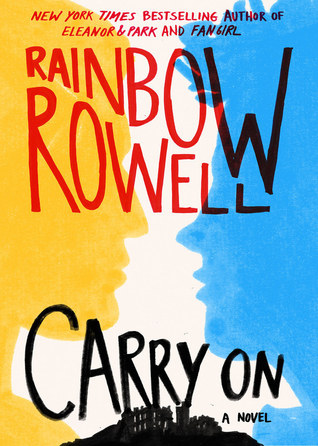 Title:
Carry On
Author:
Rainbow Rowell
Rating:
4.5 Stars
I didn't expect to love
Carry On
nearly as much as I actually did. Admittedly, I've been shipping Simon and Baz ever since
Fangirl
but mostly, I came away from
Fangirl
dying over Cath and Levi (obviously). I adored their story and enjoyed Simon and Baz's interactions along the way. But
Carry On
? Oh. My. God. I will
die
with this ship. Seriously. Rainbow Rowell characterizes Simon and Baz perfectly, tracing their violent past, their "hatred" for one another, and transforming into a completely believable, utterly adorable, entirely sexy romance.
Now, that's not to say that
Carry On
is a perfect novel. To me, its strength lies in the fact that I fell
so hard
for these characters and their interactions. In fact, my rating is a primarily emotional one: I
love
Simon and Baz, separately but mostly together. What I will say, criticizing this book, is that it feels like a part of a whole. Loosely based off of
Harry Potter,
Rowell's "fanfiction" lacks the length of Rowling's epic. We don't know the intimate details of Simon's past six years; his relationship with the Mage (think: Dumbledore) as it developed over time, his friendship with Penelope (think: Hermione's brains with Ron's loyalty and his large family) or his relationship with his girlfriend, Agatha. While Rowell does an excellent job of truly fleshing out these core secondary characters, especially as they relate to Simon, there are still gaps that are felt in the narrative.
Additionally, Rowell's world and plot is quite different from Rowling's, though I'd argue quite complex, but it's difficult to get a strong grasp on it since we don't have prequels of world-building the way we do when reading
Harry Potter and the Deathly Hallows.
I really love
Carry On
for what it is but when compared to other fantasy novels, it definitely comes off as lacking. Moreover, the deaths and emotional aspects of this book were relatively lost on me, both because I didn't have a strong connection to all of the secondary characters (some who play really important roles towards the end) and also because the romance feels were so overwhelmingly in this narrative. Now, that's not to say that the romance takes over or is the focus but it's a huge part, at least in that the romance contributes to the growth of the two leads immensely.
I still, though,
loved
Rowell's latest. It's my favorite of her YA line-up, though
Fangirl
comes in a close second (though
Attachments
is still unbeatable IMO).
Carry On
was un-put-down-able for me and I read it all in one sitting, devouring Simon and Baz's story and their incredible romance. I love nothing more than copious amounts of sexual tension, fantastical elements, and an epic reveal that changes the trajectory of the plot and
Carry On
had all those elements. Plus, Rowell drops in plenty of diverse characters, which I appreciate
so much
and her writing, as always, is impeccable. If you're a fan of
Fangirl
this is obviously a must-read but if you're a fan of romance, in general, or are just craving a different type of love story from the all-too-familiar, then
Carry On
isn't to be missed. I want more romances like this: where I can root for the main characters regardless of gender or sexual orientation or race and just be caught up in the
love.
One thing I'm certain of, having finishing this novel, is that carry on I simply cannot; I'm going to be stuck in this world for a long time to come.