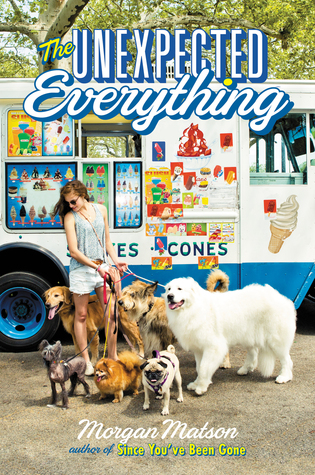 Title:
The Unexpected Everything
I have a confession to make: I didn't expect to enjoy Morgan Matson's novels. I know, I know--how could I make a judgement like that without ever picking them up? But something about Matson's novels screamed "summer" and "contemporary" and somehow a little too...young? But I was really in the mood for a fun, contemporary summer romance so I gave The Unexpected Everything a shot and, color me surprised, I found a new favorite novel. I genuinely loved this book. It had everything I look for in my most cherished novels--a complex parental relationship, a prickly heroine who didn't always do the right thing, a tight-knit group of friends who grew and changed, and a slow-burn absolutely swoon-worthy romance. All against the backdrop of a sticky, hot summer and I wound up reading this with my window open, droplets of rain brushing my ankles as I stayed up late finishing this novel.
As the daughter of a Congressman, Andie has grown up in the spotlight. Whether it be a new campaign or a speech or the funeral of her mother, Andie has been photographed through it all. This summer, though, she's about to do something for herself--attend a prestigious pre-med program for high school students in Johns Hopkins. But when a scandal is uncovered in her father's office, Andie's recommendation letter is withdrawn and she suddenly finds herself with no summer plans. Not only is her father home for the summer--taking a leave while an investigation is conducted in his office--but Andie now has to spend quality one-on-one time with her father for the first time in five years, since her mother's death. For Andie, the girl who always has a plan, living each day uncharted has never come easy. But maybe this summer, she'll discover more than she thought...about herself, her passions, and her father, too.
For me, the best aspect to this novel is Andie's relationship with her father. It clearly isn't easy for either of them to be such a huge part of one another's lives this summer. Andie's father has been so dedicated to his job that he barely knows anything about Andie's life. Andie, similarly, has been managing on her own for so long that she can't handle having a curfew or a father who interrogates her dates. While these two begin the summer on a rough path, I really enjoyed seeing as they both made efforts to get to know one another. I loved their banter, the way Andie's father made himself a part of her life, and the manner in which they slowly began to move on from the grief they experienced over her mother's death--together. In fact, I think theirs is one of my all-time favorite fictional father-daughter relationships.
Another huge part of this novel, though, are Andie's friendships. Andie is best friends with Palmer--who is dating a theater geek Tom--and Toby and Bri. Toby and Bri are best, best friends and have been since kindergarten. Though the four of them are a unit, Toby and Bri are together almost all of the time and their lives are so overlapped that half of their school gets the two of them confused. Toby is a romantic, determined to get her rom-com happily-ever-after while Andie treats relationships as three-week flings during which she has to sit patiently through the date to finally be able to make-out with the guy. The four of them are so different but I loved reading their group texts and watching as they made their summer a magical, entirely exciting experience. They've always got one another's backs and they talk about everything, from their families to their boy troubles and I loved that. This book definitely passes the Bechdel test and though their tight-knit friendship goes through its hurdles, I thought it was such a realistic dilemma and was handled in such a mature manner. I love a bittersweet, but realistic ending and that's exactly what this gave me.
Of course, I can't not talk about the utterly adorable romance within these pages. Clark is nervous and shy, a fantasy author who falls for Andie and takes her on a disastrous first-date that neither of them enjoy. Where Andie avoids talking about herself, Clark pushes her to open up and Andie, who is closed-off and never lets any guy get "in", immediately shuts down. But somehow, Clark gets past Andie's defenses and their love story is just too cute. Clark has been home-schooled all his life and Andie pushes him out of that bubble, introducing him to her friends and her father and giving him a summer of memories he won't forget. On the other hand, Clark makes Andie comfortable enough to open up about her life--her father, her mother, her friend group--and for the first time in her life, Andie finds herself in a relationship lasting longer than three weeks. It's such a healthy, equal relationship and though it has its ups and downs, I really loved watching it unfold. I especially enjoyed that Clark wrote fantasy and his passion for writing is just as evident as Andie's passion for medicine or animals. Andie and Clark push each other to become their best version of each other and I loved that--not to mention I fell for Clark and his dimples so, so hard.
The Unexpected Everything was such a lovely, unexpected surprise. I genuinely didn't expect to find my next favorite of 2016 when I picked this up but now all I want to do is re-read it. I can't recommend this enough to anyone looking for a realistic, mature, and romantic summer read. It's a contemporary YA that's cute, sure, but it's also deep and talks about sex and changing friendships and familial relationships. It has so much to offer and I can't wait to pick up Matson's other novels. I only hope they wind up being unexpected surprises too!