NOTE: This is not a review for Banishing the Dark but rather a spoiler-free series review for the Arcadia Bell Series.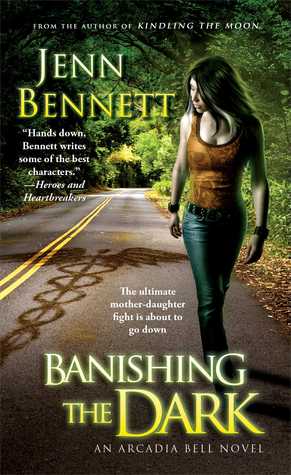 Title:
Banishing the Dark (Arcadia Bell, #4)
Author:
Jenn Bennett
Rating:
4 Stars
I inhaled the entire Arcadia Bell Quartet back in early December, my thoughts an incoherent jumble of too-loud exclamations and too-few actual words. Even now, months later, my thoughts resemble the flailing limbs of a fangirl whenever they stray back towards Jenn Bennett's perfect, oh-so-perfect, Urban Fantasy debut.
From the surface, Arcadia Bell seems to be deceptively similar to mercenary Kate Daniels: a magician, parents with ever-so-slightly-evil origins, and a penchant for attracting danger. From the onset itself, however, Bennett's novels have contained tighter plot threads and, what's more, a heroine far removed from the loner we know both Kate Daniels and Mercy Thompson to have originally been. When we first meet Cady in
Kindling the Moon,
she is forced to re-visit the fact that her parents, both powerful magicians in their own right, were framed for murders they did not commit. For the past seven years, Cady has been able to slip under the radar, conducting an incognito livelihood as a bartender--but now, she unexpectedly is forced to prove her parent's innocence.
Every UF Series has specific qualities about it that keep me coming back for more: with Mercy Thompson it's her relationship with Adam and the pack; with Kate Daniels it's the way more and more people creep into her heart; with Downside Ghosts it's Chess's insecurities which slowly begin to shed off as she begins to believe in her own self-worth. With Arcadia Bell, it's Cady's vibrant spirit. Unlike most UF heroines, Cady arrives at the airport surprisingly baggage-free. Granted, she begins to accumulate plenty of baggage as the series progresses, revealing twists about her past she could have never predicted, but Cady never loses either her kick-ass demeanor or her vivacious energy despite the hurdles life throws at her.
What's more, this series is graced with Lon Butler. *cue swoons* It seems the only man more attractive than a lean, fit, intelligent male with a pirate-mustache is a lean, fit, intelligent
single-father
with a pirate-mustache. While Lon and Cady have their difference--most noticeably their age gap--I simply thrive off of the stability their relationship provides. Even when faced with the disastrous ex-wife, as we are in
Binding the Shadows,
Lon and Cady's relationship never wavers. Moreover, both of them bring unique talents to the table, both being extraordinarily blessed magically, so the blend of their powers is always a sight to behold as they work together to defeat demons.
Jupe, Lon's teenage son, while ordinarily a character I'd steer clear of, is the backbone of both this family and this series. Bennett never writes Jupe as annoyingly immature, instead giving to us an energetic, curious, and deeply loving young boy. Jupe and Cady's relationship, in particular, is wonderfully developed as the series progresses. Cady is not merely "the younger woman" in Lon's life, but she is truly part of his family and the bond built between herself and Jupe, separate from the bond Jupe could share with a biological parent, is truly special.
The Arcadia Bell novels have each been one better than the next.
Kindling the Moon
started off strong and
Banishing the Dark
truly only ended stronger. Each one of these four novels ties back together, tracing the same larger mystery in a few smaller ones, but building deep character ties along the way. From our titular lead to the secondary characters we cannot seem to forget, this series has etched its way onto my heart. With my paperback copies safely tucked into my bookshelf, there is no doubt I will be re-visiting Cady, Jupe, and Lon many more times to come.
Banishing the Dark
released on Tuesday and, believe me, if you don't at least have a copy of
Kindling the Moon
on your nightstand, you're only doing yourself a disservice.
Chronological Order (Prior to Banishing the Dark)