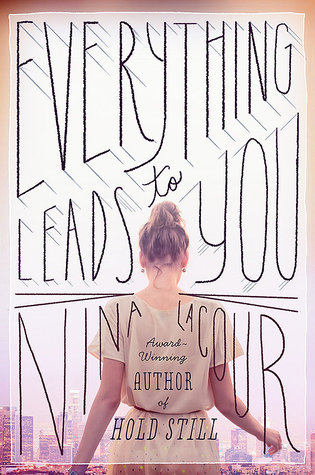 Title:
Everything Leads to You
Author:
Nina LaCour
Rating:
4 Stars
Release Date:
May 15th, 2014
Without a doubt, this is LaCour's best novel by far. While I've loved and taken away something different from every one of her books, I was still blown away by this which, believe me, is no easy task.
Film
What I appreciate about LaCour's writing style, in general, is the fact that she never writes down to her audience. Instead of depicting young adults whose lives revolve around school, she imbibes each and every one of her protagonists which a passion. In
Hold Still
it was photography; in
The Disenchantments
it was music; in
Everything Leads to You
it's film. Growing up in California with a family thoroughly invested in the film industry, Emi has almost always knows she wants a career in the movies. Not as an actress or a director or even a writer, but as a set designer. Through Emi's eyes, LaCour brings to life the thrill, the frustrations, and the importance of shaping a film set. Frankly speaking, I sort of want to fly to Hollywood myself, now, and decorate a few sets of my own. Emi's passion bleeds through the page and I
love
this. It makes her such a real, three-dimensional character.
What's more, the film atmosphere of this entire story enables it to read much like a movie unfolding, scene-by-scene.
Everything Leads to You
isn't lacking in an action-filled and exciting plot line. Unlike LaCour's past novels, which have been primarily character-driven, introspective reads, her latest is a page-turning mystery (at first) which develops into a nail-biting romance. When Emi discovers a letter on set from a deceased, but legendary, actor she sets out, with the help of her best friend, to give it to its rightful owner. Emi tracks the recipient of this letter around town, eventually stumbling upon Ava, the grand-daughter of a famous Hollywood actor, and within moments, the course of her summer is changed. As Emi is offered a script to work on, she explores not only Ava's film talent--genetic--but also the secrets of Ava. With the backdrop of a film town, infused with characters thoroughly invested in movies, and with the additional inclusion of lines from Emi's new script, the setting of
Everything Leads to You
only adds to its story. LaCour has painted such a rich, vibrant atmosphere that it is impossible to look away; one must simply be content to be pulled into the tide.
Growth
LaCour's novels are all, in some way, shape, or form, about growth and
Everything Leads to You
is no exception. It's one of
those
books; you know, the novels where the protagonist discovers herself over the summer. It sounds incredibly cliched, but combined with LaCour's prose and command of characterization, it comes across as sophisticated and, most importantly,
real.
Emi, having just broken up with her on-again-off-again girlfriend yet
again
doesn't begin this novel in the best of places. Not only is she unable to leave her current relationship completely behind her, but she is also classically confident in her own capabilities in a manner only a teenager can possibly be. Over the course of the story, Emi grows to
mature,
if nothing else, admitting her faults and doing her best to rectify them. What's more, despite her sheltered and luxurious upbringing, at least compared to Ava's childhood which is riddled with far more economic struggles that Emi could imagine, Emi makes the effort to bridge that gap and understand not only Ava, but the world around her.
Romance
Lastly, I have to admit that the romance in this novel is simply to die-for. LaCour never emphasizes the fact that Emi and Ava like girls; it simply is. For once, I have to admit it's refreshing not to constantly re-hash the oppression homosexuals face and instead appreciate and enjoy a romance between two female characters. Even beyond that diverse aspect of the love story within these pages, though, LaCour goes above and beyond to create distinct, but powerful, secondary characters. Emi and Ava come from two completely different walks of life and are drawn together by their love for film, but the presence of these secondary characters helped to ground their romance to reality. With Emi and Ava, and their overblown enthusiasm for the scripts and sets in their lives, it is all too easy to fall into the fake, fleeting love story of Hollywood. Instead, LaCour uses her secondary characters as barriers between reality and fantasy, ensuring that Emi and Ava's path to one another is not half as easy as their first meeting. And, believe me, it's such a worthwhile romance.
Everything Leads to You
completely be-spelled me under its atmospheric setting, not to mention the glimpses it provided into the script Emi and Ava were working on during the summer. LaCour's small details, ultimately, elevate her novels from fiction to reality, breaking those barriers until her characters feel like living, breathing humans. It's a gift and with her latest, she uses that gift to her fullest capability. Yet another stunning novel from LaCour; I don't think anyone is surprised by that, least of all, me.