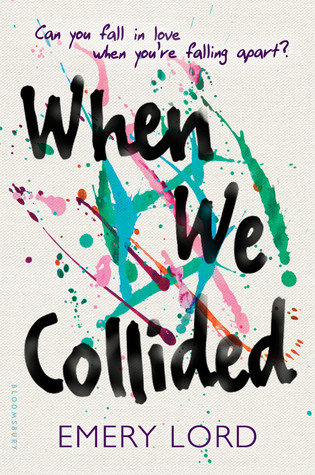 Title:
When We Collided
Author:
Emery Lord
Rating:
3 Stars
There is no doubt in my mind that
When We Collided
is a beautiful, important story—a milestone in YA, even. However, that doesn't change the fact that I have extremely mixed feelings towards this novel.
The Good:
-
Jonah
, the youngest of the three older siblings in a family of six children, is an old soul at the age of seventeen. After the sudden death of his father, his mother has been tired and unresponsive, constantly crying and unable to take care of her family. It has fallen to Naomi, Silas, and Jonah to take care of their three younger siblings, Bekah, Isaac, and Leah. It is tiring, thankless work and all Jonah wants is for his mother to be a parent, again, so he can go back to worrying about classes and girls like the rest of his friends; so he can join the baseball team and think of a future outside of Verona Cove, California.
I loved Jonah. His grief over losing his father, the pain he carries within him, is heartbreaking and it's impossible not to fall for him, especially when he's constantly looking out for his siblings and continuing his passion of cooking, carrying on his father's restaurant legacy. Jonah's growth over the course of the novel is realistic and well-timed. I couldn't get enough of his interactions with his siblings and Ellie, the daughter of his father's best friend and business partner. Together, the two of them helped each other and the restaurant to evolve and I appreciated their friendship, sans romance. Easily, Jonah is the highlight of this novel—by far.
-
Mental Illness.
I give Lord immense credit for writing about mental illness in a respectful, well-researched, and nuanced manner. Whether it be Jonah's confusion and acceptance as he realizes that his mother is depressed, Ellie's discussion of her older brother's battle against depression and his subsequent recovery, or Vivi's own struggle with bipolar disorder, I found
When We Collided
to be realistic and honest. Vivi, especially, I think is written beautifully. Her point of view is full of lush, flowery prose; she's the type of extrovert that makes everyone around her want to be in her orbit and it isn't hard to enjoy her vivacious personality. But the highs and lows she experiences and the sudden turn-around from lucid to not-quite-there is shocking and makes an impact. It helps that though we know Vivi is battling life, we don't know what she's up against and, instead, get to experience it alongside Jonah and other people in Vivi's life. Separately, both of these characters and their story arcs were strong, powerful messages.
The Not-So-Great:
-
More.
First and foremost, I have to admit to wanting more from this story on multiple fronts. We don't hear much about Vivi's friendships with her friends from back home, nor do we get to see her mother's journey alongside her own. We also don't get much of Jonah's family once his mother is on the mend. It's patched up a little too neatly on that front and in terms of Vivi, I found myself disappointed that her existence at Verona Cove is so wrapped up with Jonah. Where are her friends, her relationships with her co-worker, her thoughts about the people she has left behind in Seattle? Even for Jonah, though, where are his friends? Jonah and Vivi's love story is so all-consuming but I wanted a broader picture of their lives, not just together but mostly apart.
-
The Romance.
I enjoyed this love story, I did, and I even understand why it's necessary. If Jonah and Vivi had simply been friends then this story wouldn't have had the impact it did. But the romance progressed quickly and simply felt…off. Perhaps it was meant to feel slightly unhealthy, though? Vivi and Jonah love and support one another but there are also moments where Vivi seems to manipulate Jonah or Jonah takes advantage of a situation presented to him. They aren't bad people but their romance felt weird to me in so many scenes and though some of that is because of the mental illness Vivi lives with, it also felt like something more. Like I said, I liked this romance—it's well-written and captures that summer whirl-wind feeling—but I couldn't really get into much of the novel since the plot revolves around this romance and it wasn't one I loved or particularly wanted to revisit.
There is a LOT of good in this novel, countered by just a few odd blips, but as someone who has loved Lord's previous novels, I found myself disappointed that her latest wouldn't be making my favorites shelves. I think this is a book a lot of readers will love, though, and I'm glad this message about mental illness is reaching a wider audience. For that reason alone, this novel is worth a read.