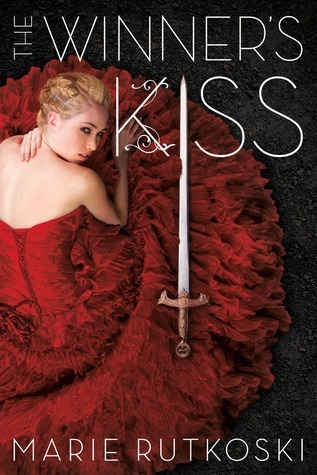 Title:
The Winner's Kiss (The Winner's Curse, #3)
Author:
Marie Rutkoski
Rating:
5 Stars
I've struggled to write this review. Is this only the second time I'm re-writing it? It's hard to tell.
The Winner's Kiss
has occupied nearly all of my brain capacity since I picked it up and it hasn't left me, even now that I've set it down. Rutkoski's world has been bold and brilliant ever since
The Winner's Curse;
this I knew.
The Winner's Crime
only confirmed that her characters were passionate, vulnerable, and clever—a deadly combination if ever there was one. But
The Winner's Kiss
is a seamless blend of romance and politics, infusing the best of this world and its people with a heart-stopping plot that ensures that though this series is truly at an end, its words will live on.
I've wanted Rutkoski to challenge her characters and push them beyond their comfort zone ever since first encountering them on the auction block of The Winner's Curse. While they were intelligent and witty, motivated and brave even back then, I knew that they had the potential to be so much more. Finally, we see the darker underbelly of this world—its ruthlessness both on and off the battlefield. The Kestrel and Arin of The Winner's Kiss are far different characters from those we have encountered before. In some ways, it's safe to say that they hardly know themselves, let alone each other. The highlight of this novel, by far, was watching them navigate their memories—the past they thought they knew—and reconciling it with the present before them.
Their relationship has been a slow-start from the beginning and that isn't an exception in this final installment but, seeing Kestrel and Arin interact in a setting wholly free of society's shackles was refreshing. We get to finally see these two simply be and that, in and of itself, is a treat. Kestrel's struggles throughout this novel are intense and painful, but also necessary. I understood her better outside the walls of the palace and I appreciated that Rutkoski didn't make things easy for the daughter of the general. We see Kestrel become forced to assimilate within an army where she is the only Valorian among Herrani and Dacran alike. We see her face off her complicated emotions towards her father and the life he would have chosen for her—no easy task, especially when this is a relationship that has been complicated and nuanced from the start. With Arin, we experience a different set of challenges—his innate goodness contrasted with his skills on the battlefield; his vulnerability being pushed aside time and time in favor of the cold hard exterior of a leader; his willingness to trust contrasted against his history of mistakes. Neither Kestrel nor Arin are at a perfect place in their lives but watching them come to terms with one another, and themselves, is easily the best part about The Winner's Kiss.
Roshar, the eastern prince who has allied himself with Arin, is the hidden gem of this series. Unfortunately, we don't see much of Roshar in the first two installments of this trilogy but, finally, in The Winner's Kiss we are able to experience him in all of his glory. Roshar is witty, always ready to crack a joke rather than discuss anything serious, but behind his veneer of laziness and nonchalance is a cunning mind whose allegiances are mysterious. What does Roshar hope to gain from helping the Herrani escape their masters? It's unclear, which makes Roshar a dangerous character. Yet, I challenge you to cast doubt upon him and truly suspect him for more than a page before admiring and adoring him, again. His friendship with Arin is a bromance of the ages and his relationship with Kestrel, though unexpected, is another special aspect of this novel. Moreover, I enjoyed that through Roshar we are able to appreciate the full strength of Rutkoski's world-building. The East is vastly different from the West but their animals, plants, poisons, customs, and rituals are not only fascinating, but relevant.
I have so much admiration for how Rutkoski uses every detail of her novels in an important way. Whether it be her battle scenes, tactical machinations revealing more about the characters than gritty details of bloodshed, or the political maneuvers made by these characters, every scene is intricately plotted. Truly, I couldn't have envisioned a more apt way to end this story and the ending is perfection. I haven't always loved this series and I've definitely felt as if the hype was unwarranted, at least once or twice, but The Winner's Kiss makes it all worth it. Not only is this series achingly romantic, but it's smart—it features strong characters, a brilliant heroine who embodies her agency in the strength of her mind, and a world whose politics can draw parallels to our own world (if we only looked hard enough). Thank you for this world and its characters, Ms. Rutkoski; they won't be leaving me anytime soon.