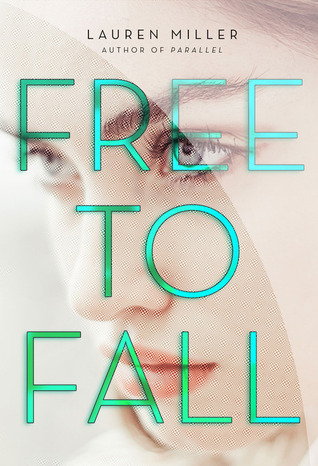 Title:
Free to Fall
Author:
Lauren Miller
Rating:
4 Stars
I flew through
Free to Fall
in the space of an afternoon. Its beginning may take awhile to find its footing, but once Miller hits her stride this sophomore novel is a chore to set down. I've always believed that the best dystopians were the ones whose worlds were eerily similar to our own--and that's exactly what
Free to Fall
is: familiar. Unlike the societies of
The Hunger Games
or
Divergent,
Miller has molded a futuristic world much like our own, complete with large technological corporations which dominate the market and apps which dominate our minds. In Rory's present--our future--Lux is the "it" app to own. Using a complex algorithm, it manages to keep users up-to-date on appointments, take control of their time management skills, and help them make decisions such as what to eat, wear, and buy. In other words, Rory's world is devoid of much thought.
But, in a world so similar to our own, it's impossible not to imagine an app like Lux taking hold of citizens and
working.
We're constantly searching for ways to complete our tasks faster, become more efficient, and rely on technological advances to get our jobs done. Lux, with just a tap of our fingers, gets all that done--and
more.
It thinks
for
us. It isn't until Rory joins Theden Academy, an elite two-year "Ivy League"-esque school that her deceased mother attended, that she begins to question her dependency on Lux. North, the cute coffee-shop guy who works just outside the academy boundaries, forces Rory to leave her comfort zone of Lux and figure out for herself what she truly enjoys. Just as North reveals to Rory the marketing scheme that Lux truly is--intentionally showcasing popular brands, not
all
brands, and using the placebo effect to make users
think
they like what Lux recommends--Rory herself begins to uncover the truth about her mother's past. Rory's mother left Theden Academy shortly before she could complete her graduation and immediately following Rory's birth, she passed away. Rory and her father have always wondered what led her mother to abandon the school she seemed to love and now, creeping closer to the truth, Rory just may have stumbled upon a conspiracy bigger than anything she could have imagined...
Much like a classic dystopian,
Free to Fall
presents us with the veneer of a seemingly utopian society, only to reveal a dark underbelly of evil leaders whose control extends over the entire population. Yet, the manner in which Miller narrates her tale is extremely effective. Rory is an endearing heroine, one whose naivety can be slightly eye-roll inducing but whose growth is immediate and believable. What's more, as she uncovers layer after layer of the secrets shrouding her mother's strange dismissal from Theden Academy, she makes, breaks, and sustains a variety of different relationships along the way. What I appreciate most about this novel is not its originality in daring to publish a dystopian so different from the ones we've come to know, but rather in tackling contemporary issues alongside futuristic problems. Despite the grand scheme of issues Rory is up against, she's still just a sixteen-year-old girl and her friendships, relationships with teachers and other students, ties to her family, and bond with North are all still very much a part of her life. In fact, as a normal sixteen-year-old may grow and change from their relationships, Rory does as well only her growth comes alongside a revelation of secrets.
Free to Fall
is the type of tale that builds; its momentum gets larger, its issues seem practically impossible, and the secrets seem to finally have come to an end. Only, the ending is still a pleasant shock, surprising readers out of the norm they may have imagined. Its well-paced plot aside, though, the aspect of
Free to Fall
which surprised me the most was the romance. In the beginning of the novel, shortly after Rory firsts meets North and begins to fall for him, the two have a slight misunderstanding. Yet, once it's solved their relationship is rock solid, one of utter support as Rory grows to trust and count on North's presence by her side. Moreover, his--rather secret--skills only aid Rory in her quest for the truth and the happiness these two find in one another is flawlessly written. I can actually believe that these two, despite being teens, love each other and that in and of itself is nothing short of miraculous.
Nevertheless, I must admit that I expected
Free to Fall
to be ever-so-slightly
more.
I'd heard so much about this novel before launching into it and though I fell completely for the corporate mystery this tale wound up becoming, aspects of its felt a little too unreal. Somehow, aspects of this novel rang untrue as the complete control these corporations held over individuals and data felt like a violation of too many of our laws such as freedom of speech and, what's more,
Free to Fall
is based on the assumption that a
monopoly
would be ruling our future, which I just can't see being allowed to happen. Thus, there is a certain suspension of belief required throughout this novel and while it's no different from the majority of other tales within the genre, I was unprepared for it. Nonetheless, that being said,
Free to Fall
is precisely the direction I hope to see dystopias heading in: realistic, standalone, utterly devoid of a love triangle, and able to formulate a meaningful message not only about a fictional futuristic society but today's society as well. If Miller's sophomore novel spells the future for this genre then I am certainly going to be free to fall right back in love with it.