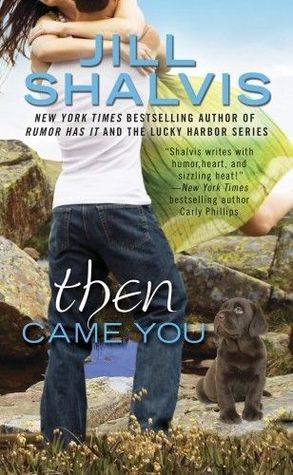 Title:
Then Came You (Animal Magnetism, #5)
Author:
Jill Shalvis
Rating:
4 Stars
I'm not sure I can adequately express just how terrible this cover is. I mean,
look at it.
Actually, no, sorry, don't;
don't look at it.
I know this is a romance novel--I didn't need the horrible cover to confirm that--but with all the awkward photo-shopping going on with this one, it's
particularly
bad.
Thankfully, Jill Shalvis's novels are most definitely
not
bad. I haven't picked up her Animal Magnetism Series, mostly because I'm a bit of an anti-animal person myself (I'm scared of dogs and cats are just...creepy? Or at least the ones in my neighborhood are. I never seem to see the cute cats of tumblr in real life...) but the synopsis of this novel captured my attention completely and I just couldn't resist to sneak a romance read in-between the sci-fi/fantasy kick I've been on.
And, seriously,
Then Came You
was
such
a treat. I inhaled it in practically a single sitting, completely besotted with Emily, Wyatt, and their myriad of problems. Emily is The One With The Plan. We all know people like this; people so set in their ways and determined to stick to a certain path that they believe with guarantee them happiness that they are completely unnerved by any curve balls. When she winds up interning for a veterinary practice in Sunshine, Idaho though, Emily is far away from L.A., the city she
planned
to intern in. What's more, Wyatt--the sexy doctor she had a one-night stand with a few months ago--
works
in Sunshine. The sparks between Wyatt and Emily haven't died down one bit since their night together, but the real question here isn't whether or not their chemistry is still blazing--it's whether or not Wyatt can get Emily to forget her plans...
Then Came You
is complete with Shalvis's trademark sense of humor, sass, and laughs. Emily finds it impossible to keep a filter on her thoughts around Wyatt and, though they try for professionalism, they fail
quite
spectacularly. While Emily and Wyatt's relationship is the main focus of the novel, I love that Shalvis almost
always
writes strong sibling relationships to accompany her characters. Wyatt, the middle child squeezed between two sisters, and Emily, with her lesbian sister, are both shaped by their family ties--which I love. Moreover, their journey to love is a slow-burn. Shalvis makes the sharp distinction between insta-lust and actual love so seamlessly in all her romances, which is likely why I keep coming back for more.
If you're an animal lover of any nature--dogs, cats, horses, turtles--
Then Came You
is going to bring out your soft side for sure. It's impossible not to feel the passion both Emily and Wyatt feel for their job and the animals they care for, which is an unexpected surprise in a love story. Needless to say,
Then Came You
hit all the right notes for a lazy-day summer read and, should the urge strike me again, I'll be visiting the handsome vets of Sunshine yet again.