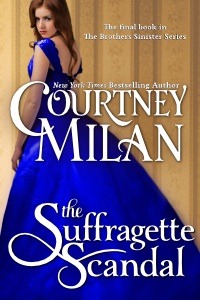 Title:
The Suffragette Scandal (Brothers Sinister, #4)
Author:
Courtney Milan
Rating:
4 Stars
Release Date:
July 15th, 2014
I feel as if I've woken up every week craving a new Courtney Milan romance. Much like an addict, I've stalked her upcoming releases eagerly, refreshing the page in the fruitless hope that the release date will magically change and my pre-ordered copy will arrive, hot off the press, in just a matter of days instead of months. And though the clock has been ticking and July has creeped closer and closer, my impatience for her work has, in no way, diminished. Thus, to say I scrambled to download this ARC onto my Kindle would be the understatement of the year. I
ran,
my fingers flying over the keyboard in a frantic effort to click "Send to Kindle" now, now,
now.
My poor Kindle. It suffered quite the barrage of abuse as I tapped my foot more and more impatiently, unable to wait much longer for the document to download. Once it did, I hardly spared a glance for the Table of Contents or the necessary preface about grammatical errors present in an ARC; I just read. Of course, I'd already read the first chapter on her website but I read it again and--truly--it was just as enchanting as I remembered. From the first sight of our romantic leads, the tragic Edward Clark and fierce Frederica Marshall, I knew theirs would be a Milan love story I secreted away in my heart, content to steal back to on the days I truly needed.
Frederica, the half-sister to beloved Ollie, graduated from an all-women's college to become a suffragist. Now successfully running a newspaper--for women, by women--she won't rest until women are given the right to vote. Edward Clark, originally born to an aristocratic family who abandoned him to die in a country about to be destroyed by war, never thought he'd be back in England--or, for that matter, back to meet his younger brother, James. Once again, however, James is creating trouble for Edward's childhood best friend, Stephen, and in order to stop him this time, Edward must return home. Though the peerage is rightfully his, he wants none of it, preferring to put behind the legacy of his traitorous family and allow James to claim what is rightfully Edward's. In targeting Stephen, though, James has also targeted Ms. Marshall whose newspaper Stephen writes for. Since an enemy of his enemy can only be a friend, Edward joins forces with Frederica, helping to save her newspaper from his younger brother's wild schemes to discredit her movement. Edward's motive is revenge against James and Frederica is merely meant to be a pawn in his game. Instead, the headstrong woman turns his world upside down, utterly enchanting him, and if it weren't the fact that he's a scoundrel of the worst kind--the kind that lies through their teeth--Edward would swear he's falling in love with her...
The Suffragette Scandal
is a riot of wits from the first chapter itself. Edward arrives in Frederica's office determined to throw her off her game; he blackmails her, shows her his expert forgery skills, and then proceeds to tell her that she's merely a means to an end for him. In the face of these truths, however, Frederica is more than a match for him. Thus, a tenuous partnership is struck between the two and though Edward warns Frederica from the beginning itself never to trust him, his actions prove otherwise. Edward and Free's notable fascination with each other is charming. Through their alternating perspectives, Milan effortlessly builds their love story, complete with the dark secrets from Edward's past and his efforts to resist falling for Free. Perhaps it should be dramatic and angst-driven, but rather it all unfolds quite naturally, the love and regard these two hold for one another shining through against all odds.
For me, there is simply too much to love within this novel. Is it the blooming lesbian love story between Frederica's close friend and business associate and another woman she befriends? Is it the unending banter between Edward and Frederica, laced with intelligence, sexual desire, and wonder all at the same time? Or is it merely the manner in which Edward allows Frederica to
be
; be who she is without labels or expectations or more responsibilities than the ones she chooses to handle?
The Suffragette Scandal,
being a historical romance set during a time period of women awakening to both their political rights and sexual desires, is a wonderfully forward, feminist novel. Although it makes us appreciate the struggle women years before us have undergone--and the rights we reap as a result of that today--it also brings into sharp focus the truth of how much more is still left to be done today.
Yet, for all its political discussion on feminism,
The Suffragette Scandal
is primarily a love story and, on that front, it is written beautifully. Milan has always written empowering romances--tales where a woman discovers the power of her own sexual desire or joins the rankings of men in scientific discovery or merely creates a relationship of equal standing with her husband. Naturally, her latest is no different and perhaps what I love most about these romances are that Milan showcases men bowing down to and respecting the professions of the women they love, but in such a manner that their power or equality is never diminished either. I find it is all too easy to believe that in a marriage, one party or the other must hold the reigns. Either it is the man who controls his wife or the man who bows down to his wife. With Milan, however, her heroes and heroines never have to choose. Despite the struggles, they make it work and their love prevails--and, hopeless romantic that I am, I love that.
Granted, I am terribly biased against Courtney Milan, all-women's colleges (I'll be attending one this Fall!), suffragettes, and feminism in general (not to mention muscular men like Mr. Clark!), but even disregarding that, I am confident I'd have loved this novel through-and-through. I read it in a matter of hours, ignoring the World Cup for the delightful dialogue sparked between Edward and Free and, long after I'd finished my dinner, I couldn't quite stop grinning when I thought of them both and their lovely life together. I cannot wait to get my hands on Milan's upcoming novella, continuing to be set in this series, nor can I contain my excitement for an entire saga planned by her to begin releasing towards the end of this year. If it's not already clear, I'll confess it: I'll read whatever she writes.