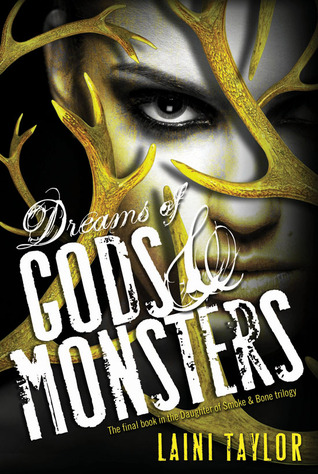 Title:
Dreams of Gods & Monsters (Daughter of Smoke & Bone, #3)
Author:
Laini Taylor
Rating:
4.5 Stars
Ever since devouring
Dreams of Gods & Monsters
in early April, I've spent countless hours reflecting over this novel; picking it apart, looking at it from every angle, and discussing it with numerous readers. Granted, my diction may have veered into vitriolic in parts but, despite the flaws I believe to be scattered throughout
Dreams of Gods & Monsters,
this is still a novel I really,
really
enjoyed.
When it comes to romance, it takes a lot for me to fall in love but, trust me, once I fall, I fall
hard.
While
Daughter of Smoke & Bone
certainly captivated me with its love story,
Days of Blood & Starlight
switched my focus to that of a hardcore fan. Literally all I wanted from
Dreams of Gods & Monsters
was for Akiva and Karou's love story to continue to be as gut-wrenching, emotional, and rewarding as I'd hoped. It's a shallow admission--I know--but it's also a true one. On that count, certainly, Laini Taylor did not disappoint.
When it came to Akiva and Karou, I didn't know what direction their relationship would take but I loved the path of forgiveness, redemption, and re-connection they wound up on. Of course, the sexual tension was beautifully written--Laini Taylor is a master of it by this point--but I loved the small one-liners that carried so much weight. Neither Akiva nor Karou interact a
whole lot
during the book, but what they left unsaid was just as powerful as what they did say.
Moreover, the secondary characters truly come into their own in this installment. Whether it be Zuze and Mik, whose friendship and romance have been pillars of support for Karou throughout her journey or Liraz whose growth arc was indicative of the entire angel population as a whole and impeccably paced, Taylor doesn't disappoint in these minor technicalities. Her prose, as always, is on point and breath-taking as is her wild imagination and penchance for weaving the most fantastical of worlds. With
Dreams of Gods & Monsters
Taylor's world-building prowess truly comes to light and stuns; it truly rendered me speechless.
Yet, this novel falters--quite a bit--when it comes to the actualization of Akiva and Karou's dream. Over the course of these three novels, we've seen their love story blossom alongside their fervent hopes to unite their two races and end the war that has been plaguing their beautiful country for years and years on end. Now, however, when the time has finally come to integrate their societies and live as one, the page space felt too minimal. Taylor doesn't end this novel on a definitive note of whether or not Karou and Akiva's dream
works.
We don't experience much of it first-hand and don't even hear belated accounts of what becomes of this country or its people, which is disappointing after becoming so embroiled in the politics of this nation.
What's even more strange, though, is the fact that new and unexpected plot threads emerge and gain sudden importance. While it has always been evident that there is more to Taylor's world than what meets the eye, the influx of new information she shares with readers comes far too late in the series. I didn't care enough, unfortunately, about this new development or the characters it brought with it and, what's more, it took away from the dream Karou and Akiva had been chasing all their lives. For Taylor to dump this on readers at the very end of the end was to fail to give them enough time to process this twist or what it would mean for these beloved characters. It was simply a case of poor timing, weak plotting, and added confusion. Perhaps if it were confirmed that Taylor had a companion series in the making I would be more comfortable leaving this story at its conclusion, but there remain one too many unanswered questions and open plot threads by the time we reach the final pages of
Dreams of Gods & Monsters.
Overall, though, I really, really,
really
liked this finale. Taylor's writing was gorgeous, Akiva and Karou's relationship totally won me over, the moral and philosophical discussions were thought-provoking, the secondary characters wonderfully developed, and the ending felt right, in a bittersweet way. I definitely expected a lot more in way of a battle, not to mention backlash from the armies concerning Akiva and Karou's final dream, and, what's more, I have a lot of questions concerning the end; but looking at this as an objective conclusion to Akiva and Karou's tale--without all the messy new mythology thrown in--I admire their journey as a whole and the strides they've made. With
Dreams of Gods & Monsters
I was hooked from beginning to end and have to admit to feeling content when I closed its back cover. Not elated, but not quite disappointed either.