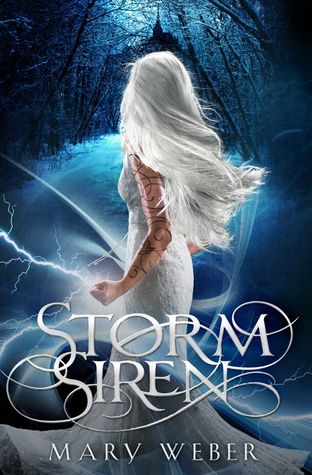 Title:
Storm Siren (Storm Siren, #1)
Author:
Mary Weber
Rating:
3.5 Stars
Release Date:
August 19th, 2014
The more I ruminate over
Storm Siren
the less I find to enjoy about it. I found Weber's debut to be remarkable when I originally read it, mainly because I had read the novel in a single sitting and the adrenaline rush that comes from finishing an action-packed book is difficult to beat. It makes it hard to think and upon finishing
Storm Siren
I was concerned for the future of the series but, still, very much in love with the characters and journey I'd found inside. Now, having put a considerable amount of time and distance between myself and
Storm Siren
I am able to discern that this novel, while an excellent debut, is by no means flawless. What's more, the narrative lags seem more and more evident upon reflection and I find myself in the tenuous situation of not quite knowing whether or not I'll be picking up the sequel after all.
Storm Siren
begins with a clap of thunder as Nym, an Elemental, is forcibly sold at an auction and, upon witnessing the cruelty of a master towards his young slave, retaliates in anger. In Nym's world Elementals are killed at birth and, what's more, are born male. Thus, Nym is an anomaly; she shouldn't exist. With a well of power she is unable to control, however, Nym is dangerous and has accidentally murdered dozens over the course of her short life span. Wracked with guilt and loathsome of her own gifts, Nym finds herself bought by Adora, a noblewoman and court adviser who promises to train Nym. Under Adora's command Nym finds Eogan, the handsome trainer who is immune to Nym's powers and claims to be able to help her harness it.
Nym's journey is a compelling one, particularly as her entire childhood has been spent being bought and sold from one owner to another. With her white hair Nym cannot escape the features which mark her as Elemental and nor can she escape her gift.
Storm Siren
stands out in large part due to the gradual arc Nym experiences. When she is first bought by Adora Nym resists training with Eogan. Not only does she lack faith in his promises but she doesn't believe in herself either. Thus, to watch her grow with every experience, get up from every set-back, and move forward from a past that has been haunting her is admirable.
Yet, as Nym conquerors her inner demons and finally finds self-confidence, the world around her grows weaker and weaker. Nym, having lived the life of a slave, has traveled extensively throughout the land of Faelen. Not only does she understand the downtrodden lifestyle of these citizens better than she comprehends the opulence of Adora's world but her bond to her country could have easily been felt. Unfortunately, it wasn't. Weber swiftly shifts the focus of the novel from Nym's past as a slave to her present as an Elemental. I found this to be a necessary direction for the novel as a whole but, as far as world-building went,
Storm Siren
lacks a comfortable balance. Weber provides readers with just enough information to understand the immediate situation on hand. Whether it be the politics, society, or class structure of this realm, Weber is careful to always impart the bare minimum. Thus, while I could follow the story line perfectly, I felt cheated of truly immersing myself in an original and intriguing universe. Towards the end of
Storm Siren
the political machinations at hand, which have been building throughout the narrative, truly reach a climax and, in those instances, a deeper understanding of the prior bonds, political struggles, and unspoken relationships between the characters would have been invaluable.
Nevertheless, the world-building aside, I didn't find much else to fault with
Storm Siren.
Granted, Adora's characterization veered on cartoonish, at times, for she is cast as a villain and desperately wants Eogan for herself, threatening Nym if she gets too close to him. Moreover, the conclusion of
Storm Siren
leaves much to be desired, forcing readers to remain hanging on a cliffhanger of deadly proportions shortly after a massacre that upends the former direction of the plot. I cannot bring myself to be satisfied with a novel that leaves too much up to chance, to fate, to imagination. I needed more concrete answers, particularly after reading an entire narrative composed of character growth and politics and war. Truly, I suspect this is a series to binge-read, back-to-back, or simply drive yourself crazy with curiosity.
For all those qualms, I still enjoyed
Storm Siren
immensely. Eogan, the mysterious trainer whose job it is to help Nym, is a bundle of surprises and the steady romantic arc built between him and Nym is both tantalizing and heart-breaking. What I love best about Nym and Eogan's relationship is the fact that it is multi-faceted, full of hard truths and unexpected hurdles, but it still remains wonderfully rewarding. Their companionship gives and takes strength in equal measure, which I appreciated, and I only wish for an even greater dose of swoon. In addition to Nym's romance with Eogan, however, another crucial relationship at the heart of
Storm Siren
is the friendship shared between Nym and Colin. Much like Rossi's
Under the Never Sky,
there is no love triangle caused by the presence of two men in Nym's life. Instead, while Eogan's support and faith gives Nym the strength to find her self-confidence, Colin's friendship and laughter allows her to embrace life once more and emerge from the shell she once was. Both these bonds are fierce, just as is the respect between Eogan and Colin as Colin, too, is Eogan's student. Together, the three of them are an unstoppable force to be reckoned with and their relationships bring them only closer, not farther.
There is much to love and cherish within the pages of
Storm Siren
but for fantasy lovers for whom world-building is a deal-breaker, I'd recommend waiting on this one. Its cliffhanger is nasty, the ending is remarkably uncertain, and though
Storm Siren
begins with such a promising tale I remain in the dark as to where this story is headed next. Sure, I'm curious, but I'm also wary.
Storm Siren
is a strong YA Fantasy debut but, coming off of the Grisha trilogy, Weber leaves more to be desired. Quite a bit more.