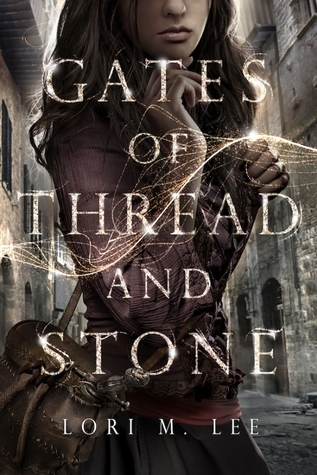 Title:
Gates of Thread and Stone (Gates of Thread and Stone, #1)
Author:
Lori M. Lee
Rating:
2.5 Stars
Release Date:
August 5th, 2014
I felt hopeful, sliding open the cover of
Gates of Thread and Stone.
Lee's debut begins with promise, introducing us to Kai, a fierce and headstrong heroine whose ability to slow down time is refreshingly unique. Moreover, the first few chapters of this novel present us with an intriguing fantasy world, one in which Kai, living practically in the slums, must earn credits--opposed to hard cash--to rise above her rank. Kai, who was adopted by an orphan boy, Reev, when she was eight-years-old, has a strong bond with her older foster brother. Seeing the two interact on the page at the opening of
Gates of Thread and Stone
was heart-warming--just as witnessing Kai's frantic worry over Kai's sudden disappearance is heart-wrenching.
With the help of her childhood friend (and crush!), Avan, Kai sets out to find Reev knowing only that he has been taken by the Black Rider, formerly thought to be a mere legend. Unfortunately, I found that this novel gradually declined from this point on-wards. For me, where
Gates of Thread and Stone
is strongest lies within Kai. Unlike typical protagonists, she doesn't allow the presence of her love interest to distract from her mission. Instead, I admired Kai's unflinching devotion to saving Reev and, moreover, her inner strength in challenging herself and overcoming her own hurdles. When it came to the romance I certainly had a bone--or two, really--to pick with Kai but with that slight exception, I found her to be a welcoming heroine.
Yet, despite her shining qualities, I feel as if Lee fails to utilize Kai to her fullest potential. We, rather disappointingly, see very little of Kai's marvelous ability and the instant camaraderie I felt upon meeting her during those initial pages vanished only chapters into the narrative. I continued to enjoy Kai, support her decisions, and marvel at her actions
but,
I couldn't feel much for her. In large part, this is due to the lack of development that Lee offers her secondary characters. Reev brings out the best in Kai and, seeing the strength of their bond in the opening of the novel, establishes the reader-character connection that is absolutely essential. Lee fails to sustain that thread throughout the narrative, however, as Kai is constantly on the move from one location to another, meeting characters only to dismiss them at later points in the tale. I never felt grounded, neither to a location nor to a character, over the course of
Gates of Thread and Stone.
I relish secondary characters, not only for their different personalities but more so for what they bring out in the protagonist. Lee's secondary characters are forgettable, at best, and their roles in Kai's life are all-too-similar to those played by other, far more memorable, secondary characters in other novels; whether it be teacher, guide, betrayer, fighter, potential friend...none of these roles are filled in a manner that bears remembrance and I found myself ever-so-slightly saddened by the direction the plot took.
I will say, though, that Lee keeps readers guessing at her plot lines. I often expected the story to travel in one direction and it pleasantly surprised me by taking a different path. Nevertheless, I didn't find the pacing of this novel to be particularly engaging and, once Kai leaves the city gates, the world-building felt confusing at best, nonexistent at worst. Now, that's not to say it isn't there--because it is. Lee infuses her debut with hints of mythology, pulled from various sources, and the result is rather fascinating. I only wish it had been presented in a different light. By the time the entirety of Lee's world becomes evident, the story is winding down and the influx of emotion, detail, and plot twists all packed into the final few chapters isn't lovely.
What's more, the conclusion of this novel banks upon the fact that you, the reader, actually
cared
about the romance. Which, I assure you, I didn't. I found Avan to be a respectable romantic interest--not too perfect but not an asshole either--yet I couldn't summon up much emotion for him. Avan and Kai skirt around their feelings for far too long. Lee takes it to a point where it begins to feel unnatural--seriously, how could they
not
have figured out one another's feelings sooner?--and the romantic tension isn't of the welcome variety. Granted,
Gates of Thread and Stone
avoids a love triangle but--I'll warn you--don't come here looking for swoon. I genuinely felt as if Avan's character, particularly with his past and liberal mindset, could have been utilized in a different--and possibly
better
--manner throughout the narrative. Just...unimpressive, is all.
I am confident that Lee's debut will finds its die-hard fans. Of that, I have no doubt. Yet, for me, it wound up being a mash-up of too little magic (Kai, USE YOUR POWERS!), too little chemistry, and far too little connectivity. I just couldn't get into this one and while I truly loved the sibling bond that lies at the core of this novel, not to mention the qualities of Kai's that are truly admirable,
Gates of Thread and Stone
just didn't amaze me.
I was given a copy of this book from the publisher in exchange for an honest review. Thank You!