Just Another...Book Crush! is a monthly feature where I invite an author whose book I've recently reviewed and loved to write a guest post and share their three latest book crushes. It's a feature I'm starting mostly because I'm often very shy to approach authors, especially ones I admire, and also because I love reading guest posts since, more often than not, they convince me to pick up a book even when the reviewer cannot.
I'M ALIVE! I moved into college on Monday and ever since I've been busy, busy, busy. You'd think I'd have a bit of time to just breathe and figure out all this college stuff, but NO. I've been thrown into Orientation and running around campus, finding buildings, and in general plastering a smile on my face in case I run into my future Best Friend For Life has been exhausting. So forgive my minimal online presence and, instead, welcome Joy N. Hensley to the blog! I looooved Joy's debut novel, Rites of Passage which I'll hopefully be reviewing soon (hopefully!). When I approached her to write a guest post for the blog she mentioned that she'd prefer an interview instead so, forgive my lack of creative questions, but I hope you enjoy reading this as much as I did.
Also, Joy was sweet enough to send me amazing swag for her upcoming novel along with extras which I will be giving away below. Since it's my birthday today I suppose you can treat this as a bit of a birthday giveaway! ;)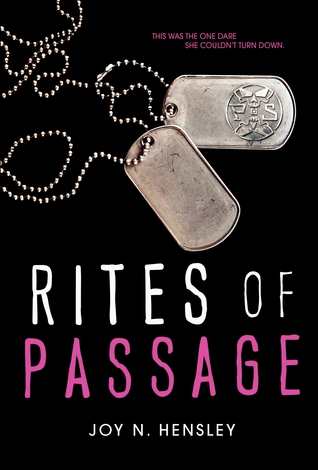 Sam McKenna's never turned down a dare. And she's not going to start with the last one her brother gave her before he died.

So Sam joins the first-ever class of girls at the prestigious Denmark Military Academy. She's expecting push-ups and long runs, rope climbing and mud-crawling. As a military brat, she can handle an obstacle course just as well as the boys. She's even expecting the hostility she gets from some of the cadets who don't think girls belong there. What she's not expecting is her fiery attraction to her drill sergeant. But dating is strictly forbidden and Sam won't risk her future, or the dare, on something so petty...no matter how much she wants him.

As Sam struggles to prove herself, she discovers that some of the boys don't just want her gone—they will stop at nothing to drive her out. When their petty threats turn to brutal hazing, bleeding into every corner of her life, she realizes they are not acting alone. A decades-old secret society is alive and active… and determined to force her out.

At any cost.

Now time's running short. Sam must decide who she can trust...and choosing the wrong person could have deadly consequences.
1. First and foremost, thank you for agreeing to participate, Joy! I'm so glad you were able to make it onto the blog today. I knew next-to-nothing about you prior to your debut but after reading Rites of Passage I found out that you yourself had been to military school before. It is evident throughout your novel as the story and experiences feel so authentic. Were any of the scenes from Rites of Passage similar to your own life? Could you explain the process of fictionalizing a real experience and molding facts from your life into this tale?
Thanks for having me, Keertana! I looked over your questions and realized I was going to have to take a little bit of time to think about them and actually craft some answers. It was actually a learning experience for me. I had to think past the basics of Rites of Passage and dig for the answers. I did go to military school, on a dare, in fact. There are a lot of scenes in Rites of Passage that could every easily have taken place. Near the beginning there's a day-long event called Dedication Day where the recruits have to show what they've learned in their "boot camp" week. I took a lot of that from the school I went to. I'm sure other military schools do something similar, but I'm not sure when in the training it happens. There's another scene in the book later on where the drill sergeant is doing some physical training with the recruits in the hallway. He turns the lights out and plays a song--the song I chose for that scene was very specific and that type of training was done by my cadre.
It's important to note, as you did in your question, though, that this book is definitely fiction. I survived my military school dare, however I didn't thrive. Basically, when I started to write Rites of Passage, I wanted to tell the story of how I *wish* I had done, and Sam is the character that embodies that. Were there nice upperclassmen? Yes. Attractive ones? Definitely. There were also cadets who didn't live up to the uniform and ones who still (after forty years of being co-ed) believed that females didn't belong on campus. Were there secret societies at my school? I don't know. There were whispers of them, as there are at many old, traditional universities. Would I call them out? Heck no! :-) But all of these facets went into creating this book, Denmark Military Academy, and the cadets who inhabit the novel. Is any one character true to life? I don't think so, not 100%, probably not even 50%. But, as with any book written by any writer, there were people that I drew on for inspiration and character building.
2.
What stood out to me the most about
Rites of Passage
was the overwhelming feminist manifesto throughout. Sam, as a woman, is discriminated against for attempting to enter a predominantly male society and career. Was it your intent to write
Rites of Passage
with such a strong feminist focus or did you rely on experiences of female soldiers who have also undergone similar forms of discrimination in their field? More importantly, do you feel as if Sam's determination to push through the dire circumstances she finds herself in is due to her own sheer will or was it an intentional shout-out to women's rights?
Wow, you're using some strong language in this question! I'm not sure I'd say feminist manifesto so much as feminist undertones , maybe? My intent was just to write a kick-ass female character, you know?
I didn't want Sam to have to depend on boys to get her through. I wanted to write a character who was okay with herself, who didn't need a boyfriend to feel important. I wanted to show how friendships in teen years are so much more important that relationships and how it's okay to not be dating all the time. Life can take us so many different places and while I love a good romance just as much as the next girl, it's important to see that we can love ourselves and be okay with ourselves.
It's nice to be loved and held and kissed and swept off my feet, but I want someone who believes in me, too. Someone who understands that I need to accomplish things on my own and I don't necessarily need to be rescued. As a teacher, I see so many girls who think they aren't worth anything because they don't have boyfriends.
But that's not what life is, you know?
Life is about finding out who you are and who you want to become. If it takes putting relationships on the back burner for awhile, that's okay. Every single girl deserves to know that she is capable of whatever she dreams. She might need help, she might need friends along the way, but she can do anything!
3. Over the course of Rites of Passage Sam grows and changes, both mentally and physically as she finds herself training both harder and longer. Could you explain the process of creating Sam's growth arc--as it pertained to her military household, her blooming romance, and the brutal hazing she suffers?
Sam's a pretty strong main character with pretty strong convictions about the way life should be. Throughout the book, I needed to make sure she questioned what she believed in. It's not enough to say "This is what I believe." You have to be able to answer the inevitable "Why?" that comes next. So for a character like Sam, I had to shake her to her core, which meant putting her through some pretty horrible things regarding her family and the hazing. She had to realize on her own that not everything is black and white, good and bad. There are gray areas to everything, but it's where you stand in the gray that makes you who you are. At the end of the novel, I hope it's clear that Sam understands the why--not only of her beliefs--but of the other characters' beliefs as well.
4. Lastly, I cannot help but ask: is there any possibility of a companion novel or sequel? What else can you tell us about your current projects?
Right now Rites is a stand alone, but that doesn't mean there won't ever be a sequel or companion novel. How's that for a non-answer? :-) Right now I'm working on my second book for Harper Teen called The Harder You Fall. I can't say much yet, but it takes place in the world of mixed martial arts.
a Rafflecopter giveaway