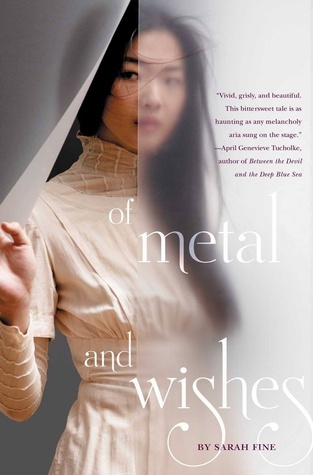 Title:
Of Metal and Wishes
Author:
Sarah Fine
Rating:
3.5 Stars
Release Date:
August 5th, 2014
First and foremost, you should know that I've never read or seen "The Phantom of the Opera." Secondly, you should know that I read
Of Metal and Wishes
not even knowing it was a re-telling of the above classic. So. If you're looking for a comprehensive review comparing these two novels, you've come to the wrong place.
Nevertheless, despite my lack of insight into the re-telling aspect of
Of Metal and Wishes,
I enjoyed it immensely. Wen assists her father in a medical clinic located in a slaughterhouse--a slaughterhouse where a ghost resides. The Noor, a cast hired on as cheap manual labor, begin working at the slaughterhouse. When one humiliates Wen, she impulsively makes a wish to the Ghost and is shocked when it is granted in a violent manner. In an effort to ease her guilt, she befriends the leader of the Noor, Melik. But before long, Wen is torn between her growing feelings for Melik and her friendship with the Ghost. After all, nothing but brutality and violence are certain in the slaughterhouse and if Wen isn't careful, the two just may follow hot on her heels...
Where
Of Metal and Wishes
shines is in creating a palpable atmosphere. I don't usually gravitate towards horror/thriller novels--so I can hardly compare Fine with connoisseurs of the genre such as Stephen King--but the tension throughout the narrative reminded me distinctly of the impending sense of doom one feels when reading
Rebecca
or
Nine Coaches Waiting.
It doesn't overwhelm the senses but, rather, it lingers, festering until the dam breaks and the plot finally reaches its peak. Fine paces her tale impeccably, adjusting the background sensation in tune, and I found this to enhance the experience of the novel memorably.
Of Metal and Wishes,
moreover, features a sympathetic heroine in Wen. Not only is she compassionate and considerate, but her blunders early in the novel prove that she isn't above mistake or reproach. Thus, it is impossible not to feel a connection with well-meaning Wen. Where I grow weary of her character, however, is in her distinctly damsel-in-distress portrayal. Now, perhaps this is my ignorance speaking and Fine is simply sticking to integral plot points as she re-tells "The Phantom of the Opera" but I found myself disturbed by the treatment of women in
Of Metal and Wishes.
If a young girl is seen alone with a man, it instantly means she is "loose" of morals, or a prostitute. Seriously, the number of times Wen, our protagonist, was forced to ward off unwanted sexual attention became tiresome. It did little for the setting--which I will discuss in a bit--and even less for the character growth. Additionally, I'm not a fan of dilemmas which are created to be solved with violence. For the romantic interest to prove himself by beating up the men who wanted to sleep with Wen seems far too reminiscent of
Beautiful Disaster
to me. It isn't a flaw, exactly, as Fine handles the issues she brings up with aplomb, but I had hoped YA was moving away from the artificial love stories of fists and helpless maidens.
Fine's tale further lost me with its setting. The Noor are--I believe, but do feel free to correct me if I'm wrong--a fictional group whose physical characteristics are similar to those of Asian origin. Yet, the novel contains a distinctly historical feel to it which threw me off on more than one occasion. The conflicts within this novel are merely fictional, as is the political turmoil, but it felt as if it lacked a true historical thread to tie it back to reality--mainly because aspects of the Noor culture are, certainly, derived from historical origins in Ancient China. What I
did
enjoy about this twist was the fact that Fine pitted two opposing social classes of people--neither of which were Caucasian--and I found that the commentary she was able to make as a result was thought-provoking. Nevertheless, I feel as if
Of Metal and Wishes
could have benefited from a slightly more concrete--grounded, if you will--historical air to it, particularly as the treatment of women alludes to a much older time period in history though Wen's father's dreams of sending her to medical school allude to far more recent times. It continued to plague me as the tale went on and, let me assure you, confusion is not a sensation I welcome.
Of Metal and Wishes
is ideal for lovers of thriller/horror/mystery novels, especially as its genre contains just a hint of steampunk, romance, and hints at a sequel (though, as far as I know, a follow-up has not been confirmed). So far, none of Fine's works have been able to compare to her debut--for me, at least--but I can easily see her latest becoming a favorite among many. If there's anything Fine has proved with this one it is that no genre can deter her--she is, well and truly, a versatile writer.