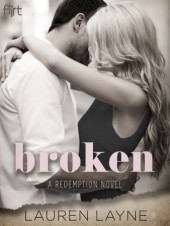 Title:
Broken (Redemption, #1)
Author:
Lauren Layne
Rating:
3 Stars
Release Date:
September 2nd, 2014
Over the past year, Lauren Layne has swiftly risen to become one of my favorite romance authors. So much so, in fact, that I request her novels without even glancing at their synopses. Thus, to find that
Broken
continued the tale told in Layne's debut, only this time following Olivia instead of Stephanie, was a pleasant surprise. In
Isn't She Lovely
Olivia stars as the villain--the ex-girlfriend who cheated on her perfect boyfriend and plans to steal him back. Now, in
Broken,
she stars as an angel--the college senior who drops out to take care of a soldier.
Only Olivia and a handful of her close friends know, however, that dropping out of college isn't an angelic task; it's redemption. In healing others, Olivia hopes to face the darkest parts of herself and come to terms with what she did to wreck the relationships around her. Paul Langdon, the young and tortured solider she finds herself in care of, seems to be an even greater expert on wrecking relationships, however. Ever since returning from Afghanistan, Paul has pushed aside those around him, refusing to face the world with the scars on his face and the limp he carries around as a remnant of battle. Chasing away caretaker after caretaker, Paul finally acquiesces with his father's wishes and promises to cope with the new caretaker for three months. Neither Paul nor Olivia are prepared, though, for the youth or attraction they feel for one another upon meeting. But their exterior veneers hide two very angry, very unstable, and very broken individuals inside. If they play the cards right, these two just may be the solution they've been searching for all their lives...if only they can get past their destructive tendencies to find the love beneath.
I find the premises of
Broken
far better executed than the actual novel itself. While I thoroughly enjoyed this love story, from its stumbling road blocks to the true struggle these characters were forced to undergo in order to make it work, I also remained unimpressed. Layne has, up until now, taken seemingly classic story lines and added her own unique twist to it. Not only are her protagonists independent, confident, and undergoing self-growth, but her relationships always end with equal footed partners. Moreover, she never fails to drop tid-bits that hint at so much more than mere romance in her characters lives, whether it be in the form of friendships or family. While many of these elements continue in
Broken,
from Olivia's growth and acceptance of her past to her difficulty sustaining her former friendships as she takes a different path in life, many of my qualms with this story stemmed from the love story itself.
From the beginning, Paul pushes Olivia away from him in what is an often irrational manner. We are forced to make many allowances for Paul, as a character, because of his past and the fact that we don't know the true extent of his battle scars, physical and emotional. Thus, when Paul treats Olivia's care and genuine affection with contempt I ignored it--but only at first. Despite the fact that Paul is rude, even
cruel
to Olivia at times, she forgives him very easily. On one hand, it's refreshing to see two characters understand one another so rapidly without unnecessary drama or angst taking over the plot, but at the same time, I couldn't forgive Paul as easily as Olivia could for many of his actions. I felt as if, by the end of this tale, Paul hadn't fully redeemed himself in my eyes.
Moreover, the tail end of this novel reads far too familiar and happily-ever-after, which is typical of
any
contemporary romance tale but feels particularly odd after the struggle these two underwent to be together. It felt
too
convenient, almost. I still enjoyed
Broken
very much: Layne's writing is impossible to tear away from and her pacing is impeccable. Yet, after Mila Gray's
Come Back to Me
perhaps my expectations of war-torn romance are slightly higher than usual. Whatever it may be, I'd still heartily recommend Layne's new adult and adult novels alike. I suspect
Broken
is a mere lapse in my otherwise perfect record when it comes to Layne's romances and I am fully on board for her next novel; really.