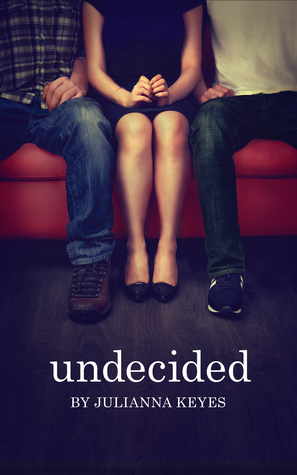 Title:
Undecided
Author:
Julianna Keyes
Author:
4 Stars
Undecided
is a sexy, smart, love-triangle-free New Adult novel. Nora, the protagonist, is a sophomore in college desperately trying to get her life back on track. She partied during her freshman year and after losing half her scholarship after a series of infractions, Nora is determined to study and avoid attending a single party all year. When she winds up rooming with Kellan, a frat guy who is best friends with Crosbie--easily the two guys who sleep around the most on campus--she tells herself she isn't going to fall for them. But she can't get Crosbie out of her head; he keeps sneaking past her boundaries and turning out to be a much person than she originally bargained. But Nora's past is sticky and sordid and as much as she tries to escape it, she can't...
I really enjoyed
Undecided
because of its focus on college--the mistakes you inevitably make and the journey to fixing them. I loved Nora from the first page itself, mostly because she wasn't perfect. Nora is the goody-two-shoes who blended in and never stood out in high school and for her, college was a time to let loose and become a different person. It turns out that for Nora, though, there isn't a middle-ground between partying and studying. I admired Nora for owning her mistakes, though, and making a conscious effort to change her habits. I also appreciate that Keyes doesn't sugarcoat the college experience. Nora has to work hard, forgoing parties and friendships from time-to-time to keep up with her school work. Plus, she works outside of her regular classes and as a college student myself, I felt as if Nora's lifestyle was authentic.
There's also a gaping double-standard in the college party scene when it comes to hook-ups that Keyes addresses very tactfully. Nora is terrified that her growing regard for Crosbie is going to make her a "Crosbabe," the name given to the long list of women that Crosbie has been with over the years. This list is literally posted on the bathroom stalls and numbered so the last thing Nora wants is to become #26. But Crosbie, too, hates that there is a list of women he has "conquered" floating around the college. Although he benefited from his frat boy status last year, as he, too, tries to turn over a new leaf he finds that his past poses problems in any future he may have with Nora. Though I appreciates that Keyes discusses the issue of college hook-up culture, both the agency it gives women and the power it takes away from them, I wish that she had focused a little bit more on this issue, merely because it was central to the storyline and I think this is an important discussion to have in a New Adult setting.
But, the true highlight of
Undecided
is the romance. Crosbie and Nora have a slow-burn romance that is all kinds of delicious tension and hot chemistry. I really loved how the two of these characters approached any type of relationship with preconceived notions about one another and, as they began to know one another better, peeled back the layers to their personalities. Moreover, Crosbie and Kellan's bromance is a factor that doesn't change, which I appreciate.
Undecided
is low on the drama and the emphasis on friendship isn't lost, even for Nora. Both Nora and Crosbie have active lives outside one another and their ability to balance their school work alongside their relationship and other activities is realistic.
If you're looking for a New Adult romance that doesn't leave a bad taste in your mouth,
Undecided
is your best bet. While I think it could have benefited from more than just one encounter with Nora's parents and I would have liked to see the discussion about Nora picking a major and coming to terms with the double-standards erected by hook-up culture expand, I found this to be a thoughtful and mostly accurate portrayal of college life. Nora is a heroine that isn't hard to root for, despite her flaws and past mistakes, and Crosbie will win your heart over in a heartbeat. I devoured this novel in an afternoon and would do it all over again if I could. Recommended.