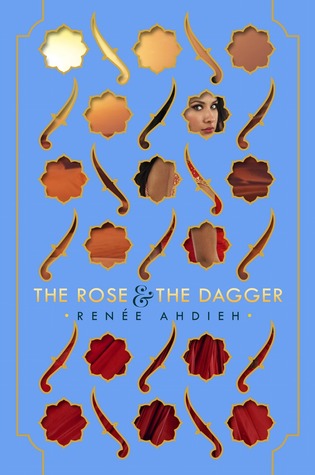 Title:
The Rose and the Dagger (The Wrath and the Dawn, #2)
Author:
Renee Ahdieh
Rating:
4 Stars
It's no secret that I loved Ahdieh's
The Wrath and the Dawn.
It was one of my favorite books of 2015 and though I had high expectations for
The Rose and the Dagger,
I was not disappointed. This sequel picks up roughly a month after where we ended
The Wrath and the Dawn,
with Khalid and Shazi on opposite ends of the country. Though these two are separated for a good portion of the novel, I loved that their growth throughout this novel was linked to the confidence and strength they had gained from their love. As a fan of Shazi and Khalid's union, the romance in this sequel did not disappoint in the least. It was beautifully written and, as before, Ahdieh made me fall in love with their romance. Both Shazi and Khalid continue to change one another and their story arcs, though often separate, were powerful.
Shazi, especially, comes into her own in this installment. Not only does she embrace her magical powers, but she becomes a true calipha. Khalid, too, learns to control his temper and for perhaps the first time, we see him accept his role as the caliph of Khorasan. Khalid helps his people, deals with diplomatic negotiations, and does everything in his power to prevent more bloodshed, leaving behind his fears of the curse and dealing with the hand he has been given. Ahdieh builds the curse over the course of these two novels and the new places Shazi must travel to, the people she must befriend and learn to trust, are all unique and exciting. I really enjoyed the new characters introduced in this installment, particularly Irsa, Shazi's younger sister, and Artan, a mysterious but powerful ally. Irsa has a much larger plot line than I originally anticipated but her growth throughout this novel and her own love story play an important role. I mostly enjoyed her interactions with Khalid--the manner in which he wins her over and becomes family to her, even over such a short period of time. Hands down, I'd read a spin-off series with Irsa as the heroine any day. She's no Shazi but she's strong and capable in a completely different way.
Tariq is a character I worried a lot about prior to the release of this novel but the pacing of his growth was perfect. Tariq is hot-headed and jealous, unable to believe that Shazi would fall in love with a murderer, so while his actions do not mark him out as heroic, I still respected him immensely. He tries his best to push aside his personal feelings for the best of Khorasan and though his journey was hard and often slow-going, it was rewarding all the same. Tariq is embroiled in the politics of this novel--of which I was pleasantly surprised!--and there are plenty of plot twists to keep readers on their toes. A handful of betrayals combined with age-old political scars made the conclusion of
The Rose and the Dagger
intense. While the resolution of the curse felt a little too neat, this ending is anything but easy and I appreciated that Ahdieh showed that the complexity of the curse was not quite linked to the curse itself but to its ripple-effect throughout the land.
Where this installment faltered for me was in its inclusion of too many characters and plot lines. We sadly don't see much of Jalal, who is an all-time favorite of mine, and instead of focusing on Irsa's romance I would have liked to see more of Jalal and Despina. Yasmine is another fascinating character and I wish that the ending would not have been so rushed so that we could have had more time with old secondary characters.
The Rose and the Dagger
flits between many third-person perspectives effortlessly, though, and the conclusion of this duology is nothing short of perfect. I'm glad this didn't become an unnecessarily long trilogy and though I want for more of these characters and their world, I am excited to hear what Ahdieh's future writing endeavors will be. This installment doesn't lack in terms of story-telling and of all the re-tellings I've read of "A Thousand and One Nights" this is by far my favorite. It isn't quite loyal to the original but the deviations, the care spent on this epic love story, and the political world beyond the palace are all highlights. I stayed up till 2 AM to finish this and despite my drooping eyelids, I have no regrets whatsoever. Take a chance on this series--you might just fall in love.