I am so, so excited to be kicking off the blog tour for Paula Stokes's
Vicarious
today!! I've read and enjoyed every single one of Stokes's novels, but
Vicarious
is unique and unlike anything else I've ever read. If you've been a reader of the blog for awhile, you'll know that I very rarely participate in blog tours and am, in fact, very selective of which books I choose to promote on this platform. But,
Vicarious
is a groundbreaking novel in YA, featuring a Korean protagonist, half-Mexican romantic interest, and an honest discussion of PTSD, anxiety, and other mental illnesses. Stokes is all about pushing the barriers of what we think of as YA and I am so honored and proud to be a part of this tour. Without further ado (seriously, if you want to read more of my thoughts on this novel, you can read my review here), I'm going to hand it over to Paula Stokes!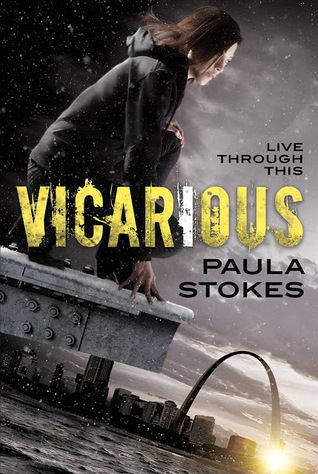 Winter Kim and her sister, Rose, have always been inseparable. Together the two of them survived growing up in a Korean orphanage and being trafficked into the United States. But they've escaped the past and started over in a new place where no one knows who they used to be.

Now they work as digital stunt girls for Rose's ex-boyfriend, Gideon, engaging in dangerous and enticing activities while recording their neural impulses for his Vicarious Sensory Experiences, or ViSEs. Whether it's bungee jumping, shark diving, or grinding up against celebrities in the city's hottest dance clubs, Gideon can make it happen for you--for a price.

When Rose disappears and a ViSE recording of her murder is delivered to Gideon, Winter is devastated. She won't rest until she finds her sister's killer. But when the clues she uncovers conflict with the digital recordings her sister made, Winter isn't sure what to believe. To find out what happened to Rose, she'll have to untangle what's real from what only seems real, risking her own life in the process.

Paula Stokes weaves together a series of mysteries and the story of an unbreakable bond between sisters in this unforgettable high-tech thrill ride.
PART I: Writing Outside my Perspective
Why I Wrote Diverse Characters and What I Hoped to Accomplish
I drafted Vicarious in 2012, before Venom (now called Venomous Kiss, writing as Fiona Paul) was published, before I had received many reviews, before I was active on Twitter, and before #WNDB was a thing. My knowledge of the publishing industry was limited and I wasn't thinking much about diversity in literature at the time. Vicarious was a love project that I worked on around my work-for-hire assignments, grad school, and nursing. I had no idea if the book would ever sell. I didn't even tell my agent about it until the book was finished.
As I mentioned on my blog yesterday, Winter and her sister were Korean from the moment I "met" them. There are a few reasons why I think my brain created these characters who are so different from me.
First, my father served in Korea in the military, and when I was still a baby my aunt adopted two Korean children. So I grew up with Korean cousins (though we always lived in different states) and a dad who spoke fondly of Korea quite often. Because of those things, when I made the decision to teach English overseas about ten years ago, Korea was an easy choice for me. While I was living in Seoul, I not only immersed myself in Korean culture, I became close friends with many Korean people.
Seoul was a little (okay a lot) intimidating to me, with its crowded sidewalks and faster-than-NYC-pace, and some of the things my new friends explained to me about country and customs were hard to understand. No culture is perfect and there are definitely some things about Korea that made me sad, but there were so many lovely moments too. I loved the way the same older women who chastised me for being slow on the subway steps would turn around and offer to hold my packages when I had to stand up on the train. I loved how Korean kids respected the elderly and gave up their subway seats without question. I loved the Buddhist temple set right in the city, a place for meditation and quiet reflection directly across the street from a giant shopping mall. And the countryside-Korea has some of the most gorgeous mountain trails. I loved hiking there, even when everywhere was packed on weekends and I had to get in line with fifty others to reach the summit. Like any outsider anywhere, I experienced flashes of prejudice, but for the most part I felt very welcomed. It was exciting to learn about and slowly embrace Korean culture.
However, there were things I missed about the USA too—little things like American TV and bigger things like five-day work weeks—and after a year in Seoul, I was ready to return home. But I came back a changed person, one with a newfound respect both for South Korea and the United States. In a way, I think Vicarious started out as a love letter to the city of Seoul and to a culture that I came to understand and appreciate. When Winter popped into my head and she was Korean, it just felt right, and if you're a writer, you know not to question it when things feel right :)
I don't want to mislead anyone—Vicarious is not set in Korea, but that doesn't mean my time there didn't inspire the story and characters. And much of the second book in the duology is set in Seoul. As I mentioned in my Five Facts About Vicarious blog post, the mystery turned out to be more complicated than I originally imagined, and one book turned into two books.
As far as what I hoped to accomplish with the book, it's simple. I wanted to write a solid mystery and portray my Korean characters and their culture as authentically as possible. Korean culture is not plot-centric in this novel and I did not set out to highlight any certain aspects or "teach" anyone anything. I just wanted to make sure that what I had included wasn't misleading, inaccurate, or unintentionally offensive. I utilized a variety of research methods to do this, and I'll talk more about those things in my post on Thursday over at Hiver et Café.
Tomorrow, check out an interview I did with Minjae, one of my Korean beta readers, on her blog Reading and Some Tea.
Paula Stokes writes stories about flawed characters with good hearts. She's the author of several novels, most recently Vicarious and Girl Against the Universe.

Her writing has been translated into eleven foreign languages. Paula loves kayaking, hiking, reading, and seeking out new adventures in faraway lands She also loves interacting with readers. Find her online at authorpaulastokes.com or on twitter as @pstokesbooks.
Blog Tour Schedule:
Fri. 8/26: Writing Outside My Perspective: Part 5