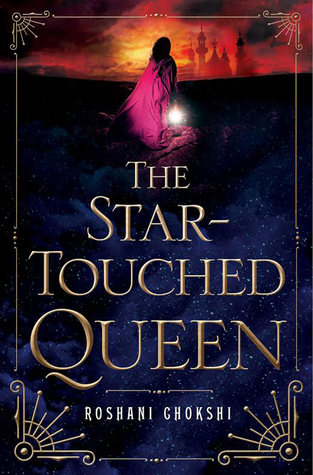 Title:
The Star-Touched Queen
Author:
Roshani Chokshi
Rating:
2 Stars
Well...that was disappointing!
The Star-Touched Queen
is a novel I've been looking forward to reading
all year,
mainly because of its inclusion of Indian mythology. I've grown up on tales of Indian mythology and was so incredibly excited to see Chokshi use these myths to build her fantasy world and characters. While the stories within these pages are accurate, they are also few and far between. I didn't feel as if this was a realm based upon India mythology. I didn't feel, really, like this was a world that was well-developed at all, frankly.
Maya, a princess of Bharata, has been told she is cursed from the time of her birth. Her horoscope speaks of death and destruction and, as such, Maya has always believed that she will never marry. But when her father, the Raja, compels her to kill herself on the eve of her wedding, all to prevent a war, Maya nearly follows his instructions. Until, that is, Amar knocks the vial of poison out of her hands and whisks her away to become the Queen of Naraka. Amar cannot tell her about his palace or its mysterious corridors until the next cycle of the moon but he asks Maya to trust him. But strange doors keep propping up and the whispers of the palace warn Maya away from Amar. Is she in more danger listening to them or falling for Amar?
I think this story really begins to crumble once Maya reaches the Otherworld with Amar. Not only does the pace of the tale slow down, the days long and filled with Maya basically wandering around the palace, but the world-building is extremely flimsy. Amar and his scribe, Gupta, cannot tell Maya anything and, as such, we don't really learn much about this world either. What's more, I felt as if Maya acted foolishly for the majority of this novel. She listens to strangers she's never met before, re-calls the advice of Mother Dina, a woman who hated her in her father's harem, and ultimately causes all the problems she has to face in this novel. I admired her resiliency and her relationship with her younger sister, Gauri, but she wasn't a heroine I really understood or felt for.
Maya and Amar's romance is also...unremarkable. My main issue with it, frankly, was that Maya doesn't trust Amar. She feels drawn towards him because of some connection she feels to him, but despite his actions and words she doesn't trust Amar at all. So during the second-half of this book when she has to save Amar due to circumstances, she suddenly falls in love with him through her memories and realizes she
can
trust him. It just wasn't romantic or believable to me.
There are very few strong secondary characters in this book beyond Gauri and the villain. Maya makes almost no friends in the palace and this book simply sparked no feeling in me. I wish this had been a stronger fantasy and a stronger romance. I understand why readers of fantasy-lite would enjoy this one. If you're not someone who requires a depth of world-building then I could overlook a lot of flaws and get into this romance, too. But, sadly,
The Star-Touched Queen
has wound up being the most hyped-up and disappointing book of the year for me.