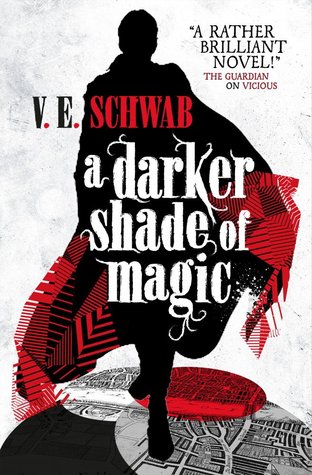 Title:
A Darker Shade of Magic (Shades of Magic, #1)
Author:
V. E. Schwab
Rating:
4 Stars
I'm obsessed. I'll admit that I avoided picking up
A Darker Shade of Magic
when it first released because of its minimalist, and rather unappealing,
U.S. cover
(I cheated and am using the UK cover on the blog--I'm sorry, okay? I just want my blog to look pretty!). But, damn, what a remarkable story. Schwab's debut,
The Near Witch,
was a novel I found to be entirely dull and, consequently, I've largely ignored her other novels. Until, that is, an ARC of
This Savage Song
arrived on my doorstep and I proceeded to be enraged, enthralled, and all-too-emotionally-unstable on a train ride back to college. I've since wanted to read her entire backlog but, having started with
A Darker Shade of Magic,
I wonder now how I will manage to read
anything
else, forget another one of Schwab's novels. I want to live, breath, and die in this world with Kell, Lila, and Rhy. I want to forget that I live in America, not London--not
even
Grey London--and escape back into this beautiful, wonderful book. Like I said, I'm obsessed.
A Darker Shade of Magic
is one of the most innovative fantasy novels I've come across. Kell is one of two people in the universe who can travel between worlds--Grey, or normal; Red, or magical; White, or caught in-between magic and its evil counterparts; and Black, or a world consumed by dark magic and now simply a wasteland. As an
Antari,
or blood magician, Kell is revered in his land and has grown up as the adopted prince of the realm. Truly, though, Kell feels as if he is little more than a puppet to the crown, sworn to deliver messages to the rulers of the Grey and White worlds. While Kell finds family in Rhy, his brother and the true prince, there is a restlessness in him--a yearning, if you will--for something of his
own.
It is this that fuels his life as a smuggler, bringing objects from different worlds back to Red and vice-versa. It doesn't matter that this is treason--is
illegal
--because either than Kell, there is only one other known
Antari,
Holland, and he is being held captive by the twins who rule White. When Kell's smuggling lands him with a dark and dangerous object, it throws Kell's life and the stability of his world into chaos. Into this enters Lila, a thief who has lived on her own for far too long. When she steals this object--a stone--from Kell, their lives become inexplicably intertwined and, surprisingly, Kell finds that he needs Lila's help to destroy the object and restore peace to the lands.
From early on, Schwab makes this tale irresistible. Whether it be her descriptions of these worlds--each similar, but eerily different in their politics and the manner in which magic works within them--or even just a description of Kell's magical coat, her world-building is spot-on and impeccable. Her characterization, too, is mesmerizing for I am in love with Kell, Lila, and Rhy even after having spent such little time in their world. Rhy and Lila are easy to root for and connect with--after all, Rhy is a prince of a magical kingdom with no magical ability of his own but he is charming and sweet, the type of royal who is loved by his people and will do everything in his power for them. Lila, on the other hand, is stubborn and hesitant to trust, yearning for a place to belong but relishing the thrill of adventure. I admired her strong will and her fearlessness in traveling to worlds she only barely knew about. If there is a definition of "kick-ass" then, surely, her name is beside it for she can wield her knife and fend for herself, saving even Kell multiple times, but she's also emotionally strong for surviving the hard hand she drew in life and still persisting despite it all.
Kell, on the other hand, is tough to read; his serious nature makes him a hero who isn't likely to win our hearts with a joke or smile--those are rare, and far between--but his loyalty, his innate sense of
good,
and his all-too-human penchant for making mistakes is charming. There is so much more to his character than we are able to uncover in this novel but I loved being inside his head and, most of all, watching his interactions with Lila. They irritate each other, but they also challenge one another and their adventure allows them to understand one another in a way that only the best hate-to-friendship arc can achieve--I loved them. Together, apart, you name it; I am wholly enthralled by this world and its characters. The villains are terrifying, the stakes are high, and the ending is not easy or wrapped up with a bow--at least, not for these characters since the repercussions of these events will, I am sure, be felt for a long time to come.
A Darker Shade of Magic
can be read as a stand-alone, though--BUT, I must say that I am so very glad it is not. I want more of this world and characters and I am confident Schwab will deliver in the sequel. The politics of this universe leave much more to be explored and even these characters, as deeply as we know them now, have many more layers to peel behind--of that I am sure. I don't care, truly, if no one else ever picks up this book. I am selfish about my favorite books--I like to keep them close to my heart where few others can peer closely enough to see their titles. So, read this--if you want--but know that I loved it. And I so rarely
love
a book.