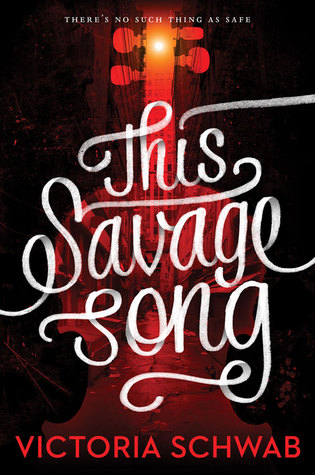 Title:
This Savage Song (Monsters of Verity, #1)
Author:
Victoria Schwab
Rating:
4 Stars
Release Date:
July 5th, 2016
This Savage Song
is, truly, an utterly savage mindfuck.
I knew next to nothing about this book before I dived into it. I couldn't get the title out of my head, I knew Schwab was a brilliant author and, despite not having taken a risk on an ARC in a really long time, I was really in the mood for a change of pace. And, let me tell you, I loved
This Savage Song.
It made me uncomfortable, reflective, and a shaking mess of uncontrollable feelings--all of which sums up to a fantastic, thought-provoking, and most importantly unique novel.
If I had to sum up this novel in one GIF, I'd have to use this one:
Every time I thought I knew who was good and who was bad, who was right and who was wrong, who was conning the other...well, it was like the Red Wedding all over again.
The atmosphere of this book feels very dark and intense to me, too...I felt hunched over the pages in some heightened state of emotion constantly, despite the fact that this is solidly a paranormal novel. It isn't real but it
felt
real...
The characters are what are at the heart of
This Savage Song.
Schwab has created a world in which acts of violence--rape, murder, and mass-killings--all have their consequences which result in the manifestation of monsters. These monsters plague our modern world and
This Savage Song
is all about the monstrosity that humans are capable of and the humanity that monsters can exhibit. That's not to say that there isn't action and a very exciting plot line, but I felt drawn to this story by the personalities of these two protagonists--vastly different from one another in every way, yet feeling inexplicably similar.
I love when authors, and all types of celebrities with the power to make others listen, use their fame to further some sort of agenda. Whether that agenda be to bring attention to a topic or shed light on the truth about an issue, I appreciate a work of art much more when there's more to it than a mere
job.
And with
This Savage Song
it's clear that Schwab wants us to consider the weight of our actions. Our violent actions, in particular, which seem to constantly be in the news. And she wants us, further, to think not only of those actions and their consequences, but also of others. Of other people.
This Savage Song
made me think, long and hard, even after I'd closed its pages and I can only hope that its sequel inspires a similar level of thought and contemplation.
Anyhow, I highly recommend this. Pre-order it. Get excited for it. Generate hype around it. It just can't disappoint, as far as I can tell, and I have a ball of anxiety sitting low in my stomach just contemplating the future of these characters in the sequel. *shudders with anticipation*