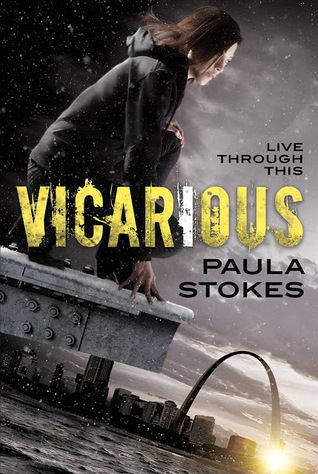 Title:
Vicarious (Vicarious, #1)
Author:
Paula Stokes
Rating:
4 Stars
Release Date:
August 16th, 2016
Paula Stokes is full of surprises. When her debut,
The Art of Lainey,
burst onto the scene, ticking off all the right boxes for Contemporary YA, I thought for sure that I had discovered a new go-to author for the genre. Imagine my surprise when her sophomore novel,
Liars, Inc.
was full of mystery; a thriller featuring diversity in multiple ways. I knew her next contemporary novel would be stellar, but
Girl Against the Universe
surpassed my wildest expectations. So, when
Vicarious
fell into my lap, I knew only one thing: I would not be disappointed. And I was absolutely right.
Stokes's latest is a far cry from any of her previous novels. And, I suspect, to a large degree it's wildly different from most other YA novels out there, even within its genre. Winter, our heroine, owes everything to her older sister, Rose, and foster brother, Gideon, who helped her escape North Korea and, later, trafficking in California. Now, Winter works for Gideon, recording dangerous activities to create ViSEs. With a ViSE, not only can you see from the eyes of the recorder, watching as they bungee jump or escape the cops, but you can feel their neural impulses--the adrenaline, the fear, the excitement. While Rose spends her time in clubs, dealing with her past the only way she knows, Winter trains, making herself impenetrable and working her body to withstand even the most deadly of actions. But when a ViSE of Rose's murder turns up in Gideon's office, Winter is determined to find and avenge her sister's death--no matter the cost.
Winter is a completely bad-ass protagonist. She's focused and no-nonsense, so while some may dislike her serious nature, I appreciated her upfront honesty about her own personality. Her past is a vicious monster--and not just the fact that she escaped from North Korea. There's also the immense debt she feels she owes to both Rose and Gideon for making sure she escaped the trafficking situation they were caught up in in California. The combination of these two make Winter's past a depressing part of the novel. But, Stokes is careful to accompany Winter's darkness alongside plenty of action, not to mention lighter scenes and even humor from other, secondary, characters. Winter's relationship with her sister isn't perfect--after all, Winter doesn't understand why Rose uses her sexuality and is constantly seen with different men--but she adores her older sister as well. Even though Rose dies early in the novel, I still felt as if I knew her character, and most importantly her relationship with Winter, very well.
One of my favorite aspects to this story, though, is the romance. It takes a backseat throughout the novel but it's a slow-burn that utterly won me over and had me swooning from the beginning. Jesse is a friend of Winter's, someone who also works for Gideon and has had a tough past of his own. But he genuinely cares for Winter and watching as he breaks down her barriers and convinces her of his affection, despite her past and the demons she carries, is a highlight of the story. Their friendship is rock-solid, the trust between them a pillar for Winter to find support upon in the face of her sister's death. I also love that their relationship isn't always easy--not for Winter and certainly not for Jesse. But it's so rewarding and I'm really looking forward to seeing how it develops in the sequel.
Vicarious
is a thriller from start to finish. I found myself flipping these pages, wondering at who could have killed Rose, where she was at the time of her death, and the people she spoke to. As Winter interrogates those in her life, she uncovers secrets about her sister that she never even suspected and the influx of clues and leads, not to mention dead-ends, makes for an exciting read. Add in the complex personalities of Winter--and Jesse's utter charm--and I'd have been sold. But Stokes also has another trick up her sleeve--the ViSEs. And, damn, they are
cool.
I love how the ViSEs were an integral aspect to Rose's death but, also, we get to see them filmed and in action later in the novel. Clearly, they're going to be playing an even bigger role in the sequel and I loved the futuristic tint that the ViSEs provided to this world, which is otherwise identical to ours.
The best part about
Vicarious
are all the twists and turns that you won't see coming. I was shocked and reeling by the end of this novel and though it is a part of a duology, with this portion of the story wrapped up, I want the sequel--
now.
Yet, for all its seeming perfection, I will say that I had a few sliiight issues with
Vicarious.
Namely, that I found it to drag a little in the middle. There are a lot of back-to-back sequences with lots of action, whether it be Winter tracking down her sister's body or haunting the places she frequented or visiting people that only Rose knew. There are also a lot of really intriguing ViSEs that we get to see--ViSEs that Winter finds of Rose and her adventures. But then, somewhere in the middle, I found myself flipping the pages and wondering when the action would pick up again. I think that with so many fast-paced scenes, the slower moments feel a little
too
slow. Thankfully, it doesn't seem that way for too long and Stokes regains her momentum, stunning readers with more action-shots, ViSEs, and plot twists.
Thus, all-in-all, I'm totally impressed and utterly in love with this book. It is clear that Stokes's research is impeccable and her incorporation of diverse characters, their heritage and their struggles, is admirable. Even if you're not looking for more diversity in YA, the mystery, the plot twists, and the thrills will keep you glued to your seat. And for fans of deeper connections, complex personalities, and tough relationships--Stokes delivers on that as well.
Vicarious
has something in it for everyone--read it, at least so that I'm not counting down the days to its sequel by myself. ;)
If you're interested in my GIF-ridden pre-review of the novel, you can find it here.