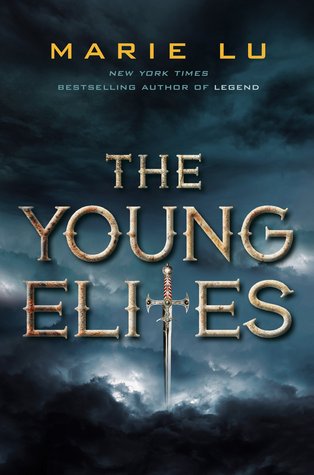 Title:
The Young Elites (The Young Elites, #1)
Author:
Marie Lu
Rating:
4 Stars
In the back copy of this novel, Marie Lu writes that her protagonist is a villain, not a hero. It is this fact that makes
The Young Elites
stand out from a sea of fantasy-lite YA fiction. When we first meet her, Adelina is in prison for the murder of her father. Right off the bat, our heroine is not a good person--and I loved this. Lu wrote Adelina as a flawed, deeply dark individual and though she's not usually correct, I found that I could understand and relate to her, on some human level, and that has made all the difference.
The world of
The Young Elites
isn't wholly unique--after all, the main conflict of this book lies in the fact that a fraction of the community is gifted and a group of them rebel against the government to end discrimination against their kind--but the surrounding backstory to this set-up certainly is. When a blood fever sweeps across the entire nation, killing off all inflicted adults, the children who survive are changed. They return alive, but with certain features marking them out to be
malfetto,
some of whom even have magical abilities which make them Elite. Thus, the Young Elites. When the crown prince, Enzo, also survived the blood fever, the kingdom decides that he is unfit to rule. Enzo, however, is determined to have his throne and forms The Dagger Society, consisting of Elites who use their powers with the intent of saving others like them. When he saves Adelina from her execution in the brink of time, Adelina joins their cause, training her powers for the first time in her life. But Adelina's magic is dark--she is an illusion-weaver--and the Inquisition who captured her still holds her younger sister, turning her a spy for the only organization that has ever taken her in and treated her like family.
The Young Elites
is so well-crafted. This entire narrative is sprinkled with Adelina's childhood memories; growing up in a household where her beauty was deformed by her missing eye and changed appearance; where her father resented her and loved her beautiful, unmarked younger sister; where at times Adelina resented her sweet younger sister for escaping the fever unscathed and for currying her father's favor in the wake of their mother's death. It's a painful past, but one that gives Adelina purpose and for all her swirling darkness, I found her to be instantly relatable. I was caught between her loyalty for her sister and her devotion to the Daggers just as she was and, truly, cannot say that I would have acted any differently had I been in her shoes, with her past. Lu makes us understand Adelina on a deep, nearly psychological, level and I appreciated those glimpses into who she truly was.
What makes
The Young Elites
such an impressive novel is its development of Adelina's powers. Training sessions in Fantasy novels can be a chore, at times, but watching Adelina hone her abilities, which remained hidden throughout her childhood, was a highlight of the novel. Further, the schemes of
The Young Elites
and their plans to put Enzo on the throne, alongside their flaws in only rescuing Elites and ignoring the plight of non-Elites, drew me into the politics of the world. Further, ever small tidbit of information that Lu gives us in the first three-quarters of the novel all comes back, tying together this piece and ending it all with a series of plot twists and conclusions I could never predict. It's been so long since I read a YA novel whose ending I didn't see from a mile away so I applaud Lu on her superb plot-crafted with this novel. It's just remarkable.
The secondary characters, consisting of Adelina's sister and father and Enzo and the Daggers, not to mention the Head Inquisitor Teren, are all so well-developed. I knew nearly all of them just as well as I knew Adelina and that is no easy task. The romance, which feels more like a character development choice than a true romance, was unique and intriguing in a way I haven't seen too often. There's a spark between Enzo and Adelina from the beginning but the complications that exist in their relationship are too great for anything to truly blossom between them. But, Enzo's affection is a huge turning point for Adelina's own growth and I loved watching as her attachment to the Daggers changed her, fundamentally.
This sophomore series from Lu impressed me immensely. I thought her debut was a little too familiar--similar enough in plot and characters to so many other dystopians that I lost interest--but I dare you not to be wholly entranced by this world and characters. I have no idea what will happen in the sequels--this is one of
those
series!--but I am confident that it will surprise me at every turn.