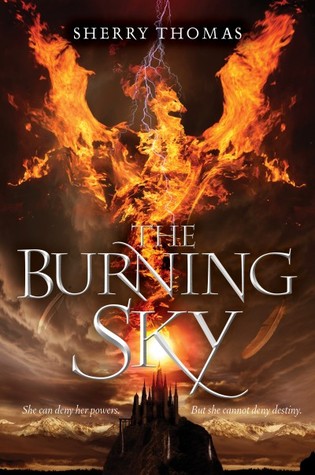 Title:
The Burning Sky (The Elemental Trilogy, #1)
Author:
Sherry Thomas
Rating:
3.5 Stars
It isn't a truth universally acknowledged--but it should be--that
The Burning Sky
has one of the absolute worst beginnings ever. In fact, for nearly the entirety of the first quarter, I put the novel down dozens of time, scratched my head in confusion, searched online for clarity to my questions, and once again picked up the novel with a sigh. It's a
chore
to barrel through the beginning of this story but, I promise you, it is very much worth it.
The Burning Sky
is the type of novel I cannot believe hasn't already been written before. Granted, aspects of it are familiar--a mythical land with mages, an all-boys boarding school in Victorian England where a girl resides as a boy, a prince shouldering the burden of a terrible destiny, and even simulations of physical combat to improve and develop ones powers. But, somehow, combined together the mix of all these brilliant ideas is explosive. When Iolanthe innocently calls down lightning to fix a potion, she becomes one of the first mages in years to have done so, marking herself as an elemental mage of immense power. Titus, the prince of the realm, believes that with the help of Iolanthe he can finally fulfill the destiny he was born for--a destiny seen by his late-mother, a seer. Thus, he whisks Iolanthe away to the non-mage world, hiding her as Archer Fairfax in the all-too-normal all-boys academy he attends. With the Inquisitor on his heels, however, searching to exploit Iolanthe for herself, Titus will have a true calamity on his hands if he cannot train Iolanthe in time. Yet, what he doesn't expect is that working with Iolanthe may just be hardest task of all...
Thomas's foray in Young Adult truly hits its stride once Iolanthe becomes Archer Fairfax, a young boy reputed to be excellent in cricket.
The Burning Sky
begins with a confusing introduction, the world-building a little shaky and the rules of this magical realm still quite hidden, but those minor infractions cease to matter in the grand scheme of this novel. For all the plot threads thrown at the reader upon these first few chapters,
The Burning Sky
is very much a character-driven tale. Titus, who puts on the air of an arrogant monarch in his true land, has lived his life lying to those around him in order to do what he believes is right. In Iolanthe, he finally hopes to have someone he can be truthful around; a friend and, more importantly, a confidante. When Iolanthe first meets the prince after her grand escape, she is awe-struck by his bravery and intelligence. But the task Titus asks of Iolanthe--to essentially sacrifice herself for his cause--is too great a burden to bear. Left with no choice, Titus manipulates Iolanthe into believing she needs his assistance and binds her under a blood oath. Once Iolanthe discovers Titus's deceptions, it is already too late. While their initial interactions read suspiciously like insta-love, Iolanthe despises Titus while he cannot help but use her powers for the greater good. It's a difficult and often antagonistic relationship, but the greatest reward of this novel is seeing its growth. As Iolanthe grows to understand Titus's motives, she begins to see him as more than her captor. Of course, alongside their creeping friendship is romance as well, but it is so subtle and understated, easily shoved under the carpet for, above all, Titus and Iolanthe need one another's truth and loyalty before they can begin to think of one another's hearts. Although at first neither of these protagonists seem particularly remarkable, their layers are profound and the depth accumulated by them as the story progresses is admirable.
Even beyond these protagonists, however,
The Burning Sky
shines due to its break-neck pace which never falters, driving readers from Eton back to Atlantis and its political machinations and then to Crucible, a simulation where Titus and Iolanthe practice their skills by living through fairy tales, defeating Sleeping Beauty's dragons for example. Moreover, the secondary characters--though, by no means incredibly well-developed--all manage to hold their own presence. The Inquisitor with her ice-cold demeanor that made even Titus choke up in fear, Kashkari with his probing questions but loyal heart, Wintervale with his mad mother but sweet demeanor...all of them only contributed to both the plot and the character relationships in this installment. I definitely hope to see them developed in greater detail in the sequel, but as far as an introduction goes, I can't complain in the least.
Despite a
very
rocky start,
The Burning Sky
has only further solidified my love for Sherry Thomas. While this historical fantasy is nothing like her historical romance, it is still impeccable researched and the character dynamics remain bold and memorable. While I definitely hope to see more traditional fantasy elements emerge in the sequel, from stronger secondaries to more well-defined world-building, I wouldn't hesitate to label this as one of the better fantasies out there in the Young Adult genre. For readers who haven't already read this, I offer you only one piece of advise: be patient.
The Burning Sky
truly does pay off by the end.