Title:
Silver Mirrors (Apparatus Infernum, #2)
Author:
A. A. Aguirre
Rating:
4 Stars
Silver Mirrors
drops you back into this world with no warning, which made for a jarring start to this tale. Nevertheless, once I found my bearings, I couldn't put this down. Plenty of more action than its predecessor, a continuation of the slow-burn romance I've come to love, an unpredictable plot line, and even more depth to these already well-rounded characters...in other words, perfection. Very highly recommended.
Title:
It Happened One Wedding (FBI/US Attorney, #5)
It's been awhile since I've found myself enjoying a Julie James novel this much. While I anticipate her every release, the past few editions to this series have been missing a little...something. It Happened One Wedding breaks no new ground in the romance genre, but it's wickedly entertaining in a way only Julie James can manage to write and, what's more, the slowly developing romance within these pages stole my heart. I'm a sucker for hate-to-love relationships where two individuals are forced to throw out their prior misconceptions, forge friendships, and fall in love. Moreover, James does it in a surprisingly drama-free way, creating characters whose lives outside of their relationships are just as poignant and compelling as inside. With Julie James, each novel is either a pleasant pass-time or a true keeper--and that changes depending on the reader--but in my book, this easily ties for my second-favorite James romance yet. I only wish the wait till the next one wasn't so long...
Title:
Tempting the Bodyguard (Gamble Brothers, #3)
Author:
Jennifer L. Armentrout
Rating:
3.5 Stars
I mentally have a far more favorable opinion of JLA's novels than I emotionally do. For some reason, I am unable to resist her novels, despite knowing I'll likely not love them, but I manage to convince my mind otherwise. After having finished a book of hers, though, it's my heart that remains ever-so-slightly disappointed.
Tempting the Bodyguard
is, in many ways, a worthwhile read though. While its mystery element is far too obvious and I could have easily used a smidge more of depth to both these characters, Chandler is definitely the type of hero I love -- not quite that alpha male stereotype I've grown to despise -- and if there is anything this book definitely is, it's HOT. For a quick, breezy pass-time, JLA works beautifully every time, even when my hearts gives a bleak complaint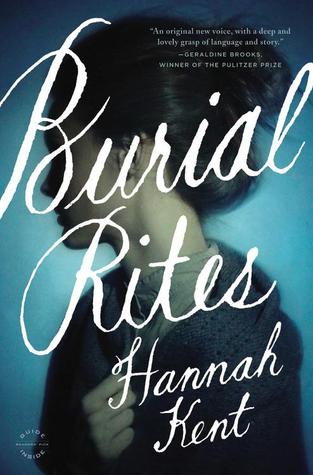 While I enjoyed this one and found myself surprisingly riveted to its pages, particularly during the second-half, I fear I set my expectations a little too high for this novel. Kent's research is commendable, especially as the tale behind
Burial Rites
is a true story, and the moral ambiguity presented throughout this novel is nothing short of thought-provoking. Yet, that being said, I cannot claim to have been floored or truly emotionally impacted the presentation of this brutal murder. Agnes's tale did, certainly, shock me to the core but the multiple perspective shifts did little for me, unfortunately. Definitely recommended for fans of historical fiction, though.