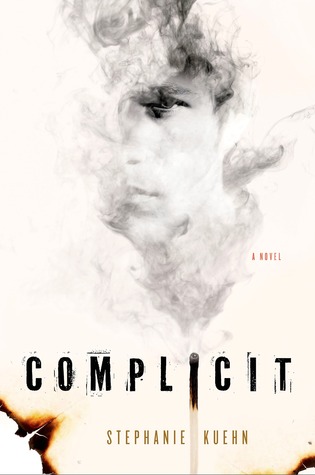 Title:
Complicit
Author:
Stephanie Kuehn
Rating:
3 Stars
Release Date:
June 24th, 2014
Kuehn's
Charm & Strange
burst upon my radar like a splash of color, surprising me not only with its vivid portrayal of psychological illness but also with its all-too-real characterization, forcing my heart into the story.
Complicit,
on the other hand, is far too emotionally jarring. While its premises is fascinating, I felt starkly removed from the novel until the last quarter. Jamie, our protagonist, is battling a sea of problems in
Complicit,
most notably that his older sister is finally out of jail. Crazy Cate, as his sister is called, is after Jamie with the sole intent that he know the truth; the truth about their dead mother, the truth about their past, and the truth about her crimes. Jamie and Cate are adopted and the journey Jamie undertakes to discover as much as he can about his mother, all while battling the anxiety disorders he lives through, pull at our heartstrings. While the synopsis of this tale makes the plot twist at the end abundantly clear, Jamie's voice is endearing and, as readers, we cannot help but root for him as he rummages for the truth in his memories.
Yet, despite this seeming connection, the bulk of
Complicit
felt too slow, too dull, and simply couldn't keep my attention. While
Charm & Strange
had me utterly engrossed, Kuehn's latest found me mentally checking out from time to time, eager to complete this story but lacking the motivation to barrel through. Despite the fact that it's a short novel, it feels long. Nevertheless, that hurdle aside, the ending of this story still manages to be explosive. Like I mentioned before, the synopsis of this novel hints at the reveal towards the end, but though I thought I had it all figured out, the minute details of what I didn't know made all the difference. What's more, the last few pages of this novel are haunting; chilling to the bone. Kuehn never fails to leave her readers with so much to contemplate, digest, and carefully think through. Like any good psychological thriller,
Complicit
does, eventually, get into your head.
Although Kuehn's latest did not enthrall me to the extent her debut did, it manages to remain a testament to her skill, knowledge, and prowess as a writer of both contemporary fiction and the male perspective. I cannot wait to see what she has up her sleeve next.
You can enter to win a hardcover of both Complicit and Charm & Strange HERE.