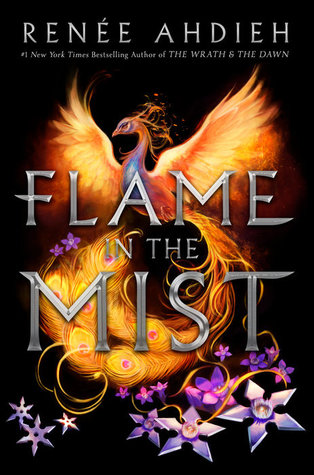 Title:
Flame in the Mist (Flame in the Mist, #1)
Author:
Renee Ahdieh
Rating:
3.5 Stars
The only daughter of a prominent samurai, Mariko has always known she'd been raised for one purpose and one purpose only: to marry. Never mind her cunning, which rivals that of her twin brother, Kenshin, or her skills as an accomplished alchemist. Since Mariko was not born a boy, her fate was sealed the moment she drew her first breath.

So, at just seventeen years old, Mariko is sent to the imperial palace to meet her betrothed, a man she did not choose, for the very first time. But the journey is cut short when Mariko's convoy is viciously attacked by the Black Clan, a dangerous group of bandits who've been hired to kill Mariko before she reaches the palace.

The lone survivor, Mariko narrowly escapes to the woods, where she plots her revenge. Dressed as a peasant boy, she sets out to infiltrate the Black Clan and hunt down those responsible for the target on her back. Once she's within their ranks, though, Mariko finds for the first time she's appreciated for her intellect and abilities. She even finds herself falling in love—a love that will force her to question everything she's ever known about her family, her purpose, and her deepest desires.
Flame in the Mist
is brilliantly written, expertly weaving court politics, intrigue, and adventure against the backdrop of a Japan with just the hint of magic. Ahdieh's novel is impossible to put down, though it really got going for me in the last third. Still, I love that the characters in this are so multi-layered and complex, the romance is complicated and swoon-worthy, and the personal growth of the main character is a sight to behold. I really appreciate that our protagonist, Mariko, is privileged and wealthy and grows to accept and acknowledge that privilege as she experiences more of the world and sees her own life through an outsiders perspective.
Yet, that being said, I felt like the first half of this novel predominantly featured Mariko insisting that she was intelligent and different, but never really proving or showcasing that. I like that she's a heroine who struggles to infiltrate the Black Clan because she isn't the most physically fit and, eventually, we do see signs of her intelligence take shape, but it takes awhile. As a result, I think I felt distanced from her, at least in part, and I didn't
really
get into this book until the second half. With Ahdieh's debut duo, I sank my teeth into her world and characters without a doubt, but this time around it took awhile. Nevertheless, I am confident the sequel is going to surpass this novel and I'm really looking forward to seeing where this story is headed. I want to see more of the magic I've seen hinted at in the novel and I definitely want to see all the court intrigue and politics intersect with Mariko's own story arc. Recommended, as with all of Ahdieh's novels.