It's finally SUMMER! I love this season!!
3 Things About My Life This Month
1.
I moved to D.C. and started my summer internship!
The internship has been slow so far but I'm loving D.C., am meeting so many friends I haven't seen in roughly a year, and I really like my co-workers. I'm hoping to get more work to do and have a meatier project to work on as the summer progresses, but so far, so good.
2. The blog turned FIVE this month! I can't believe it's been five years!!! Thank you so much to everyone who has read my posts, commented, and supported me--whether you've been with my from the start, become my friend on Goodreads, or even just recently begun to follow me, I cannot thank you enough. I couldn't have continued this blog all these years without your support and I am so very grateful for everything.
3.
I am in a reading slump.
June has not been a good reading month, sadly. I discovered a new historical romance author and managed to fly through a bunch of romance novels, but any other books I tried to get into, I simply couldn't. I've also been oddly restless since I'm not traveling practically every weekend and that has me in a weird mood, just missing travel and wanting to do more of it and not being able to just sit and read. Hopefully July is better!
Best Book I Read This Month
I barely read anything this month, but it's a definite tie between these two historical romances. They both subvert typical gender norms, are delightfully amusing and heartbreaking in equal parts, and I highly recommend both these authors. Hoyt is new-to-me but I am already a fan and of all the books I've read of hers this past month, easily more than five or six, Notorious Pleasures is my favorite.
Most Popular Post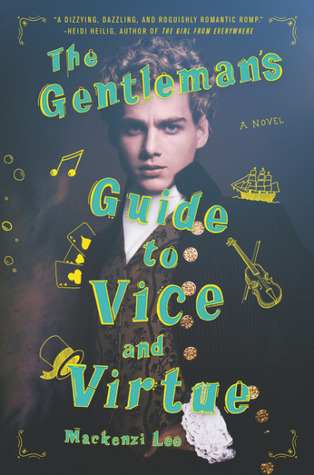 I loved this book and I'm so happy it was the most popular post I wrote this month. I really want more readers to get out of their comfort zone and pick this one up because it's funny and fantastically diverse but also unique and its plot will keep you up until you've turned the last page.
Post I Wish Got a Little More Love
I loved this book, so much more than I thought I would have, so I really hope more readers check this one out. It's so well-written and touches on subjects that often get left out of YA--interracial relationships, protagonists from poorer socioeconomic classes, etc.--and it's exactly what I look for in Contemporary YA.
Obsession of the Month
Grey's Anatomy! As many of you know, I'm a huge fan of both Scandal and How to Get Away with Murder, so is it any surprise that when I finally started Shonda's longest running series I loved it? I have been binge-watching this like crazy all summer and I love it. If I can finish all 13 seasons in the next two months is doubtful, but I sure am going to try. ;)
I also love that watching this in 2017 means that I find the show so diverse and progressive, but then I have to remember that these episodes aired in 2005/2006 and I am so impressed by the diverse cast, the emphasis on strong female role models and people of color and respectful relationships and discussions of trans issues. It's fantastic and I cannot recommend this show enough.
Top 3 Things I'm Looking Forward to Next Month
1. Fourth of July! I'm so excited to be spending 4th of July in D.C. this year! My roommates and I are going to attend the fireworks over the National Mall and I am sure it's going to be beautiful.
2. Family! I'm going to New Jersey for a brief visit the weekend before my younger brother's birthday and the weekend after, my family is coming down to visit me in D.C. for another short weekend. My grandmother just flew in from India so I'm mostly excited to see and spend some time with her but seeing family (and eating home-cooked food!!!) will be a nice change.
3. Friends! I've already seen so many of my close friends in the past three weeks I've been in D.C. but there are so many more I want to see and best of all, my closest and oldest friend is going to come and visit me for a weekend. There is so much to look forward to in July, just in terms of becoming closer to my roommates and re-connecting with so many of my past friends. It's exactly what I need, especially after being abroad for a year. :)
Any fun 4th of July plans? What were the highlights of your June? Any recommendations for books that can get me out of my slump? I'd love to hear in the comments below!