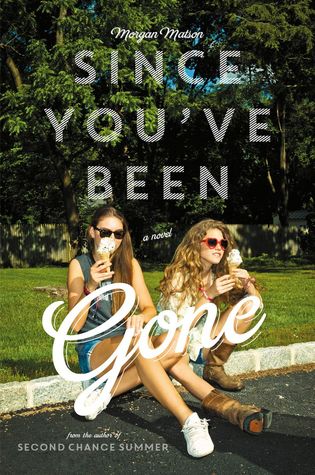 Title:
Since You've Been Gone
Author:
Morgan Matson
Rating:
4 Stars
The weakest part of
Since You've Been Gone
is its beginning. From the start, this novel feels all too much like an ode to a Manic Pixie Dream Girl, Sloane. Our protagonist, Emily, is shy--she lives in the shadow of her best friend, Sloane, rather happily, content to follow in her footsteps and stretch her limits, but only just barely. When Sloane up and disappears in the beginning of the summer, Emily is lonely and lost--why did Sloane leave? So when Emily receives a list from Sloane, she's determined to finish it--to cross off every item on the list, no matter how scary--because maybe, just maybe, it will bring her closer to Sloane.
I really enjoyed this novel. Not as much as Matson's latest,
The Unexpected Everything,
but pretty darn close. Emily is the type of protagonist I can get behind--reserved, confused, but determined to push forward. I mention that the beginning of this novel is the most difficult to get through but that's because Emily is still a shell of a person. Not only is she fixed upon an idea of herself that is inexplicably linked to Sloane, but she remembers Sloane as a Wild Thing, full of life and light. I'm so tired of that romanticized Manic Pixie Dream Girl who seems to float through life effortlessly but is secretly hiding a deep pain. But, the story quickly changes direction, becoming more about Emily and less about Sloane.
It's easy for me to read this book with a heavy dose of disdain, only because I am no longer the shy, reserved teen I used to be. Perhaps if I had read this when it released two summers ago I would have been shocked and inspired by Emily's dares to go skinny-dipping or wear a backless dress. After two years in college, I am quite the different person and I found myself both sad that Emily--and Past Me, really--was so reserved and proud of the growth that Emily undergoes throughout this novel. She finally finds herself--who SHE is--without Sloane or anyone else to define herself by. It's so hard and so important to tear yourself away from the friends who "know" you and really
know
yourself on your own and I appreciate that Matson puts so much emphasis on that.
The friends Emily makes are unlikely, from class president Frank to his desperate-for-a-girlfriend cousin and Dawn, the girl who works at the pizza place around the corner from Emily's ice cream store job. Each of them shape her and motivate her in different ways and I always like how Matson's novels feature lots of time for growth and simple interaction. Emily's family is eccentric and her younger brother is daring and though she doesn't have any issues with them, I enjoyed how they were incorporated into the story in a meaningful way.
And, of course, the romance. Morgan Matson writes the perfect slow-burn romances and this one was no different. Frank and Emily start off as friends and they don't even realize when they begin to blur the line between best friends and something more. It's a little messy because Frank has a girlfriend, but fear not, the drama is minimal. What I enjoyed most about their friendship is that it's not just Emily who is re-defining herself this summer; it's Frank, too. We don't have as much of a insight into his psyche as we do Emily's but I really enjoyed how Emily went from thinking of Frank solely as class president or by his accolades and instead began to see him as a person.
My one qualm with this novel remains Sloane. We see her through Emily's eyes for almost all of this novel and she is painted as the classic Manic Pixie Dream Girl (as I've mentioned). By the end, though, there are a series of events that catapult us to learn more about Sloane--the full extent of her affection for Emily, her "secrets", why she moved, etc.--but I felt as if it was too much far too quickly. I wanted more time to process Sloane and her friendship with Emily before this novel abruptly cut to an end. Moreover, I felt as if there were a few dangling threads and while I can guess what would have happened, it would have been nice to get an epilogue or just a little something more after such a huge bomb is dropped in the last couple of chapters.
I think it's safe to say, though, that I've found a new fave in Morgan Matson. Though this isn't a favorite of mine, I thoroughly enjoyed this novel and would recommend it without hesitation. It's a thoughtful look into re-defining who you are and I'm sure that if I had read this a few years ago I would have been floored. Present Day Me is a little more mature and a lot more extroverted so while I can still appreciate this book, I won't be clutching it to my chest with tears. But, regardless of where you are in your life, give this one a try--I don't think you'll regret it.