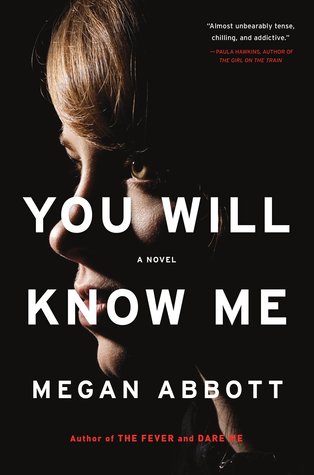 Title:
You Will Know Me
Author:
Megan Abbott
Rating:
3.5 Stars
What a quiet, atmospheric, tense,
disturbing
novel. I loved it.
You Will Know Me
is the first--but by no means the last--novel I have read by Megan Abbott and from the first page, I was struck by her prose. She describes a simple scene: a celebratory party among a close group of young teenage gymnasts and their families, roughly six weeks before Qualifying Exams. It should be a joyous, happy occasion, but with Abbott telling the tale, there's an underlying anxiety about the entire affair. It's impossible to know
why,
but there's a knot in the pit of your stomach--and it will stay there the entire duration of this novel.
Katie, our narrator, is the mother of Devon, a prodigy at fifteen. I love how Abbott weaves this story, telling us about Devon's nasty accident at the age of three when her father, having accidentally left his lawn mower on, rushes her to the hospital after two of her toes are sawed off. How Katie, in an attempt to restore her daughter's balance, signs them up for gymnastics courses. And how Devon is a natural. How Eric, Devon's father, then buys a trampoline for Devon to practice on in their backyard. From then on, their lives revolve around Devon: taking our loans and a second mortgage, all so that Devon can have the best coaches, compete in the top tournaments, and be
the best.
How after a sudden injury, Eric raises money for the gym where Devon practices to get better equipment. How Ryan, a handsome young man, arrives to work on the construction of a new sandpit. And then, we have Ryan's romance with Hailey, the once-troubled-teen-turned-coach who is the niece of Coach Teddy, Devon's mentor and guide. But now, Ryan has died: killed by a car while walking late at night. And everyone's life is about to change.
Abbott's prose draws you in and, what's more, it keeps you there until the plot picks up. I love a well-told backstory, which is exactly the portrait we get of Devon's family ever since her birth, her younger brother Drew often overlooked in the narrative. Learning about Devon through Katie's eyes is impressive and surreal: despite being Devon's mother, Katie has no idea who her daughter truly is. Sure, she's a hard-working gymnast, but nothing phases her--she's the Ice Queen. Devon doesn't have posters on her wall, she's never had a crush, and she yearns to keep puberty at bay, keeping her body slight and strong, as if its only duty is to gymnastics: not to love, life, or family. Thus, Devon seems more like a miracle, and a curse, than a true human being. We flip the pages, yearning to know more: what makes her tick, what propels her forward, what's really going on in that mind of hers? Like Katie, we love her, cherish her, and fear her all at once.
Of course, Devon is the enigma of this novel but the plot, centering around Ryan's death, is fascinating. What I love most about the way this is told is that Ryan, who is such an insignificant and inconsequential person in the running of the gym or the process of training these gymnasts, somehow upends
all
their lives. Coach Teddy doesn't show up for practices, consoling his grieving niece, and the speculation about Ryan and Hailey's relationship throws these young teenage girls into swirling distraction. And, as this novel shows us, anything your child does is linked to their parent. Certainly, these young girls are sweating and shoving their bodies into inhuman shapes and sizes to perfect this sport, but it is at the expense of their parent's money, time, effort, sweat, and tears. A single slack in the concentration of these girls throws their parents into a frenzy--attacking Coach Teddy, demanding more time from him, contemplating changing gyms. And, underlying all this, is the mystery of Ryan's death and, for the reader, how it connects to Devon.
Because, obviously, it all connects back to Devon. Katie's life revolves around Devon, the future of the gym lies in Devon's success--for, surely, she'll be an Olympian someday--and Eric, who perhaps blames himself for Devon's deformed foot, is dedicated and devoted to his daughter's gymnastics in a way no one else is. As Katie peels back the layers of Ryan's death, her eldest child, and her marriage, she soon longs for the days of naivety when she was blind to the conspiracies and secrets around her. Most interesting, to me, is Drew, Devon's younger brother who dreams of Devon falling off the roof and flying away. He is a sweet, strange little boy whose dreams seem eerie, almost like premonitions, but his neglect and role in the family makes him one who garners our instant sympathy. Every member of this four-person household is hiding so much and as the story progresses, I was as shocked and surprised as Katie to learn the truth.
Where this novel falters, for me, is in its limited view of seeing this tale through Katie's eyes, and her eyes alone. I wanted to explore her marriage, especially Eric and his psyche, further. I'd have loved to be inside his head, however brief. We're given one chapter from Devon's perspective and it's marvelous--but I wanted more. The secondary characters in this, beyond Katie's family, are all fascinating in their own right and I'd have loved to learn more about them and what made their families tick, so different from Katie's. I also would have appreciated if the link between Ryan's murder and Devon's family was drawn sooner. It was obvious there was a link, if only by the anxious prose, but I felt as if there was a lot of random clue-dropping and wading through symbolic conversations before we finally began to make sense of what was going on.
Nevertheless, I loved this nonlinear story-telling, the lies, the unreliable characters, and of course the dark underbelly to ambition. I can't wait to see what Abbott writes next and will be prowling through her backlog with glee.