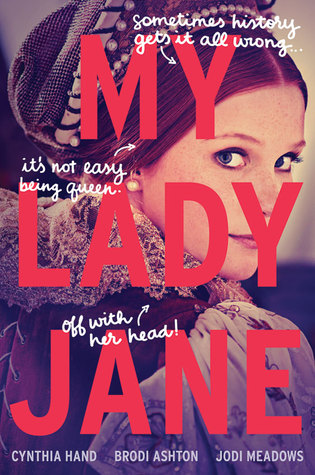 Title:
My Lady Jane
Author(s):
Cynthia Hand, Brodi Ashton, and Jodi Meadows
Rating:
4.5 Stars
Historically, Cynthia Hand, Brodi Ashton, and Jodi Meadows have never been my go-to authors (to put it mildly). As can be suspected, I figured that their joint collaboration, while creative, would fail to charm me. If these three ladies couldn't win over my heart individually then how could they manage it with differing POVs in a fantastical realm, similar (but also not quite so similar) to our own world and history? Well, the truth of the matter is this: I pushed back lunch for three hours to reach the end of
My Lady Jane.
Yes, you read that right; I finished this book in one sitting. Quite unexpectedly, I'll assure you. But if you, like me, were considering skipping out on this gem of a novel, do yourself a favor and give it a chance.
Five Reasons to Read My Lady Jane:
1.
If you're a fan of
The Princess Bride,
either the novel or its film adaptation. Probably you will enjoy this novel if you're a fan of Cynthia Hand, Brodi Ashton, and/or Jodi Meadows. But
My Lady Jane
is an entirely different beast from their previous work, so don't expect angels or Greek mythology or high fantasy. Instead, expect sarcastic commentary from three highly amusing narrators. Expect dramatic escapes, sword-fights, shape-shifting, treason, poison, and true love. If
The Princess Bride
had you worried sick, laughing, crying, and utterly joyful then
My Lady Jane
is guaranteed to have you in a similar state of mind.
2.
If you're a fan of fantasy. Even just a little, tiny bit of it. First and foremost, the world of
My Lady Jane
is almost identical to ours with the exception that there are humans who can shape-shift and the historical, political struggle through time has not been one of religion but rather one of prosecuting those who can shape-shift opposed to those who cannot. As such, the world-building is not heavy and detailed, but it is sufficient. I never had doubts or questions that went unanswered but, also, the fantasy elements blend seamlessly into a typical historical setting.
Moreover,
My Lady Jane
reminds me of fantasy books I would read as a child, such as
The Tale of Desperaux.
Animals can make daring rescues and are spoken to and cared for by other humans because, after all, they could be human themselves. I enjoyed, immensely, just how clever this entire tale was. Every piece of history fit together with this newly re-imagined fantasy re-telling and I remain in awe of the genius employed by these three ladies to make this novel work.
3.
If you believe that the answer to "Who Run the World?" is "GIRLS!" Almost all of the female characters in this novel are utterly kick-ass and, yes, they rule absolutely. Jane, our titular heroine, is brilliant beyond words as she's had her nose stuck in a book for most of her life. Thus, Jane knows almost anything and her kindness, loyalty, and intelligence make her an asset even in the most un-bookish of times. Her POV is sharing alongside that of Edward, the king who is slowly, but surely, dying when we first meet him and Gifford, the son of Duke Dudley and the future husband of Jane. Edward, the sole male heir of his father, believes in the gender roles he was brought up to live by and respect. As his condition worsens, however, and circumstances whisk him away from the palace where he has grown up, he grows to respect and admire women for their strength in all ways.
Admittedly, the time period in which this novel is set demands that Edward think the way he does--that a woman should mend his clothes and cook his food and clean his living space--but his growth was so, so satisfactory, I'm sure especially to the women of this novel. Gifford, on the other hand, shape-shifts into a horse from dawn to dusk. As such, Gifford is only a human at night and this makes him...particularly useless, in many ways. But Gifford re-defines what it means to be a man, to be manly, and to embody masculinity and I love his definition far more than I thought I would when I first met him.
4.
If you're a sucker for a slow-burn love story. Jane and Gifford, though they married in real-life, absolutely do not
want
to marry each other in this novel. But they do and, before you know, Jane is living with a horse by daylight, a man by night. And Gifford, similarly, is living with a woman who is constantly in love with her books and little else. It isn't the ideal situation for either of them but their love story is absolutely delightful. It starts with hate, grows into friendship, is ruined by a fight or two, is repaired by loyalty, gets tested time and time again through difficulty, almost falters in the face of trust and respect, but is eventually held and mended by love.
It's such a difficult journey but both Jane and Gifford learn and grow so much--I loved them when we first met them but I loved them all the more by the time I was forced to leave them. Edward gets his own love story and while it isn't quite the central romance, it nevertheless is cute and forced Edward to change in all the best of ways. I want to stress that though these love stories are important, they're mostly that way because of the character growth that stems from them.
5.
If you like laughing.
My Lady Jane
isn't
as
funny as I thought it was going to be, but it's a light-hearted tale and there are many horse jokes (at the expense of poor Gifford, who can shape-shift into a horse) and a slew of other fabulous puns and jokes, not to mention sarcastic insults, that will keep you grinning, if not outright laughing out loud, as you read this. You can't go wrong with
My Lady Jane.
It's going to make a lot of "2016 Favorites" lists, so don't let this one pass you by.