3 Things About My Life This Month
1. I finished my second year of college!!! I have loved every moment of my experience at Wellesley, despite the fact that this last semester was brutal and extremely difficult in a lot of ways. I can't believe I'm already half-way done, though! Where has the time gone? I still have two years left and I'm going to make the most of it! (But also, in the meantime, I'M DONE!)
2. I went sailing for the first time! A friend of mine has family in New Hampshire and about twelve of us from the Choir went up for sailing and some quality beach time away from campus. This happened during Senior Week where I stayed back on campus after finals to sing with the Choir. It was the most beautiful two weeks to be on campus and I had so much fun extending the inevitable goodbye to our twelve Choir seniors and a handful of other senior friends I had on campus.
3. I'm home--for the first time in nearly two years! I haven't been home for much longer than a week or two at a stretch so to have the whole summer ahead of me is a much-needed break. I can't wait to do my favorite summer-time activities: swim in a pool, go biking on the trail behind my house, pick strawberries from the farm down the street, buy local ice cream and walk the streets of Princeton... :)
Top 3 Books I Read This Month
2. The Raven King by Maggie Stiefvater
3. Since You've Been Gone by Morgan Matson -- Court of Mist and Fury by Sarah J. Maas -- How the Duke was Won by Lenora Bell (a three-way tie between three VERY different novels!)


Most Popular Post
I'm always glad when these are some of my most popular posts of the month because I know it means that you all enjoy reading these as much as I enjoy writing them! :)
Post I Wish Got a Little More Love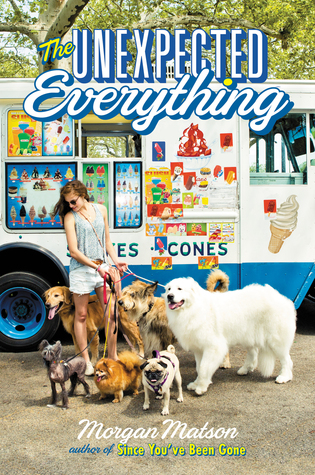 Review: The Unexpected Everything by Morgan Matson
- This book surprised me--I really did not expect to enjoy it at all--but I wound up loving it so I want everyone to discover this one and also give it a chance!
Posts I Starred in My Blog Reader This Month
1.
How "Empowerment" Became Something for Women to Buy
2.
Is Kim Kardashian Empowering?
3.
Coming Home: Queer South Asians and the Politics of Family
I've been meaning to share these first two articles with you all for awhile but this third one was recently written by a friend of mine and is such an honest and thought-provoking look at homosexuality in South Asian communities and why it isn't as easy acceptable in these circles as it is in others. It's about more than just political lines between liberal and conservative so I hope you all enjoy these!
Obsession of the Month
I'm just going to be honest and admit that my obsession of the month has been Pinterest. I know. I'm obsessed with a website that millions of people already know about and adore. I got a Pinterest awhile back but I've recently had the time to go back to it and can't seem to get off of it. Clothes! Travel! Books! Quotes! Food! You can check me out:
https://www.pinterest.com/kanandraj/
. My most book-ish board is "Reading is Sexy" but feel free to become as fashion and travel obsessed as I've been lately!
3 Things I'm Looking Forward to Next Month
1. I'm going to India! I'm so excited to be visiting my grandparents this summer and getting a vacation out of my month-long trip to India. I'll mostly be chilling around in the lovely apartment my grandparents own in Bangalore but I'm so, so excited to go!
2. I'm meeting my friend from college in India! It just so happens that one of my really close college friends is going to be in the same city in India as I am this summer and I'm so excited to meet her and connect in a place far, far away from our campus!
3. Visiting the Motherland! I'm heading to Kerala, which is where my mom's side of the family is from, for a week next month. My grandmother has a beautiful house there and I'm so excited to go visit because Kerala is very rural, full of backwaters and gorgeous sunsets. I am so ready for this vacation!

What are you doing this June? Any traveling? I hope you all have a lovely and relaxing month ahead--summer is finally here and I, for one, am so happy to see the sun! :)