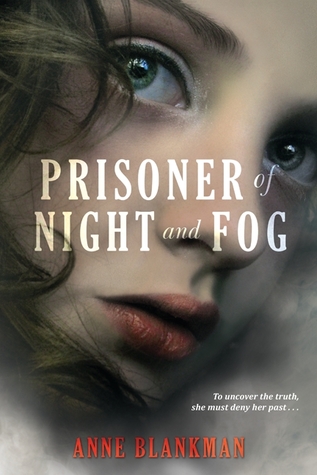 Title:
Prisoner of Night and Fog (Prisoner of Night and Fog, #1)
Author:
Anne Blankman
Rating:
3.5 Stars
I only truly began to fall for this novel towards the end. Gretchen, the protagonist of this debut whose relationship with Adolf Hitler is intimate enough that she addresses him as Uncle Dolf, reads far younger than her age for much of this novel.
Prisoner of Night and Fog
chronicles her much needed wake-up call as she finally recognizes the lies that she has been fed all her life. It isn't until almost after half-way through the tale that she begins to come into her own; formulating her own opinions and leaving behind the teachings of Uncle Dolf.
I thoroughly enjoyed watching Gretchen grow and change remarkably over the scope of this novel. From her former naivety to the bravery she accumulates like a cloak, her character is tremendously inspirational and downright believable as well. Despite aching to free her family from Uncle Dolf's influence as well, Gretchen is nevertheless prone to cracks of vulnerability in her armor. What's more, despite the fact that her profound change is precipitated by Daniel, a Jewish reporter who reveals that Gretchen's father did not die saving Hitler, as she believed, Gretchen's actions are self-motivated. Instead of dismissing Daniel, Gretchen discovers that her father was murdered by a member of Hitler's own party and her steps to discover just who murdered him are not solely a result of Daniel's influence.
Gretchen and Daniel's romance is sweet and nurturing; a support system in a time when they both lack precisely that. Gretchen's family is falling apart, whether it be her older brother who harbors psychological illnesses of his own or her mother, determined to do right by her elder child even if it means sacrificing much of Gretchen's own happiness. Each of these relationships is so nuanced and rich, full of scope and depth, and yet they also align perfectly with history. Many of the characters in this novel are real Nazis and the manner in which Blankman weaves Gretchen's fictional tale alongside Hitler's slow accumulation of power is tremendous. In learning of WWII, we often learn of the Holocaust and the end of the war, not Nazi politics, so the fact that this novel remains intensely political is a welcome surprise.
I didn't expect to enjoy this novel as much as I did. Perhaps if I had, I'd have picked up my ARC sooner. But Gretchen is a heroine I can get behind, just as Daniel is a love interest I can swoon over. It isn't an easy path for these teens but their struggles are realistic, rooted in history, and not without their sacrifices. Although Gretchen's narration reads young, many of the brutal events in this novel are definitely geared towards a more mature set of readers. Blankman provides a detailed explanation of fact and fiction at the closing of this debut which made for fascinating reading, particularly as many of the facts revealed were ones I didn't know myself. She goes into great depths about the psychological mindset of not only Hitler, but many high-ranking Nazi officers, and Gretchen's search for her father's killer brings her face-to-face with a myriad of other realities she is forced to accept. Brilliantly written,
Prisoner of Night and Fog
is one historical fiction debut you won't want to miss.