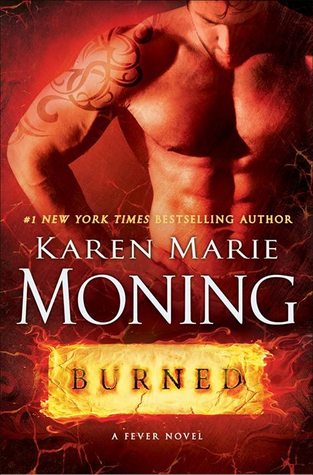 Title:
Burned (Fever, #7)
Author:
Karen Marie Moning
Rating:
4 Stars
Burned
hasn't been the most popular book off-late. It seems as if every day I open my Goodreads homepage to yet another slew of negative reviews of this novel, alongside the slightly hesitant positive ones. Despite not enjoying
Iced,
though, I really did like
Burned.
It's funny, it's light, and it's entertaining--frankly, I don't ask for much more from my Urban Fantasy. Granted, the synopsis is utterly misleading in that the "drama" between Mac and Barrons is low-key and of little worry, but the new characters introduced in this installment have me salivating to find out where Moning takes this series next. I agree with a lot of the points reviewers have brought up about why this novel isn't nearly quite so good--it takes the easy-way-out in some instances, Mac's PoV isn't always necessary, it goes to great lengths to paint morally ambiguous characters are purely
good
--but I also didn't feel as if these faults were wholly detrimental to the plot line.
Burned
is a fast-paced read, one that even I could get into despite my piles of pending work, and re-visiting these beloved characters was a treat. I'm confident Moning has a plan for the rest of this series and I'm prepared to stick along to find out what it is. After all, if she could smooth away the rough edges of
Iced
then, surely, she can do anything.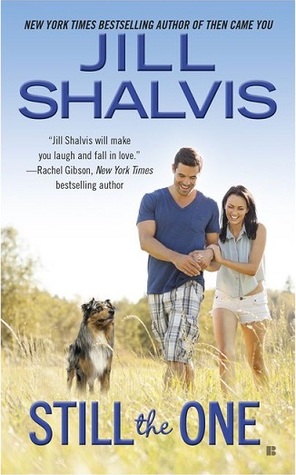 Title:
Still the One (Animal Magnetism, #6)
Release Date:
April 7th, 2015
Still the One
is, unfortunately, the most disappointing installment I've read in the Animal Magnetism series. Darcy and AJ, the romantic leads at the forefront of this novel, are fascinating characters in their own right. A travel photographer for National Geographic, Darcy has always been a dare-devil, living life to the max. When she meets with an accident that leaves her unable to walk until after intense physical therapy, the course of her life is forever altered. AJ, her physical therapist and brother's best friend, has been there with her through thick-and-thin. So, of course, when she throws herself at him and he rejects her, Darcy is shattered and determined to move on. But AJ is quickly realizing that when it comes to Darcy, he made a huge mistake, and now, he wants her back. At any cost.
Shalvis has an easy way of forcing her characters into your heart and that is no less apparent in
Still the One.
I adored this heroine, with her prickly nature and tough exterior, all hiding a heart of mush, and this strong and silent hero, whose hurts were so deeply concealed. Darcy and AJ are a perfect match but their love story, full of the push-and-pull that can grate so easily, lost its appeal. Moreover, there are one-too-many tropes used in this one and, ultimately, though I adore these two as individuals, this is one case where I felt as if their relationship was weaker than their separate personalities.
Clearly a must-read for fans, I'm sure
Still the One
will still satisfy--after all, it's Jill Shalvis. But, nevertheless, I'd lower my expectations for this one, just ever-so-slightly...
Title:
The Kraken King (Iron Seas, #4)
Author:
Meljean Brooks
Rating:
4 Stars
Although I harbored my doubts when Brooks announced that
The Kraken King
would be written in a serialized format, I found myself pleasantly surprised by how effectively it came together as a cohesive novel. The latest in this vividly imaginative steampunk series follows Zenobia Fox, the sister of adventurer Archimedes Fox, and her experiences are no less enthralling than that of her sibling.
The Kraken King
worked particularly effectively due to its length. It feels longer than her other novels--and rightly so, due to the serial format--but it also allows her to infuse more detail and depth into the world and her characters. The romantic tension is prolonged, a slow-burn that feels
so good
and the problems that rip these two apart are wholly mental and all the more realistic for it. Of course, Brooks excels at political machinations and introducing new facets to the world she has created, time and time again, so these books are all-round winners through-and-through. If you haven't picked them up yet; do.
Title:
Crushed (Redemption, #2)
Release Date:
April 14th, 2015
While the first novel in this series really is the best--
Isn't She Lovely
--I enjoyed
Crushed
far more than I did
Broken
and the vibrant, unique protagonist of this novel completely won me over. I think what makes this series tricky--or at least the last two installments--is the fact that these protagonists are not
nice.
They don't fit into pre-defined labels of goodness but they also aren't
quite
the classic bad boy so it's hard to know how to navigate a lot of the sticky emotions in these books. Moreover, the characters are at that New Adult stage where everything just
is
overly dramatized, mostly because of the nature of the genre but partly because of the age group as well. While I grew a little impatient with the prolongation of the final HEA--seriously, did we need
all
of those misunderstandings--I still thought this was an excellent novel from Layne. Her adult series definitely sit better with me but this was a genuinely interesting and original take on a lot of classic tropes in the New Adult genre and the more I think about the nuances Layne added to her work, the more I find to recommend within this series.