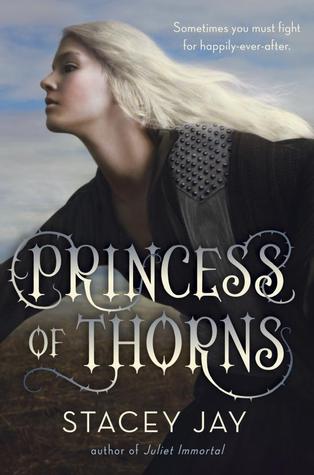 Title:
Princess of Thorns
Author:
Stacey Jay
Rating:
2 Stars
Release Date:
December 9th, 2014
I picked up
Princess of Thorns
expecting a fairy tale re-telling on the scale of Jay's
Of Beast and Beauty.
Don't do that.
Princess of Thorns
is
nothing
like
Of Beast and Beauty,
which is, frankly, a disappointment.
Of Beast and Beauty
burst upon my bookshelf last year with a fresh, innovative take on the age-old tale of "Beauty and the Beast." It wasn't solely Jay's creativity that set it apart as one of the finest re-tellings of "Beauty and the Beast" to be told, it was also her willingness to explore all-too-human themes in a fantastical settings, her risk-taking with a truly evil villain on hand, and her impeccable pacing that introduced plot twists when the reader least expected it. What's more, at its core
Of Beast and Beauty
is a love story; a beautiful one. It's impossible to pick up Jay's former novel and
not
become lost in the swirls of tension, passion, and love that emanate from these characters. Sadly,
Princess of Thorns
contains none of that.
For one, it should be noted that
Princess of Thorns
is not a re-telling of "Sleeping Beauty." Instead, it continues the original French story, only instead of ending completely in death and demise, Princess Aurora's two children live and are raised by the fey to eventually fight their evil ogre family.
Princess of Thorns
begins promisingly enough, what with a prophecy being foretold and Ror, our protagonist, becoming a fierce and determined leader. Certainly, from the first few pages, Jay's latest seemed to possess the qualities needed to make
Princess of Thorns
as big a success as
Of Beast and Beauty
but, alas, it was not to be so.
My main issue with
Princess of Thorns
is, quite simply, that it is
boring.
Aurora is on a quest to win over an army and save her younger brother, Jor, from his current imprisonment with the Ogre Queen who wishes both Ror and her brother dead. With her is Niklaas, the eleventh son of an immortal king who has cursed his heirs to turn into swans on their eighteenth birthday so that his kingdom may never be turned over to them. (Also, can I just inject here that this entire plot thread is ridiculously weak? Is this meant to be another re-telling similar to Marillier's
Daughter of the Forest
randomly interjected with "Sleeping Beauty"?) Niklaas finds Ror and, presuming that Aurora is her younger brother, Jor, agrees to help her on her quest if Jor will introduce Niklaas to his elder sister so Niklaas may propose marriage to Aurora. Niklaas needs to marry in order to escape his curse but Aurora's fairy blessings prevent her from even kissing another and, parading around as her younger brother Jor, their relationship forms into a tight friendship after their initial revulsion passes. Though their journey could have been intriguing, with "Jor" diplomatically fighting to win over an army or find one (*ahem* Aragorn in
Return of the King
when he rallies the ghost army to fight for him!), this novel passes by with Aurora and Niklaas merely walking, sleeping, talking.
What's worse, there's barely a hint of chemistry between Niklaas and Aurora. I enjoyed the manner in which their relationship developed but I wasn't wholly involved with it. Plus, Niklaas is the type of male protagonist who enjoys boasting of the broken hearts and cold beds he leaves behind and while Aurora is strong, capable, and a perfect match for him, I found Niklaas's subtle misogyny to be...unpleasant. Of course, Jay allows her characters to grow and change over the course of the novel and the ending is satisfying, though anticlimactic. It isn't the epic battle we expect it to be and, on that count, it's disappointing. Jay doesn't pull out all the stops when it comes to her villain this time around either--yet another upsetting factor--but the last few pages ensure that readers finish
Princess of Thorns
with a smile if nothing else.
Unlike
Of Beast and Beauty,
this novel is not introspective, reflective, or thought-provoking in the least. The relationship dynamics are all present--and I really enjoyed the glimpses of Ror and Jor's sibling relationship--but ultimately, this isn't a novel to boast about. Its gorgeous cover aside, I wouldn't recommend it and frankly feel as if readers who expect the same caliber of
Of Beast and Beauty
will be happier skipping out on this one. Sorry
Princess of Thorns,
but you leave much wanting.
You can read my review for Of Beast & Beauty (which I highly recommend!) HERE.