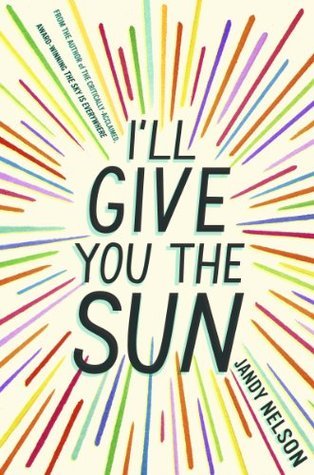 Title:
I'll Give You the Sun
Author:
Jandy Nelson
Rating:
5 Stars
I often didn't want to read
I'll Give You the Sun.
Nelson's debut,
The Sky is Everywhere,
sits pristinely on my shelf despite numerous re-reads as I flip through my favorite passages, the poems most beloved to my heart, and swoon again and again and again because
Joe Fontaine.
I couldn't, for the life of me, imagine that
I'll Give You the Sun
would be able to compare. After all, I couldn't relate to a novel about twins. About art. About grief. A novel told from two different perspectives, two different genders, two different time lines.
I'll Give You the Sun
arrived on my doorstep as a pre-packaged risk--one I wasn't sure I was ready to take. Until, of course, I cracked open the spine and Nelson rendered me speechless, useless, and nearly heartless. Again.
I'll Give You the Sun
is a vastly different novel from
The Sky is Everywhere
but the atmosphere created by Nelson--the distinct flavor of
her
--is still present. While Nelson's debut dealt, from the onset, with grief, with moving on, with battling the inner demons and wrestling the outer ones,
I'll Give You the Sun
is a far more subtle discussion of similar topics. It is told from the perspectives of Noah and Jude, twin brother and sister whose lives have been intertwined from womb to birth and beyond. Noah, at thirteen years old, begins the novel and his narration is a burst of color on the page. Noah is an artist. Not only does he see the world around him in the shades of his paintbrush and the strokes of his hand, but he's constantly cramped over a drawing pad. For Noah, art isn't a lifestyle; it's his life. At thirteen, Noah is shy, quiet, and often alone. Jude, by contrast, is popular. A complete dare-devil, she seems to have inherited the strong, "masculine" traits that their father always pushes Noah to attain. But Noah, thirteen years old, in love with his talent, often bullied, and burdened by the knowledge that he is attracted to the men, is a narrative voice I cannot forget. Once heard, it will stay with me; constantly. Every other chapter we hear Noah speak; first thirteen, then thirteen and a half, slowly pushing fourteen, until fourteen hits. Over the course of a mere year Noah will fall in love, he will destroy his relationship with his sister, he will grow green with envy, he will yearn to achieve his dream of gaining entrance into art school, and he will lose his true love.
Jude, whose narration picks up two years later at sixteen, is a changed individual from the flighty, fun, and flirty teen she used to be through Noah's eyes just three years ago. Now, Jude attends the prestigious art school Noah dreamed of attending. She wears conservative clothes, speaks to the ghost of her dead grandmother, is estranged from Noah, and blames herself for her mother's death. It's a shocking juxtaposition, at first, to read Noah's tender, innocent, and all too child-like perspective where he draws, dreams, and is constantly able to rely on his twin sister and then, suddenly, to be yanked into Jude's head, two years later, where she and Noah barely speak to one another; where she has lost her love for life; where, somehow, she is living her brother's dream while he lives the life of the popular high school jock. What happened? It's the question that plagues us, constantly, as we frantically flip the pages while simultaneously smoothing them down to make the words last longer, the sensations linger deeper, to soak in the full impact of the tale at hand.
I'll Give You the Sun
is gut-wrenching, certainly, but only because Nelson makes you feel so deeply for her characters that their grief becomes our grief. It's beautifully written, descriptions of art grazing the pages opposed to the poetry of
The Sky is Everywhere
but, unsurprisingly, under Nelson's prose it is just as evocative and powerful. Moreover, I love the love stories Nelson creates. Like Gayle Forman and Stephanie Perkins, Nelson writes true love; love forged by fate, intertwined by destiny, and brought together by multiple life paths, not just one. It's the type of romance I simply cannot rip myself away from. I'm a sucker for these love stories, though countless readers likely point out their improbability, and Nelson made me fall
hard
not just for one or even two of the love stories told, but for all three within these pages. I have absolutely no qualms in admitting that the swoon Nelson writes in
I'll Give You the Sun
rivals the swoon of
The Sky is Everywhere
--and then some.
Yet, at its core,
I'll Give You the Sun
is a story of family. Of truths and deceptions. Of what love truly means. It leaves us thinking, by the end, after all the revelations are through, and the lingering unanswered questions of death remain, as in real life, the most bittersweet remembrances. Perhaps, though, what I love most about it is that the growth within it is not limited to age. Granted, both Jude and Noah grow and change immensely from Noah's perspectives to Jude's, two-three years in the future, but the adults around them are also, constantly, changing and being changed by the circumstances life throws at them. In
The Sky is Everywhere
the adult presence felt starkly adult; knowledgeable, reliable. A pillar, in other words. In
I'll Give You the Sun,
that isn't quite the case. Though it seems, to thirteen year old Noah, that his scientist father has it all figured out, to sixteen year old Jude it is evident that her father isn't himself. And though, to sixteen year old Jude, to seemed as though her mother knew it all, had all the right answers now, looking back, for fourteen year old Noah that wasn't the situation at all. For me, the lines blurring between by teenage-hood and adult-hood, these explorations of life, love, and longing at all stages truly spoke to me. Moreover, I loved seeing the beauty of existence shown through multiple generations in a manner only Nelson can possibly achieve.
For me,
I'll Give You the Sun
is a significantly more complex novel than
The Sky is Everywhere.
I love it because the intensity of its emotions is not linked solely to grief. I was able to understand, on so many levels, the complexity between Noah and Jude's relationship. From the stage where they fought for each parent's time and approval to the stage where they became jealous of one another and even beyond, so much of it rang true even without the added component of grief--which I, personally, enjoyed. Ultimately, I believe this novel will speak to every reader in some way or the other. It's just one of those novels. Pain demands to be felt;
I'll Give You the Sun
does too.
You can read my review of Nelson's The Sky is Everywhere HERE.