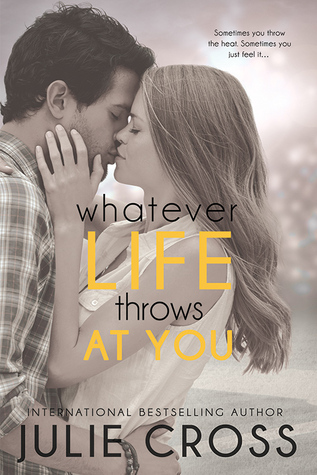 Title:
Whatever Life Throws at You
Author:
Julie Cross
Rating:
3 Stars
Release Date:
October 7th, 2014
When it comes to authors, like Julie Cross, whose past work has received a variety of mixed reviews, I hardly know whether or not to invest in their trilogies. Is it worth my time to dive into those three books? Or am I doomed to emerge unhappy like countless readers before me? When
Whatever Life Throws at You
landed on my doorstep, though, I figured I had the perfect opportunity. Not only could I sample Cross's prose, but it was a contemporary stand-alone and bound to bring a heady dose of swoon into my life.
I found a lot to love within the pages of
Whatever Life Throws at You.
Cross's latest centers around seventeen-year-old Annie Lucas, a hard-core runner whose dream is to land a scholarship for track. Her father, once a major league baseball player who retired prematurely while battling cancer, has just been offered the job opportunity of a lifetime to return to baseball, this time as a coach, and Annie refuses to allow her father to give up this chance. All she wants is to see him happy and if that means moving across the country to an all-girls high school, it's a small price to pay. In Missouri, though, Annie doesn't expect to run into the Royal's new--and
very
attractive--pitcher. Nor does she expect to fall for him as hard as she does. Brody and Annie start out as mere friends but is Annie truly a match for a nineteen-year-old on the verge of stardom? And even if Brody finally sees Annie as more than a little-sister figure, there are always consequences for every action...
At the center of
Whatever Life Throws at You
is a strong father-daughter relationship which I fell head-over-heels for. When it comes to familial relationships, sibling bonds or parental struggles are often emphasized in YA so I appreciated the breath of fresh air Cross brought with Annie's relationship concerning her father. Annie and her father are best friends, practically. He's supported her all her life, especially with her mother breezing in and out of the house, and Annie both looks up to and respects him immensely. I really felt the strength of their bond, even early in the novel, and their growth arc throughout the novel is incredibly real-to-life. Moreover, I enjoyed how Cross juxtaposed the ease of Annie's relationship with her father to the turmoil of other parent-child relationships in the novel. Annie may not have a steadfast mother or a whole lot of wealth, but her father makes up for all of it.
Annie's relationship with Brody is additionally at the forefront of this novel. Brody is nineteen-years-old, out of high school, and about to become a star baseball pitcher. Annie doesn't expect him to like her, let alone care for her in any capacity, but as they spend more and more time together she can't help but begin to fall for him. What I love about their relationship is that it begins firmly as a friendship and their understanding of each other, their trust in one another, and the affection they share is a cornerstone of their bond. Brody has so many hidden layers to him beyond his ability to pitch and as Annie peels those back, slowly, the entire novel opens up in new and unexpected ways. What's more, I love Cross's decision to explore the sexual aspect of Brody and Annie's relationship. Cross doesn't romanticize sex, for one, which is a relief. What's more, instead of simply jumping from making out to outright sex, Cross fills in the gaps, proving there are more ways than one to grow physically closer to a partner. More often than not, these ideals are glossed over in YA and I give Cross props for approaching sex in YA in a new and improved light.
Yet, where
Whatever Life Throws at You
falters is in the dilemma built up over the course of the story. For one, it felt far too superficial and inauthentic for me to truly invest in and by the time all hell broke loose, I simply felt removed from the novel. What's more, it feels jarring against the backdrop of such a mature, realistic YA contemporary. Another aspect of the novel I felt could have used a dose of improvement were Annie's friendships outside of Brody. In her entire high school she makes exactly one friend and, even then, though their interactions were more frequent in the beginning of the novel, they almost entirely peter out by the end when the entire focus shifts to her romance with Brody.
So. Not. Cool. Yet, regardless of that,
Whatever Life Throws at You
is a sweet, swoon-worthy contemporary to curl up with for a few hours. I know next to nothing about baseball and still wound up enjoying it--there's just something about all the sports-related novels that are so much
fun,
what with all the fake tension about a game being lost--so I'd certainly recommend this to readers. Its positives outweigh its negatives by far and I'm looking forward to reading a voice as natural and authentic as Annie's from Cross soon.