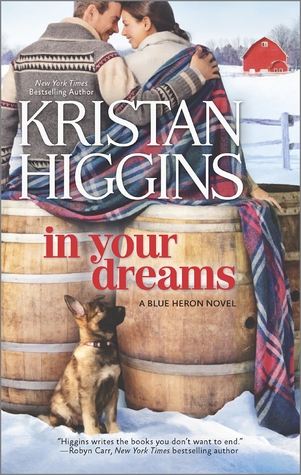 Title:
In Your Dreams (Blue Heron, #4)
Author:
Kristan Higgins
Rating:
3 Stars
Release Date:
September 30th, 2014
Emmaline Neal needs a date. Just a date—someone to help her get through her ex-fiancé's wedding without losing her mind. But pickings are slim in Manningsport, New York, population 715. In fact, there's really only one option: local heartthrob Jack Holland. Everyone loves Jack, and he won't get the wrong idea…. After all, Jack Holland would never actually be interested in a woman like Em. Especially not with his beautiful ex-wife creeping around, angling to reunite ever since he rescued a group of teens and became a local hero.

But when the wedding festivities take an unexpectedly passionate turn, Em figures it was just one crazy night. Jack is too gorgeous, too popular, to ever end up with her. So why is she the one he can talk to about his deep, dark feelings? If Em is going to get her dream man, she'll have to start by believing in him…
I have mixed feelings concerning this latest from Higgins. On one hand, I definitely feel as if the quality of the novels in this series are declining--largely in part due to the excellence of the first novel,
The Best Man,
which just can't be beaten. On the other hand, though, I
did
really enjoy the latter half of this story. I feel as if the characters--Jack and Emmaline--don't share a classic love story trajectory which is refreshing. Emmaline, in particular, has always been thought to be a lesbian due to her muscular body type which doesn't conform with the typical norms of beauty. Thus, to watch her struggle with that perception and to witness Jack fall in love with her and find her sexy and beautiful just the way she was was incredibly sweet. Moreover, Jack's ex-wife--though causing a fair bit of unnecessary drama--nicely clinches the "right" feeling of Emmaline and Jack together in a tasteful manner.
Yet,
In Your Dreams
is terribly bland and apathetic during the first half. I felt little for either of these characters during the fake wedding date plot thread outlined in the synopsis of the book. Moreover, it fails to truly expand upon the intriguing aspects of the story such as Jack's PTSD which he suffers as a result of being the
rescuer,
not the victim, which was a unique twist.
In Your Dreams
does, ultimately, put a smile on your face and the butterflies-in-your-stomach swoons are downright lovely by the end but it isn't a favorite or a must-read of Higgins, I will acknowledge that. (Also, what's up with the snowy/Christmas-y cover? I don't remember all that much winter spirit in this novel...O.o.)
Other Kristan Higgins novels I've reviewed:
Catch of the Day, Too Good to Be True, Somebody to Love, The Best Man, The Perfect Match,
and
Waiting on You
Title:
As Long As You Love Me (2B Trilogy, #2)
Release Date:
September 30th, 2014
Most people dream about getting out of Sharon, Nebraska, but after three years away, Lauren Barrett is coming home. She has her reasons; missing her family, losing her college scholarship. But then there's the reason Lauren can't admit to anyone: Rob Conrad, her best friend's older brother.

Football prowess and jaw-dropping good looks made Rob a star in high school. Out in the real world, his job and his relationships are going nowhere. He's the guy who women love and leave, not the one who makes them think of forever; until Lauren comes back to town, bringing old feelings and new dreams with her.

Because the only thing more important than figuring out where you truly belong is finding the person you were meant to be with.
I enjoyed this novel considerably less than its predecessor, likely because it read merely as a love story opposed to a tale belonging to the New Adult genre. Moreover, I found the conflict--while certainly important--to emerge too late in the story line. We spend more than 75% of the novel believing our characters are working through certain issues only to uncover an entire back story much later. Yet, that being said, As Long As You Love Me is certainly a worthwhile read. Much like its predecessor, it still fails to break new ground in the New Adult genre but its strong female friendships, gentle romance, and tight-knit family bonds make it a tale to enjoy, if not quite remember.
Other Ann Aguirre novels I've reviewed:
Enclave, Bronze Gods, Silver Mirrors, Sirantha Jax Series, I Want it That Way
Title:
Made For You (The Best Mistake, #2)
Release Date:
October 28th, 2014
Some mistakes are worth making...
Eh. I love these types of antagonistic love stories but I found the protagonist, Brynn, to be far too selfish and stubborn to truly enjoy this. We met both Will and Brynn in the previous novel in this series but only briefly--enough to know that Will loved Brynn and Brynn simply saw him as a one-night stand. Now, three years later, Will is back in Brynn's life after unexpectedly moving to Boston and, this time, he has plans to win Brynn over once and for all. Brynn, however, refuses to change her opinion of Will despite the efforts he takes to present his true self to her, not the antagonistic rudeness they've grown comfortable with. Unfortunately, I felt as if Brynn takes advantage of Will a bit too much and wasn't a fan of her character the same way I was of her younger sister, Sophie. Not a bad read, just not Layne's best. :/
Other Lauren Layne novels I've reviewed:
Isn't She Lovely, After the Kiss, Love the One You're With, Just One Night, Only With You, Broken