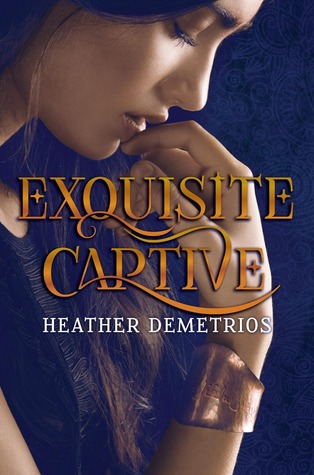 Title:
Exquisite Captive (Dark Caravan Cycle, #1)
Author:
Heather Demetrios
Release Date:
October 7th, 2014
Where Heather Demetrios's
Something Real
battered its fists on my radar for weeks--the media onslaught of this novel breaking through the tiniest of crevices--
Exquisite Captive
practically slipped under my notice entirely.
Something Real
failed to entice me with its reality television plot line--likely because my idea of television is the Food Network--but
Exquisite Captive
captured my imagination from its cover and title alone. The Arabian Nights and other Middle Eastern legends have gone unexplored for too long, so for Demetrios to break down that barrier and weave a fantastical tale of her own, drawing from ancient lore and myth, was to break down the barrier into my heart as well. While
Exquisite Captive
is certainly not without its flaws, its original storyline, complex characterization, and truly exquisite world-building allow this novel to transcend its limitations.
Exquisite Captive is told primarily from the third-person perspective of Nalia, a young jinni princess who has been captured and sold into slavery. Malek, her ruthless master, uses Nalia to further his large clientele, all the while holding her freedom out of reach as he refuses to make his third--and final--wish. In her homeland, Arjinna, Nalia is the last of her kind--a jinni race who can control all four elements--and thus the rightful heir to the throne. After witnessing the dark fire jinn slaughter her family and take over the crown, Nalia barely escaped with her life only to be shackled to the dark caravan where thousands of jinn are sold to human masters, serving their lords on Earth. Nalia would do anything to regain her freedom and return to Arjinna--not to reclaim her throne but to find her younger brother who she loves dearly. Anything, including seducing her master, Malek, and striking a bargain with Raif, the leader of the Arjinnian revolution. Raif represents the castes of other jinn in Arjinna--jinn whose magic only extends over one element. For years, Nalia's kind has ruled, withholding valuable training from the other jinn in Arjinna and looking down upon all those not royalty. Thus, the last thing Raif wants is to see the throne reclaimed but he needs Nalia's help--and can secure Nalia's freedom if she wrests her bottle away from her master. With the rumors of a live Arjinnian princess, an assassin is painstakingly hunting for Nalia across the Earth and the clock is ticking. Now, the only question left is who will kill Nalia first: the assassin, or Malek when he discovers her betrayal?
Demetrios has created such a rich, tangible world in Exquisite Captive. What I appreciated about her prose is the fact that she never resorts to info-dumping. Instead, with short, selective flashbacks and believable dialogue she creates Arjinna, a fictional realm which feels all too real. Yet, more than the complex backstory of a coup, social injustice, and violence Demetrios also discusses the dark caravan. Nalia, as a victim of the dark caravan, yearns for her freedom with an aching pain that is all to sharp. It is impossible not to pity her, empower her, and watch as she struggles to break from the chains of slavery that hold her back from her true destiny. With such a compelling background itself, it becomes impossible not to dive into this novel with our hearts in our throats, waiting to see if Nalia can overcome the odds stacked against her.
As a heroine, Nalia is impeccably written. On one hand, she's fiercely loyal to her younger brother--her only remaining family--and though we only know of him through brief flashbacks, the love she feels for him bleeds through the page. It is his face that keeps her enduring the tough situations she finds herself in and her courage, bravery, and strength are all admirable. Of course she is immensely powerful and her magic is a tool, but it is her inner-strength that this story allows us to see and it is that which makes her such an endearing protagonist. We know she isn't perfect--we've seen her perform unspeakable acts--but the double-edged sword of morality with which she does them cast her character in a different light. With all the blacks and whites swirling together to create so many shades of gray, it's impossible to wholly love or despise any one character in this tale, which I love.
Malek is, hands down, one of the most intriguing characters I've come across in fiction. In many ways, he reminds me of Javier Bernal from Karina Halle's The Artist Trilogy. As a master, Malek has tortured Nalia and been cruel to her, but he has also never forced himself upon her and she lives a lavish Hollywood lifestyle with him by her side. Moreover, Malek is slowly changing in his attentions towards Nalia; from master to lover. As he displays a tender, sweeter side to Nalia, she is all the more confused by her master's behavior. No matter what Malek may believe, Nalia is still forced to be subservient to him; obeying his orders, working with his clients, and chained to his side. Yet, as Nalia discovers more and more about who Malek is, what his motivations are, and everything that drives him, both she and the reader cannot help but become more sympathetic towards this "villain." With his drop-dead good looks, charisma, and not-quite-a-villain personality, Malek is a force to be reckoned with both on the page and in our hearts. I could not bring myself to hate him, though I could not love him either. Nevertheless, his presence throughout the novel is unpredictable and keeps us on our toes, which I love. Out of all the characters I am most eager to re-visit in the sequels, Malek makes the top of that list--easily.
When Raif first burst onto the page, I stiffened up in alarm. After all, the presence of two handsome men usually screams "love triangle" in blaring neon lights. Yet, it quickly became apparent that the focus of Exquisite Captive was not on the romance, but rather the countless political issues plaguing these characters. Raif dislikes Nalia on sight as her claim to the throne represents everything he's been fighting, but he needs her help--desperately--and a bargain is struck between the two. Neither Nalia nor Raif trust one another but, as they grow to understand each other better, they cannot help but dissolve their first impressions. For me, Raif felt similar to a typical male protagonist in the sense that he's caring, his motives are largely selfless, and he forces the protagonist to witness her life through a new lens. Yet, it is the swirling darkness in Raif that sets him apart as, at a young age, he is carrying the hopes and dreams of an entire nation on his shoulders. It is practically impossible to dislike Raif, what with him being such a likable hero and all, but his presence in the story thankfully transcends that of a mere romantic interest.
Granted, there is a love triangle of sorts at play here but, because of the manner of Nalia's relationships with these two men, we know exactly which love story is doomed from the start. It's still a treat to watch everything play out, but it becomes clear just who Nalia wants by the end of this novel. If it's going to work out in the future is still largely unclear, but who Nalia's heart belongs to isn't murky in the least. Nevertheless, I do feel as if the main romance arc played out a liiiitle too quickly for my liking; at least in the sense that it jumped from "like" to "love" really fast. Another quibble came from the perspectives of the assassin sent after Nalia--after a point, each chapter featuring the assassin's hunt for Nalia across Earth began to read a bit too similar. Moreover, the jarring presence of these chapters interrupted the flow of the story, at times, which was a bit disappointing.
With those exceptions, however, Exquisite Captive contains a fascinating growth arc, even more intriguing characters, and a world heavy in darkness but not without hope. I, for one, cannot wait to see where this story continues in the sequel and its unpredictability is an aspect I've really enjoyed of it. I will say, however, that this is a tale where emotional connection is key. Having been emotionally embroiled in this novel, I found it impossible to set down and my heart bled for each of these characters; for the loss they'd sustained from the past and for the loss they'd continue to sustain in the future. It straddles the line between young adult and new adult (though I'd have loved for this to be more strongly new adult, in some departments) and, as such, the growth is so relevant and realistically drawn. Without a doubt, Exquisite Captive is one of the more surprising reads of the year and Something Real cannot fall into my hands fast enough; if it has even a quarter of the heart and soul that Exquisite Captive contained, I know I'll fall in love.