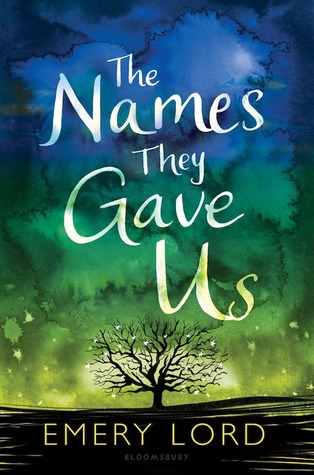 Title:
The Names They Gave Us
Author:
Emery Lord
Rating:
5 Stars
The Names They Gave Us
is tied with
The Start of Me and You
as my favorite novel by Emery Lord. I enjoyed
Open Road Summer
but
When We Collided
made me re-evaluate whether Lord and I had gone our separate ways. We haven't; not yet, at any rate.
Lord's latest follows Lucy, from the night of her junior prom when she finds out that her mother's breast cancer is back after two years, to her boyfriend "pausing" their relationship for the summer, just as Lucy goes off to be a counselor at Camp Daybreak, a far cry from the Camp Holyoke, the Christian camp where she typically spends her summers helping her pastor father. Lucy's voice is so fresh and honest. I couldn't help but be enamored by her from the beginning. Lord always writes characters I'd want to be friends with and Lucy was no exception. Even in the beginning of the novel, when Lucy simply wants to yell at the world--and especially at God--I knew
The Names They Gave Us
would be a gem.
Lucy's summer isn't easy, but the friendships she makes and the person she grows into are all wonderful. Camp Daybreak is a summer camp for children who have their own griefs to deal with, whether it be parental neglect, a teenage pregnancy, the death of a loved one, or something else entirely and, in that respect,
The Names They Gave Us
is an emotional novel. It isn't a cancer story, even though Lucy's mother's cancer is such a huge part of the book and especially a large part of Lucy and her mother's evolving relationship, not to mention family dynamic. It also isn't a religious novel, despite the fact that Lucy's father is a pastor.
Lucy has been raised in the Christian faith all her life but now, with the re-emergence of her mother's cancer she begins to doubt everything she knew. And, as someone who didn't grow up in the Christian faith, I can testify that I could still relate with Lucy. Her struggle to reconcile her experiences with her faith is a journey I think a lot of teens can relate to and Lord writes it with aplomb, balancing the religious and self-discovery aspects perfectly. I especially enjoyed that Lucy struggles to fit in because she's the pastor's daughter--people make assumptions about her personality, whether or not she drinks, her sexual limits, etc.--and watching Lucy grow and own who she is is such a rewarding part of this novel.
The Names They Gave Us
features a trans best friend, people of color (and a love interest of color, actually!), discussions of privilege and sex, and is just all-round fantastic. It passes the Bechdel Test with flying colors, the friendships in this novel make me wish for the past, and this story made me tear up on more than one occasion. I don't know how Lord manages to write such consistently fantastic YA novels which simply breath life into the genre, but she does. And I sincerely hope she doesn't stop.