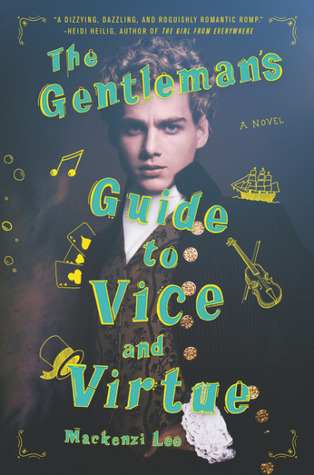 Title:
A Gentleman's Guide to Vice and Virtue
Author:
Mackenzi Lee
Rating:
4.5 Stars
Release Date:
June 27th, 2017
Where do I begin with this lovely, charming novel? I truly believe that Lee has found a hidden niche that we've all overlooked—the Victorian England MAN. There are so many incredible historical romances that dissect this time period and give agency to women, but Lee makes us take a closer look at what makes the Victorian England man the person he is—what circumstances and societal expectations he is faced with and, that contrary to popular belief, his life isn't as charmed as we may think. It's a fine line, making us care for a wealthy white man with all the privilege in the world, but Lee does it.
Monty, our hero, is a classic rake. About to inherit his father's estate after being thrown out of Eton, Monty is about to embark on a tour of the Continent, seeing everything from France to Italy before returning to resume his duties as a peer of the realm. So, naturally, for Monty this tour represents his last chance—his last chance to get blackout drunk, to kiss all the girls (and guys) he can get his hands on, and to spend time with his best friend and crush Percy. Monty's younger sister, Felicity, joins the boys (but only up until Marseille where she'll begin Finishing School) and the trio anticipates a pleasant journey around Europe. Until, that is, Monty creates a scandal, accidentally steals a valuable item from an important person, and inadvertently causes the three to be on the run… From Marseille to Barcelona to Venice, this is a break-neck journey—but a heart-stopping and emotional one, too.
What I love about this novel is the nuance with which Lee tackles so many wonderful subjects, from homosexuality to race to gender, she talks about it all. Percy, as the biracial best friend of Monty, is subjected to questions and comments that Monty never has to deal with. Felicity, as the younger sister, is constantly overlooked and sent to Finishing School despite her passion for medicine. But Monty, dear boy that he is, is completely unaware of his privilege—and the slow realization that he has so much is a difficult, but necessary, journey. Acknowledging your privilege is never easy, but Lee captures Monty's turmoil with so much ease and, what's more, she makes us love him, privilege and all.
Because, as I said before, Monty's life isn't as charmed as it's made out to be. His sexual orientation is constantly a source of discomfort for his family, namely his father, and his confusion about his future—what he really wants to do with it—is so easy to understand, even as he is already bound to a certain future because of his station in life. Monty's privileges can be just as stifling as Percy or Felicity's lack of privilege.
I also love that Lee subtly touches upon the intersection of race and social class and gender in her discussion of privilege. Percy, despite being biracial, was brought up in the lap of luxury and given a first-class education, unlike most other people of color during his time. Similarly, Felicity has the advantage of being a white woman, and a wealthy white woman at that, despite the barriers against her. I don't want to make it seem like this novel preaches about privilege—because it does not—but Lee includes all of these important lessons and ideals so seamlessly throughout these pages and I love that.
The story itself is amusing and Monty's dialogue is absolutely hilarious. It's impossible to put this book down or to get these characters out of your mind. Monty's crush on Percy is a perceptible, butterflies-in-your-stomach feeling, even to the reader, and I loved their romance; the constant push-and-pull of whether Percy was just being friendly or if he wanted more. There are so many beautiful, more serious dialogues interspersed between the highway men and changing continents, but it all flows so well and I full admit to tearing up on more than one occasion. The Gentleman's Guide… is a vivid and wonderful feat for LGBTQIAP+ YA literature, simply because Lee gets it right. All of it.
If there are any flaws with this novel, they lay in the slight absurdity of some of the plot points…namely the fact that there are weird alchemical elements that join in to make this historical fiction border on fantasy on occasion. In addition, I would have loved to see more women in this novel (but that's the women's college student in me speaking). But, Lee's research is remarkable and her attention to detail is impeccable. I thoroughly enjoyed immersing myself into this world and the ending, bittersweet but hopeful and ever-so-slightly open, only made me yearn for a sequel—desperately. I love these characters with all my heart and Lee managed to make me completely immerse myself, emotionally, in their well-being. I cannot recommend this book enough—pre-order it, read it, re-read it, gift it. It's just that good.