I don't know about you, but especially in the winter I crave cozy reads; the ones that don't require too much thinking and can hold your attention seamlessly. While I can't promise that the following novels will rock your world or make it onto your favorites shelf, they're the perfect pass-time read and I've certainly enjoyed them very much this past season. Plus, at the very least you'll be compelled to go through the backlog of these authors sometime in the coming month and be assured to find a story you fall head-over-heels for; I'm sure of it. :)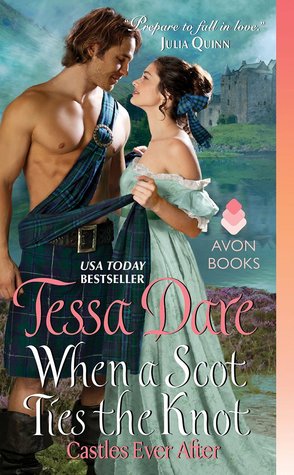 Title:
When a Scot Ties the Knot (Castles Ever After, #3)
Author:
Tessa Dare
Rating:
3 Stars
I've thoroughly enjoyed Dare's recent trilogy, predominantly because they feature headstrong, feminist heroines and men who don't fit the classic mold. With
When a Scot Ties the Knot,
we have the female protagonist we expect--and one I love!--but the hero sadly reverts to being the all-too-familiar handsome man with a tortured past. As a result, the banter and much of the romance build-up didn't feel unique or exciting; it just felt expected. Still, a Tessa Dare romance is better than most and this one still has some fantastic moments and memorable characters so for fans of the first two novels, this is a must-read. For those who haven't picked up a book in this series yet, I cannot recommend them enough. You'll fall in love with these fairy-tale-like settings and vivacious heroines; guaranteed.
You can read my review of
Say Yes to the Marquess
, Book Two of this trilogy and one of my all-time favorites from Tessa Dare,
HERE
.
Title:
Frisk Me (New York's Finest, #1)
What I've come to really love and expect from Lauren Layne are fresh, modern characters--especially women--who are ambitious, driven, and practical in their approach towards life. I've become accustomed to cracking open one of her novels and not only swooning, but also finding rich female friendships and a deeper understanding of what it means to be a working woman than I do in other books in this genre. That being said,
Frisk Me
read much more like a classic romance novel--which isn't a bad thing at all. It just means that my expectations needed to be adjusted (which they weren't, prior to reading this novel) and is probably why I wasn't as huge a fan of this as usual. I'll definitely be continuing with the series but her debut series had my attention much more steadfastly with the core group of independent females rather than a family of hot Italian men. Nevertheless, Layne writes complex characters and slow-burn romances that linger so if either of those seem even remotely interesting to you,
Frisk Me
and the rest of her backlog will be exactly up your alley.
You can read my review of previous Lauren Layne series such as Love, Sex, and Stiletto (
After the Kiss
,
Love the One You're With
,
Just One Night
,
The Trouble With Love
), Redemption (
Isn't She Lovely, Broken, Crushed)
, and The Best Mistake (
Only With You, Made For You
).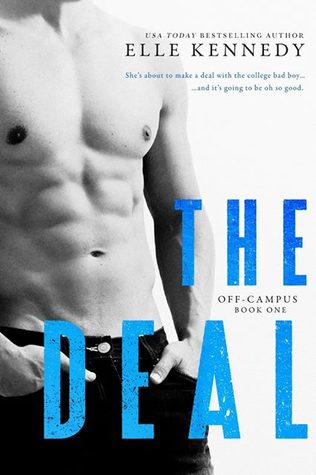 Title:
The Deal (Off Campus, #1)
Author:
Elle Kennedy
Rating:
4 Stars
Get this:
The Deal
is a surprisingly
good
New Adult novel. I didn't think I'd be saying
that
this summer, that's for sure. But Elle Kennedy has managed to create the rare gem that is an angst-free, intelligent, sexy, and
fun
New Adult read. It isn't genre-defying or particularly earth-shattering--in fact, it's basically what you'd expect from its synopsis--but it's still leagues better than most of the novels churned out in the New Adult genre and, by that standard,
The Deal
shines.
What I particularly love about
The Deal
is that Hannah and Garrett's relationship is both a slow-burn of romance and of friendship. While its synopsis may seem to portray it as a sex-filled novel, or at least one that begins early-on with sex, in reality the sexual tension is built up and explored in length. Hannah is a rape victim, which we find out early in the novel, having been raped at the age of fifteen. Unlike a typical New Adult plot line, however, in which Hannah is raw and hurting, it has been years after her rape and Hannah has dated in-between. Yet, ever since her rape she has been unable to have a successful sexual relationship with her boyfriends and, at the advice of her therapist, is setting out to pursue one which she finally feels comfortable.
I loved Hannah's character: her strength, her passion, and her determination to move on despite the hand that life had dealt her. What's more, Garrett truly blooms over the course of the novel, proving to be far more than a talented jock. I especially enjoyed the fact that casual sex for women isn't looked down upon or treated with disdain. One of the biggest problems with New Adult novels is the fact that they continually slut shame and put down women who, at their college-age, are exploring themselves, what they want from life, and their bodies.
The Deal
not only avoids these potholes, it also passes the Bechdel test and I couldn't be happier. If you're searching for a fun, hot, and sexy read,
The Deal
should definitely make your TBR. It's spades better than most other New Adult reads and I'm surprised it didn't make itself onto my radar earlier.
Title:
Playing with Trouble (Capital Confessions, #2)
I've really been enjoying this series by Chanel Cleeton. Although it plays into all-too-stereotypical tropes about the overblown celebrity-status that politicians enjoy and the minute actions they perform that become breaking news stories, it's still wildly romantic, smart, funny, and steamy to boot. Yet, it turns out that after years, the alpha male just isn't doing it for me anymore. I found Will, from the previous novel in this series, to be far sexier as the down-to-earth "nice guy" who could be hot when the situation called for it. Somehow, the chiseled "bad boy" professor didn't amp up the steam factor, as I expected he would. Nevertheless, though the steamier aspects of this romance didn't impress me, the characters and story play out well. Don't expect anything too different with
Playing with Trouble
but if you don't mind a classic romantic storyline against the backdrop of sisterhood and D.C. politics--with some really great conversations about not having your life figured out even after undergrad--then this is for you.
What are some of the winter romances you've been curling up with recently?