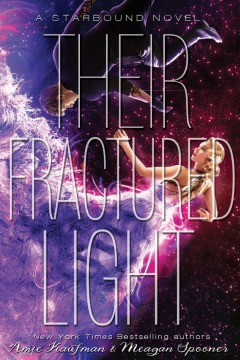 Title:
Their Fractured Light (Starbound, #3)
Author(s):
Amie Kaufman and Meagan Spooner
Rating:
4 Stars
Note: This review is SPOILER-FREE but does mention characters from the previous books. If you would like to read my spoiler-free reviews of the prequels, click the link to read my review of These Broken Stars and This Shattered World.
3 Things I Loved About
Their Fractured Light:
1. Gideon and Sofia's Doomed Romance
Oh, my. Gideon and Sofia. In their efforts to take down LaRoux Industries they wind up bumping into one another and reluctantly working together, despite the fact that they don't trust one another
at all.
What's more, Gideon is the famed internet hacker, the Knave of Hearts, and Sofia just happens to hate the Knave. After all, the Knave has been chasing her across planets relentlessly and won't seem to let her breathe. Only, Sofia and Gideon don't know who each other really are--they don't trust anyone, remember?--and as they slowly fall in love, the inevitable looms ever closer.
I really enjoyed Sofia and Gideon as a couple. I'll admit that their romantic angst got to be a liiiitle much by the end of the novel, only because it had dragged on for a full
novel,
but theirs is my favorite couple swiftly following Tarver and Lilac. You're going to be rooting for these two, both as individuals and as a couple which is always a common component in my favorite couples--if I can't love you both as strong, independent heroes then I can't fall for the dynamic duo you make together. With Gideon and Sofia, though, they tick off all the right boxes. I especially love that they are not always likable; they do not always do the right thing. Yet, they still find it in themselves to be forgiving, to love each other, and to recognize the truest parts of both themselves and the other person. It's so, so special and beautifully written... I adore it.
2. Cameo Appearances
Roughly half of this novel is all Gideon and Sofia but then the second half introduces our old favorites--Lilac, Tarver, Flynn, and Jubilee. I thought that the manner in which these three threads intertwined was brilliant and I loved seeing the three couples we've come to love and support individually join forces to take down LaRoux Industries. Their combined brain power, knowledge, and strength is immensely satisfying to behold and while the showdown isn't easy, simple, or even remotely predictable, it's enjoyable and an absolute page-turner. It's so hard to write a finale because it needs to be as grand and epic and plot twist-y as readers are hoping it's going to be and, let me tell you, this writing pair knows how to deliver. I already cannot wait for whatever they plan to write next because I'm sure it's going to be just as well-scripted and clever as this, their debut trilogy.
3. World Building
There are so many small pieces of world building that come together in this novel and, for me, this series is really DEFINED by great world building. It's evident in each novel on its own as the world building plays a huge role in the politics of every planet, shaping its conditions and its people in bold, rich hues. It's even more evident in this final installment, though, as we begin to zoom out to see the big picture. I won't say much more for fear of spoilers, but I will say that we get to know a certain group of creatures much better than we may think going into this novel and the insight that they brought, both to the world-building and the plot twists, were phenomenal.
Their Fractured Light
did not disappoint in the least and I am so thrilled to not be disappointed with a series end, for once in a long time. This series has been consistently fantastic throughout, delivering believable, hard-won romances in a war-torn world with unique world-building and, what's more, it delivers on diversity in a way that few other fantasy/dystopian/sci-fi novels do. Like I said before, this writing duo is one to watch out for and I can only prepare myself for whatever they next throw as us readers.