I've been lazy when it comes to blogging, lately. I know it, you know it, publishers know it.
It's embarrassing.
In my defense, I spend every waking minute either sleeping, studying, eating, or de-stressing with friends. I squeeze in a few minutes every day to read, even if it's just one chapter, but actually sitting down to write a review--or even jot down a few thoughts--is simply too much. (I know, I know, it's SUMMER, but I'm at an internship, people! I'm supposedly conducting Very Important Math Research! I get paychecks! I have to buy my own groceries! I'M BECOMING AN ADULT!)
I've published a few reviews, here and there, that weren't written over Winter Break. I've assembled a handful of guest posts, commented on a couple of blogs a week--I've been present but, unfortunately, the books that I've wanted to discuss have slipped under the radar.
Hence, this post; Recent Reads: Diversity Edition.
One of the most notable--and pleasant surprises--of 2015 has been discovering diversity in the fiction I've been reading. YA and NA are notorious for ignoring minority races, sexes, and personalities so I'm truly so proud of the strides that the publishing industry and authors are making to lessen this gap.
First and foremost, I want to talk about
Trade Me,
Courtney Milan's latest novel and her debut New Adult endeavor. Courtney Milan is known for writing unusual historical romance novels--the kind that make you swoon but also make you think. I love her historical fiction primarily because she writes about the types of female heroines no other author
really
feels comfortable discussing, whether it be the feminists, the scientists, the overly large, or those of different races. What's more, her male characters range from the classic duke to the a-typical male virgin to the self-proclaimed male suffragist. Thus, I knew
Trade Me
was going to be a treat even before I cracked open its spine because--Courtney Milan.
But
Trade Me
surpassed even my wildest expectations. Built upon the foundation of a relatively flimsy plot line--wealthy young man volunteers to switch lives with a poor immigrant woman--
Trade Me
does a brilliant job of pointing out not only the privileges of the wealthy, but also of the non-immigrant. It features an Asian protagonist and is one of the first times that I have been able to sympathize completely with a character due to her life circumstances--immigrant parents who don't fit into the American culture, a series of different traditional values, struggling to make ends meet, missing family members who live oversees. And, honestly, I found the entire experience shocking and eye-opening. How was
Trade Me,
published in January of 2015, the first time I had been able to relate to the immigrant experience in a YA or NA novel? It made me angry but, most of all, it made me grateful to Courtney Milan for doing her research and being brave enough to write about a culture of people different from her own.
Beyond the in-your-face diversity of an Asian protagonist, though, Milan weaves this love story through many complex issues. Unfortunately, I cannot reveal much more due to fear of spoilers, but none of these characters are what they seem on the surface--and I love that. Admittedly, the whole "the rich have problems, too!" trope seems cliche but, I promise you, Milan writes it in such a way that you never find yourself thinking that way. If you're looking for a couple to swoon over, but one that will destroy your every pre-conceived notion about them,
Trade Me
is the book for you.
Next:
Liars, Inc.
by Paula Stokes. I had Stokes stop by on the blog a few weeks ago to talk about the diversity in her latest novel, a thriller, and was incredibly moved by her discussion of not only racial diversity--with Parvati, the female love-interest of the novel--but also of Max, the protagonist. From the surface, there doesn't seem to be a lot of diversity to offer with Max--after all, he is a Causasion, heterosexual male. But, Max isn't your typical male protagonist. Not only does he struggle academically, but he also isn't the classic bad boy or the shy nerd or the cute guy-next-door. And, by breaking that mold, Stokes introduces a new form of diversity: diversity of personality.
It's okay
not to fit into a pre-labeled, pre-stamped, and pre-approved box.
I also really appreciated the fact that the female protagonist of this novel, Parvati, wasn't the perfect love interest. I
adore
a sharp-tongued, nasty female lead, if only because they defy the stereotype that women must be perfect and dainty and polite. Moreover, I rarely see it done with a woman of color because--let's be honest--I think authors are worried to include PoC who aren't cast in the role of "good guy." PoC are just as flawed and real as non-PoC so, authors, don't worry about offending us by creating angry and bitterly caustic PoC. Not that Parvati is just oozing badness, but she certainly is far from perfect and I appreciate the unapologetic ambiguity in her characterization.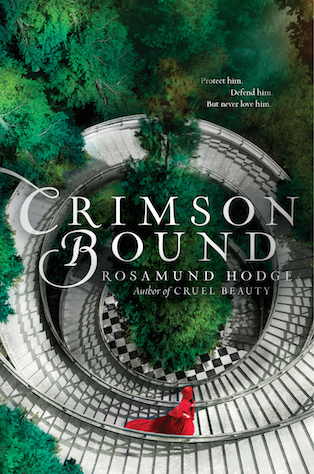 And speaking of imperfect female heroines, that brings me to Rosamund Hodge's
Crimson Bound,
one of my favorite novels published this year. Hodge's debut,
Cruel Beauty,
already struck the perfect cord with me. After all, we had an angry 'Beauty' and an evil 'Beast'--can you really even beat that? But Hodge did one better in
Crimson Bound,
making her protagonist a killer. Can you redeem an individual like that? Do you?
One of the strongest aspects of this novel, for me, is the fact that Hodge enables us, the reader, to sympathize with and root for a heroine who is selfish, who murders others, and in general is not the paragon of perfection we've come to associate with an ideal female lead. Now that, right there,
that's
diversity. Rachelle isn't all-out evil--not even close--but she also does bad, horrible things. Yet, this story comes together so perfectly, weaving together a fairy tale re-telling with the background of a host of characters who stand by their flawed personalities and still manage to come out stronger; to grow and change. Moreover, Hodge is a genius at building re-tellings that can be recognized but that also veer off the beaten track and incorporate innovate magic combined with unseen plot twists so that you're on the edge of your seat till the very end. I love them, dearly, and am waiting with bated breath for her next novel. I know she will deliver.
Of course, these aren't
all
the diverse reads I've read recently but they are some of the most meaningful ones I've come across this year. Others, like
The Summer of Chasing Mermaids
by Sarah Ockler (literally my new favorite book EVER!) and
The Wrath and the Dawn
will be getting their own, full-fledged reviews soon. And yet others, like Trish Doller's
The Devil You Know,
while well-appreciated for their feminism, simply didn't do it for me storyline-wise. (And, further, others, like
Simon and the Homo Sapien Agenda
were just so good I couldn't find the words to write about them!) Nevertheless, I think the awareness of characters that break the mold and defy traditional racial, sexual, and gender norms is rising and I'm excited to read more novels tackling these barriers to diversity.
If you know of any other diverse reads,
please
let me know in the comments below! I'm always on the prowl for a new read and, in particular, authors brave enough to write stories that may not sell, but will definitely make a statement and take a stand.